I'm in Ottawa this weekend for Easter and to see Cam's family.  They're a big family, unlike mine. There we plans to have everyone over for brunch yesterday, so I thought the easiest thing to do would be to make baked french toast.  We could assemble it the night before, so all the prep would be done.  It's also easy to make a few versions.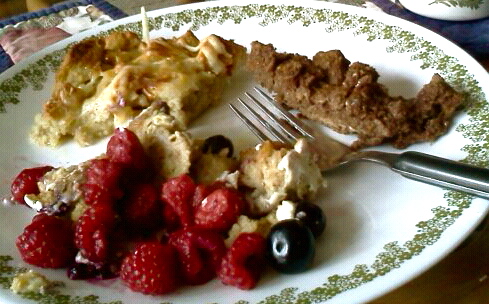 Top left: The Quebecois, Top right: Chocolate Orange, Bottom centre: Philly Blue
Ingredients to make 1 baked french toast (serves about 4)
1 loaf of bread (any kind can work…I generally avoid white bread)
4 eggs
splash of milk
1 tbsp vanilla
Beat all liquid ingredients together.
Cube bread.
Mix bread into egg mixture, absorbing all the liquid.
After this step, mix in whatever extras you're adding.
Because I was making 3 versions this weekend, I set up 3 bowls
Additions for the Super Quebecois version:
1 cup shredded Swiss cheese
2 apples, chopped
cinnamon
nutmeg
Fold in 1/2 cup of of the cheese, and the chopped apples.  Sausage and caramelized onions are also a great addition in this version, but I didn't have any on hand.  Pour into buttered pyrex (13′ x 9′), and sprinkle remaining cheese.
Bake at 350 for 45minutes.
Additions for Philly Blue:
2 packs blueberries
1/2 container cream cheese
After mixing bread into the egg mixture, fold in blueberries.  Pour mixture into the pyrex.  Spread 1/2 teaspoon-fulls of cream cheese throughout.  Bake at 350 for 40 minutes, or until the top is golden brown.
Additions for Chocolate Orange:
zest of 2 oranges
juice of 2 oranges
cocoa
sugar
Now, I really can't tell you how much cocoa to put in, because all we had on had was hot chocolate.  I felt this was a little risky, but after having made a really tasty Flourless Chocolate Orange Cake earlier this week, I simply had to try to make this flavor again. Next time I do this, I'll use dark chocolate chips and a little cocoa (maybe 3-4 tablespoons), and 4 tbsp sugar.
This time, I used 12 tbsps of Hot Chocolate powder.  I used this much, as I knew this would be making a dish to serve 4 people. For 1 cup of hot chocolate, the box said 3 tbsp for 1 serving.  I stirred it all in, and it looked quite chocolately!
Whisk the zest, juice, cocoa and sugar together with the eggs and splash of milk.  Add cubed bread so it's evenly soaked.  Transfer to buttered pyrex and bake at 350 for 35-40 minutes.
I refridgerated them overnight after they were assembled. Syrup is good with all of them.  I added fruit to the Philly Blue.  The Chocolate Orange could almost be a bread pudding desert…syrup is more for texture. These 3 served 14 people, but there were no leftovers.