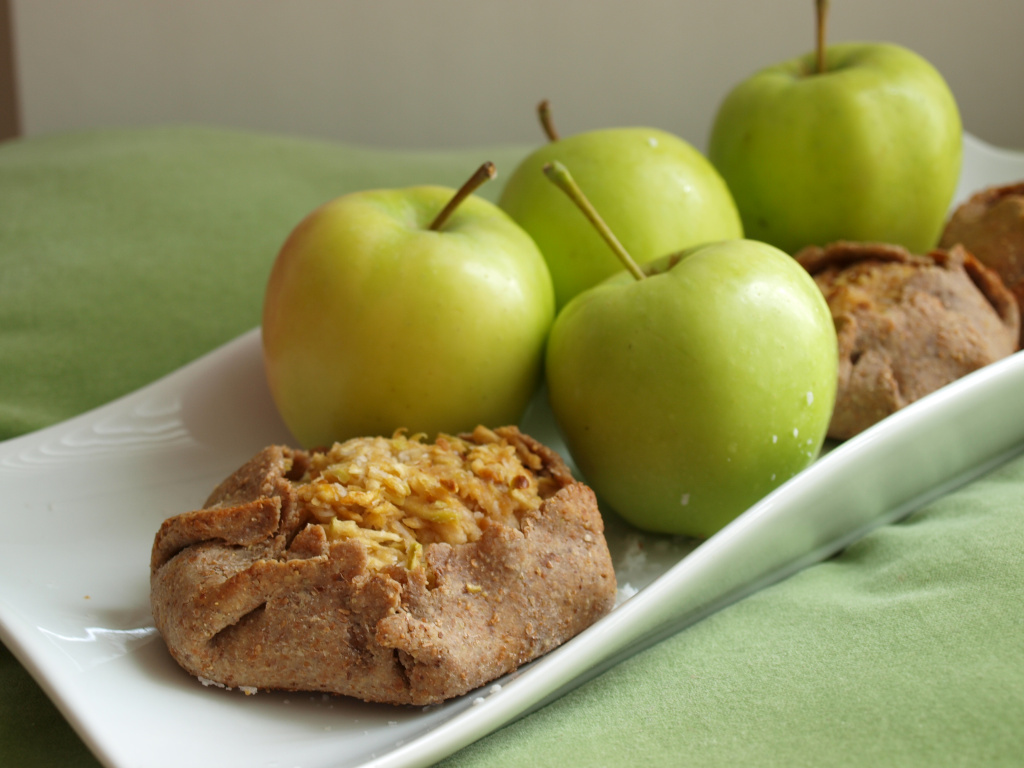 Ever since I've been going to the Farmers Market to buy produce, I've been really excited about seasonal recipes!  Although I'm not excited for the weather to get cool, I am excited for fall inspired recipes. I'm just waiting for the butternut squash to show up.  In the meantime, apples season is starting for Ginger Golds (my new favorite apple).  They're very flavorful!  And the farmer gave us free apples to sample, so he won points there…but I liked them enough to buy a whole peck!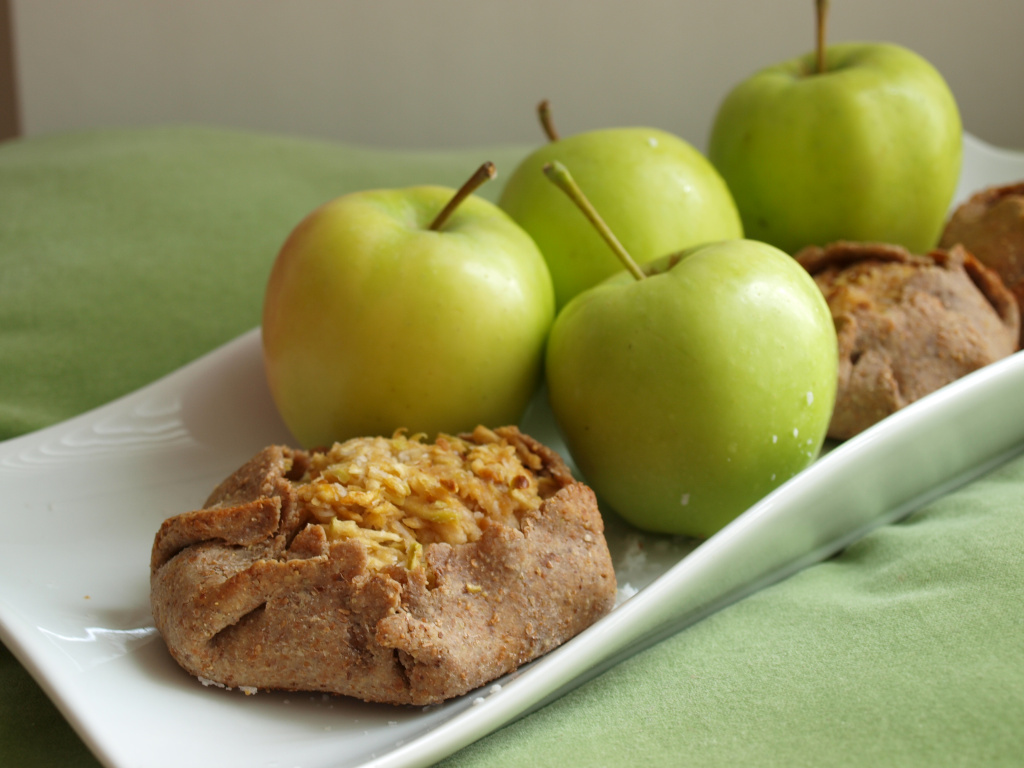 Then I was faced with the task of using up these apples.  Today I've made a healthy version of an apple galette…or blossom? It's kind of like a strudel but in more of a galette/blossom shape.  Anyway, it tastes good!  I've had the idea to do some sweet thai inspired recipes lately.  I LOVE when I see peanut butter and coconut in savory dishes, so I wanted to blend them in a dessert.  Here it is!  It's not extremely sugary, but I really like the blend of flavors.  It also just happens to be vegan.
If you're looking for more a traditional apple dessert, you could always take out the ginger, peanut butter out the the filling, and add some cinnamon.  Also, if you like your desserts on the sweeter side, you may want to adjust the amount of agave.  To each his own!
First, make the dough:
In the food processor, pulse the following dry ingredients:
1 and 3/4 cups spelt flour (or flour of choice)
1/4 cup flax meal (or sub with flour)
1/4 tsp salt
Then, add the moist ingredients.  This would be the part of the traditional baking process where you'd be cutting in your butter, but I've added some guilt-free butters.  Pulse in the following:
1/4 cup natural peanut butter (or nut butter of choice)
1/4 cup coconut oil (this could be vegetable shortening or butter…but the coconut oil works very nicely, and has to healthy fats and a nice rich flavor!)
Then, pulse in my 'buttermilk', which is the following mixture:
1/3 cup almond milk (or milk of choice)
1 tbsp lemon juice
Remove dough from food processor, and place in in a bowl in the fridge for about a half hour (it'll be less sticky, and easier to work with.
This might be a good time to preheat the oven to 350 degrees.
While the dough is firming up, make the filling:
5 apples shredded (or sliced or chopped…but shredded really gives it a strudel texture)
1/4 cup peanut butter
2 tbsp minced fresh ginger
1 tsp coconut extract
1/3 c unsweetened shredded coconut
4 tbsp agave nectar (or swap in honey or sugar if you don't have agave)
I liked the texture of the shredded apple, but it did mean I had to strain it, and squeeze out the excess liquid as I was working.
Shred apples in food processor, or chop them by hand.
strain apples if necessary
Mix coconut and ginger in with apples
in a separate bowl, mix all other filling ingredients
mix everything together
Bringing it all together:
Take out your dough, and divide it into 9 balls
On a floured surface, with floured hands and a floured rolling pin roll each ball out until it is about 7 inches in diameter
Put filling the the middle of each galette (try to leave at least a 1.5 inch border of dough)
Fold up sides, and pinch edges together, so they maintain their shape
Bake for 25-30 minutes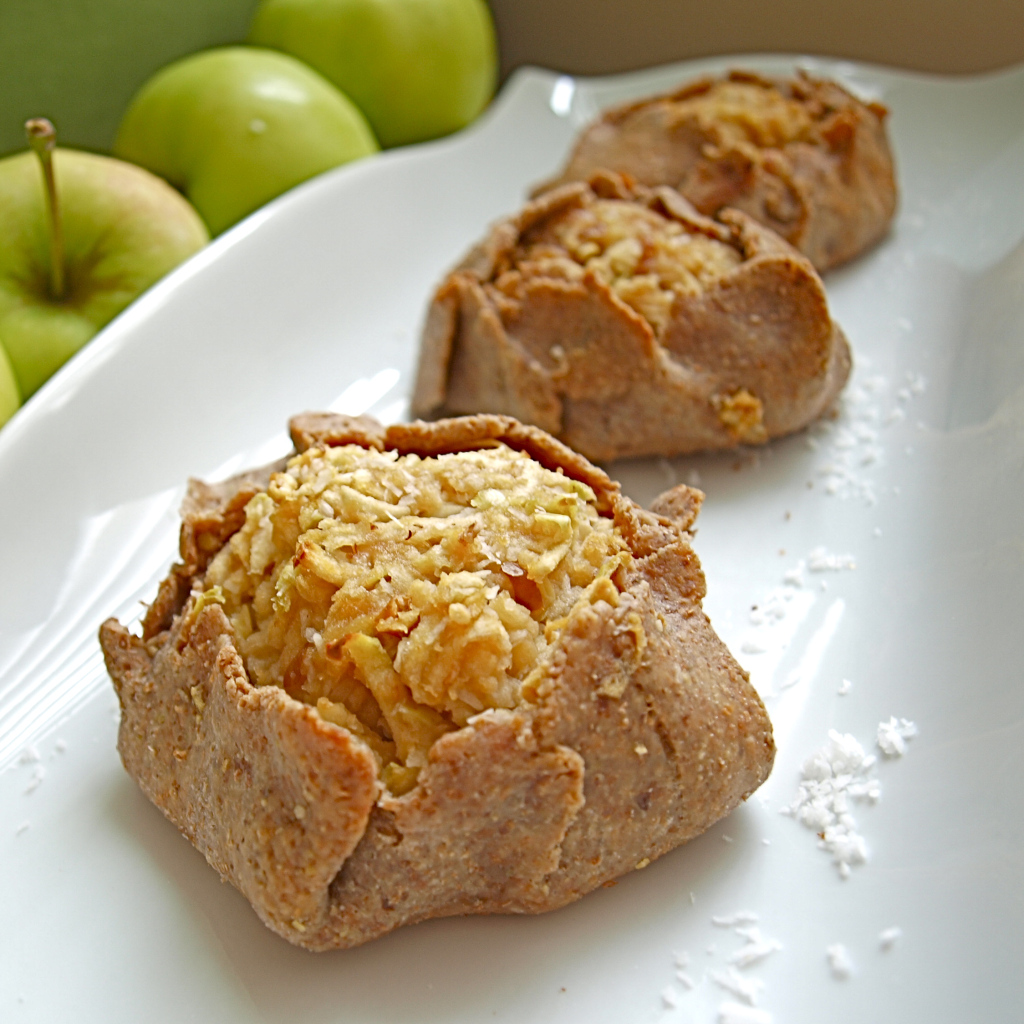 I love them in desserts, but I also love to use them in curries to add some sweetness to a spicier dish. What's your favorite way to cook with apples?