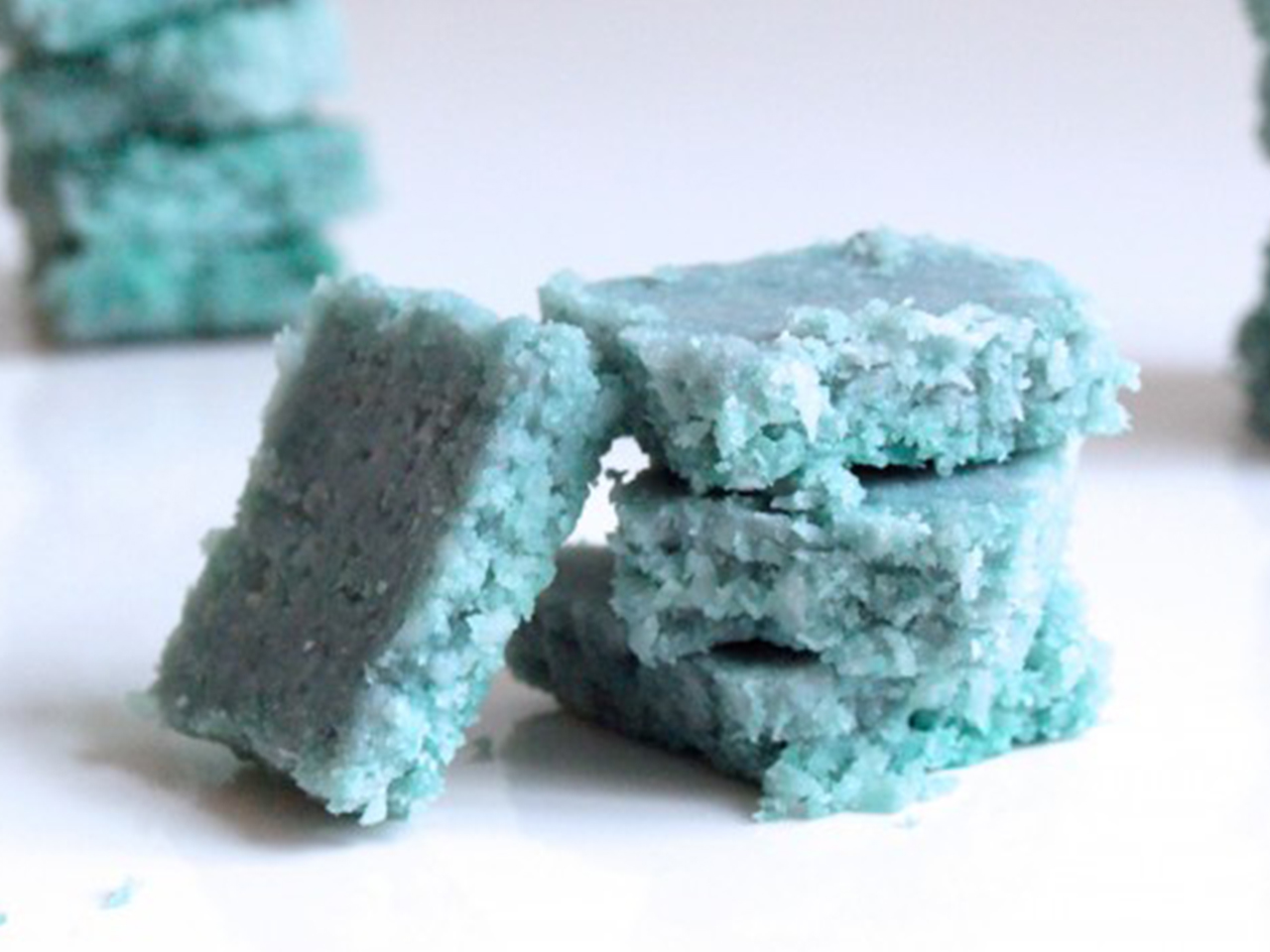 Do you watch Breaking Bad?   I only started watching it a couple years ago (binge watching online), but I don't know if I've ever anticipated a series finale the way I am this one.
I'm sad for it to be over, but I can't wait to watch the final episode tonight!
Today's recipe is a tribute to Breaking Bad.  If you're having a party tonight and looking for one last snack to add, this one doesn't take long (though it has to set in the freezer).  Or maybe you'll binge watch the whole season, and this post won't have been too late for you!
Either way, the recipe is delicious.  If you're making it any other day, you can skip the blue food coloring.
Ironically, this is an adaptation from Chocolate Covered Katie's Coconut Crack Bars.
Yes, taking a "crack" recipe and turning it into a "meth" recipe.  That's how I roll.
Did I mention I'm a nutritionist?  Onto the recipe!

Crystal Blue Periodic Table Bites
Ingredients
1.5 cups shredded red cabbage (for blue colour)
½ cup water
¼ teaspoon baking soda
1 cup flaked coconut, unsweetened
¼ cup maple syrup
½ teaspoon lemon extract
½ teaspoon vanilla extract
pinch salt
food grade ink pen if you want to add letters
2 T coconut oil
Instructions
chop your cabbage, and measure 1.5 cups of it. Mix with ½ cup water in a small pot, and simmer for 10 minutes with the lid on.
Strain the juice--this will be your blue colour. Measure the liquid to make sure it has reduced (mine reduced to a ½ cup).
Mix in baking soda--you will now have your blue colour!
Combine coloring with all other ingredients in a food processor or high powered blender, and puree. You'll have to scrape down the sides a few times to get it all mixed in properly.
Press mixture into a parchment lined container, and freeze for 1-2 hours to set. (I also use a piece of parchment to press it down to keep my hands clean).
When it's firm enough, cut into bite-sized squares.
I found numerous sources of the idea to use the cabbage + baking soda for blue coloring, which is pretty awesome!  Thanks internet.
These guys have the most structural integrity when they're in the freezer, so keep them there until serving.