I'm a little obsessed with butternut squash lately.  It's been a bread pudding, of course, a soup, and now I've ventured into the…breakssert world.  What do you think of the word breakssert?  I think that a lot of my recipes can double as either.  Maybe it's because the desserts are so healthy they can be any meal…and I love breakfast so much I'm happy having it for dessert.  I'm not sure about that word, though.  Any suggestions?
With this recipe, I wanted the wonderful taste of butternut squash in tart form.   I also wanted this to be filling enough to have for breakfast.  I'd been on an oatmeal morning bake streak, and so I started with that as a base…but added a lot less liquid, so the oatmeal could serve as a cookie crust to my tart.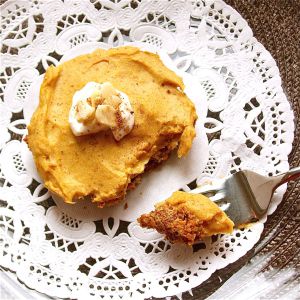 Ingredients:
3/4 dates, soaked overnight
1/2 egg whites
2-3 tbsp cinnamon
1.5 cups oat bran
1/2 c ground flax seeds
1 cup oats
2 tbsp coconut oil
1/4 c greek yogurt
1 and 1/4 cups butternut squash puree
sweetener to taste (I used a little stevia, but you could add sugar)
1 tbsp nutmeg
8 aluminum tart shells, 5″ diameter (measured at the top)
Cookie Crust How To*:
preheat oven to 400
puree 1/2 dates (drain liquid first) and egg whites
(I used an immersion blender for this)
transfer mixture to a bowl, and add:
1 tbsp cinnamon, oats, oat bran, flax seed, and coconut oil
mix well
Line tart shells with parchment, if you're picky about everything sticking like I am
Press filling into tart shells (focus on the bottom, but if you have extra, you can take the crust up the sides of the shells)
bake for 8 minutes
Filling How To:
While the crust is baking, do this!

puree 1/4 cup dates (drained), greek yogurt, squash (it's okay if it's roasted, but not pureed yet), and remaining spices and sweetener
(I used a food processor)
when tart shells come out:
-lower the oven temperature to 350
-fill them evenly with mixture
return to oven for 15-20 minutes
I enjoyed these warmed up in the toaster oven in the morning…topped with a little sugar free syrup, or vanilla greek yogurt.  *One note about the crust:  I found that on the day I made these, the crust was a little hard, but the next day, after sitting with the moist filling on it, the texture was just great.  So make them ahead, or perhaps skip baking the crust first, if you're on a tighter timeline.
Think you're too busy to bake? Lately with my crazy school schedule, this is how I'm finding time to bake: I think up something I'd like to make…I make it healthy and powerful and wonderful…and then I make a bunch of them on the weekend, so I get tasty wonderfulness without rushing in the morning all week!  Try it yourself, for breakfast, or dessert!