I was so pleased with my spinach pizza crust, that I just had to make it again, but I thought I'd change it up: this time, it's a pocket! These are a great appetizer, or main course, if you eat a few pockets with any veggie side to make it great for your body.  They do fit in more veggies than you'll find in any other crust, though!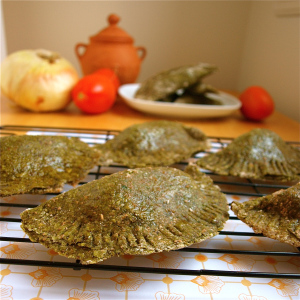 I was never a big fan of pizza pops growing up.  They just didn't compare to the real thing. Nothing out of the freezer does. I was so pleased with that last pizza that I wanted to make it a little more…portable?  And I just wanted to see how the crust worked as a pocket. Next time I make it, I think I'll be trying that same spinach crust recipe as a loaf!  We'll see how that goes!
Check out my original spinach pizza crust recipe for the dough to get you started. For this recipe, I thew a little more flavor into the dough, which meant adding: 1/2 tsp onion powder, and 3 fresh sage leaves (into the food processor with everything else.)
The filling is sweet and a little tangy.  I really can't get enough of caramelized onions, so why not stuff pizzas with them?!  I really enjoy sharp flavorful cheeses, like Asiago.  You don't need to use as much, but the flavor is always there. The tomato adds a flash of color, and a nice fresh juiciness.  Now go to the kitchen!
Filling ingredients:
1 vidalia onion, caramelized with a little balsamic vinegar
3 cloves of garlic sliced
1 roma tomato (seeds and pulp removed)
asiago cheese
How to:
Start by caramelizing the onion, meaning you're going to cook the sliced onion on low heat with the balsamic and a little olive oil, stirring occasionally for about a half hour.
Chop your tomato, and set aside.
Prep your cheese (shred or slice), and set aside.
Add the garlic to the pan in about 20 minutes into the process.
While the onion is busy getting soft and delicious, make the pizza dough in the blender…then flour your hands, your rolling surface, and your rolling pin, and roll it out!
Cut dough into circles (I used a round piece of tupperware of about 5 inch diameter, as I don't have anything fancy).  I made 14.
After all discs are made, I rolled each one out to gain about an inch in diameter.
Place onion, then tomato and cheese in the center of each dough circle.  I used small cheese slices, as they kept it neat.
Fold over, and press the side closed with your fingers, so it's nice and well sealed!
Bake at 350 for 15 minutes (These were great on the pizza stone! Use a baking sheet if you don't have one).
Enjoy!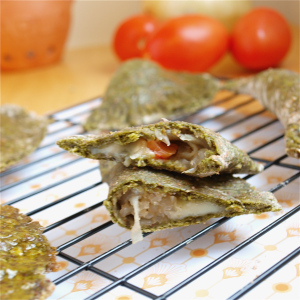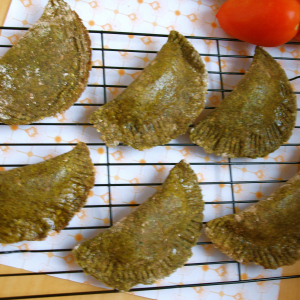 Spinach can "hide" anywhere.  Here it's not so hidden, I mean, these are very, very green. But they taste amazing.
I made something else green recently, but sadly, it has no spinach: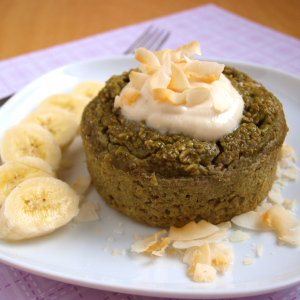 You'll have to wait at least a couple of weeks before I share that recipe, because I have too many other exciting things lined up!  What's next, sweet or savory? You decide, and make your request!