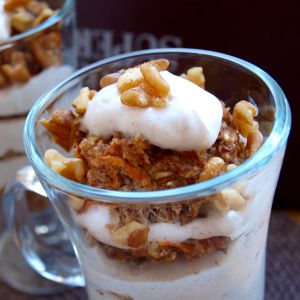 Wouldn't you like to eat something like this for breakfast?  What if I told you that you could assemble it the night before…even a day or two before…and it could be happily waiting in the fridge, no morning prep required?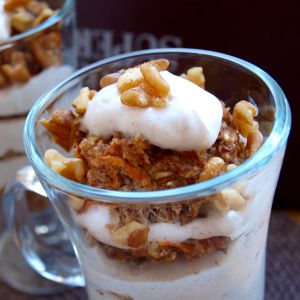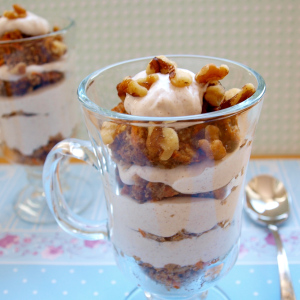 I don't like eating boring breakfasts, but since going back to school, and attempting to work out first thing in the a.m., lately I've been pre-making breakfast, so the mornings are a little less chaotic. This is my new favorite breakfast, containing one of my all time tasty and versatile ingredients: greek yogurt.  So high in protein.  So creamy.  So delicious.  No, the greek yogurt people are not sponsoring me. (Not yet at least…ahem).  It's also a nice way to sneak some vegetable content into my breakfast!
First, you start by making these carrot muffins:
Muffin ingredients:
This list is a little long, but mostly because I like to throw in a variety of grains when baking.  Feel free to replace grains as you go, with whatever you have around and makes you feel good! 

2 cup shredded carrots
2 ripe mashed bananas
1 cup egg whites
1 cup almond milk
1/4 cup agave
1 square inch shredded or minced fresh ginger
1 cup oats
1 cup flour (I used spelt)
1/2 cup ground flax seed
1/2 cup oat bran
1 tbsp baking powder
2 tbsps cinnamon
1 tbsp nutmeg
pinch salt
preheat oven to 400
Combine wet ingredients, including mashed banana
fold in dry ingredients, gradually
fold in carrots
pour into muffin tin
bake 20-25 minutes
this made 16 muffins for me
To make parfaits:
You will also need:
greek yogurt (I used 1/3 cup per serving)
more cinnamon
stevia, agave, or whatever sweetener you'd like
nuts (I used walnut pieces)
For each serving:
Crumble, or slice 2 muffins, so you can layer the muffin pieces into serving dish (a glass allows you to see the nice layers!)
Flavor greek yogurt:  I mixed in 1 packet of stevia, and some cinnamon
Layer the muffin and yogurt, until you've used it all up
Top with more cinnamon..and nuts!
Try to wrap it up, and put it in the fridge so it's waiting for you in the morning.
Really, don't eat it now.  It'll make your day easier if breakfast is ready to go.
It's okay if you ate it for dessert.  You hopefully still have some muffins left.