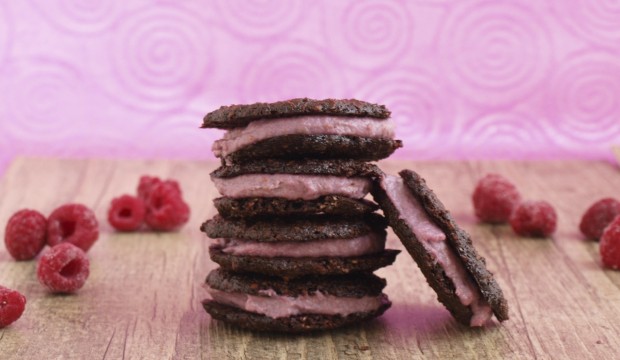 Valentine's Day is coming up! It's always nice to make something for a significant other, or your friends!
Of course, in keeping with the theme, pink foods come to mind.  My fiancé loves raspberry, so I've made raspberry cookie sandwiches.
And they are good.
Better than any box of chocolates.  Rich and smooth and very raspberry.  If you assemble all the cookies in advance, the outside will get less crispy and it will all melt together.  If you keep the cookies in an air tight container, and make the sandwiches when ready to serve, then the outside will remain crispier, and you'll have a nice combination of textures.  Either way, these are a real cookie winner!
Aside from being super delicious, these cookies pass my nutrition test.  They are sweetened with coconut sugar, which is low glycemic.  The almonds bring healthy fats and a great source of protein.  These also happen to be gluten-free and vegan.

Chocolate Almond Lace Cookie Sandwiches with Raspberry Filling
Prep time:
Cook time:
Total time:
Ingredients
COOKIE INGREDIENTS:
1 and ⅓ cups almond meal
⅔ cup cocoa
⅓ cup coconut oil, melted
1 cup coconut sugar
⅓ cup almond milk
⅓ cup apple sauce
pinch sea salt
FILLING INGREDIENTS
1 cup cashews, soaked overnight and drained
½ cup raspberries (mine were frozen, but defrosted)
1 tablespoon maple syrup
Instructions
Make sure to soak the cashews the night before using.
Combine wet cookie ingredients in one bowl with coconut sugar, and stir to combine. (ensure coconut oil is quite warm, and ideally other ingredients are room temp).
Combine remaining almond meal, cocoa and sea salt in a separate bowl.
Mix the dry into the wet, and stir until combined.
Spoon by heaping tablespoons onto a parchment lined cookie sheet, 2 inches apart. You might want to use your fingers to make slightly more round shapes.
Bake at 350 for 18-22 minutes.
Meanwhile, make the icing!
Drain the cashews and puree with the raspberries and maple syrup. I used a vitamix, but a food processor would probably work. Blend until smooth.
Once the cookies have cooled completely, assemble sandwiches. Store in the fridge. You can also store cookies at room temp and icing in the fridge and for crispier cookies on serving.
Here's a look inside.
Happy Valentine's Day!