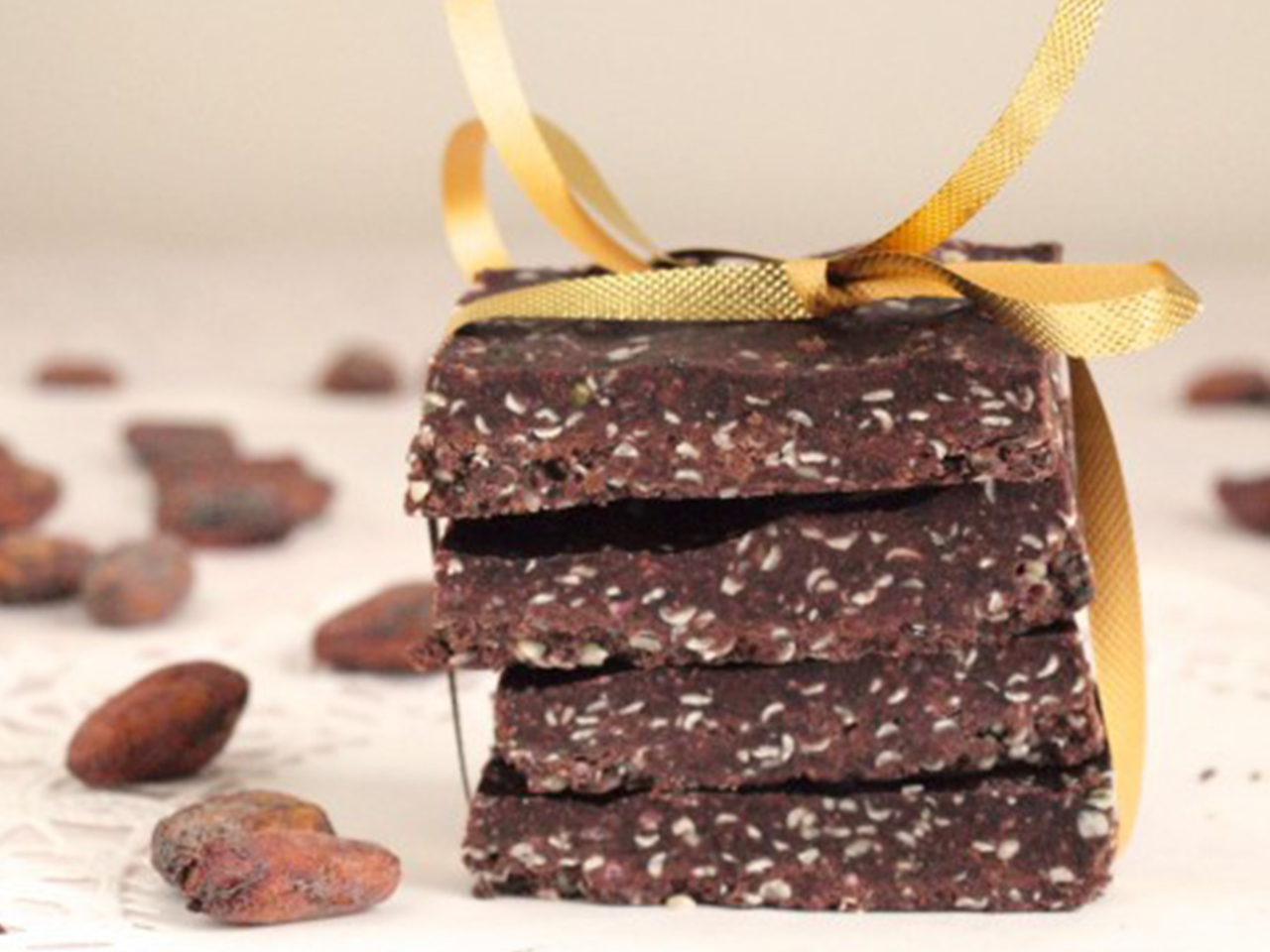 Happy Halloween!  Time to revolutionize the chocolate bar.
These bars turn chocolate into an amazing superfood.
They reinvent chocolate as a food group unto itself.  Packed with superfoods…all raw, making them really potent!
I was inspired by the $20 chocolate bars made by living libations.  I purchase some essential oils from them, and just had to try the chocolate bar once last year. The time to get some more essential oils arose…and again, I was tempted by the chocolate.  Just one bar, I told myself, to see if I can create my own version. I did it.  While I still haven't tasted the original in some time…I think I've created a rival that you can make at home.
These bars are amazing, but quite different from "typical" chocolate. What we in North American commonly refer to as "chocolate" is really candy.  What often feels more like "chocolate" is something darker…70% maybe.  But 70% is only referring to the % of the bar that comes from the cocoa tree. It could be bark!
Yes, I learned that from an esteemed french trained patisier earlier this week.
These are different.  There's more texture to them.  They're still smooth, but not as melty as a typical sugar laden candy coating.
They are complex, like wine can be.  There are fruity notes.  Even when you smell the fresh cacao beans, the aroma is amazing, rich and full.  For this recipe, I (with the help of my fiancee) actually shelled heirloom cacao beans from Ecuador, and ground them myself.  If you want freshness, and the fullest flavour possible, that's the way to go.
Here are the shelled beans:
Here's the cocoa after grinding:
Now, onto the superfood qualities:
Raw cacao: the most antioxidant rich food on the planet.
Maca powder: balances your hormones
Spirulina: Green superfood, source of protein, and amazing for detox
Hemp seeds: Great source of protein, and omega 3's
Raw honey: antibacterial, great for  your immune system
Yes, we're talking about a chocolate bar.
Here's what it looks like when you mix it into a paste…and if you decide to add in some spirulina last minute:
Onto the recipe!

Amazing Raw Chocolate Bars
Ingredients
1 cup raw cacao beans, shelled
2 tablespoons maca powder
½ cup hemp seeds
1 vanilla bean pod
¼ cup raw honey (local if possible)
⅛ cup coconut manna
2 teaspoons spirulina
Instructions
Peel your cacao beans. Grind with ¼ cup of hemp seeds (I used the dry grains container in a Vitamix, but a few rounds in a coffee grinder could work too).
Transfer ground powder to a bowl, and mix in maca, and spirulina, and remaining hemp seeds (not ground), and stir.
Scrape in vanilla beans from pod, and add honey and coconut manna, and stir well.
Press into a parchment lined container, and set/store in the fridge.
Cut into bars.
Enjoy.
As you can see, a lot of love goes into making these from scratch….but you simply cannot beat the freshness factor, and how good it feels to eat REAL chocolate.
What a delicious bite: