Gotta have my pops.  I've been waiting to say that since I made these.  I guess this means I need to make Corn Pop flavored cake pops, which can be done.  Today, however, I have a different cake pop for you. I have to say, that making cake pops was pretty fun…mostly because I got to have cake-pop-hands…and then I got to lick them.  Yup, I'm classy like that.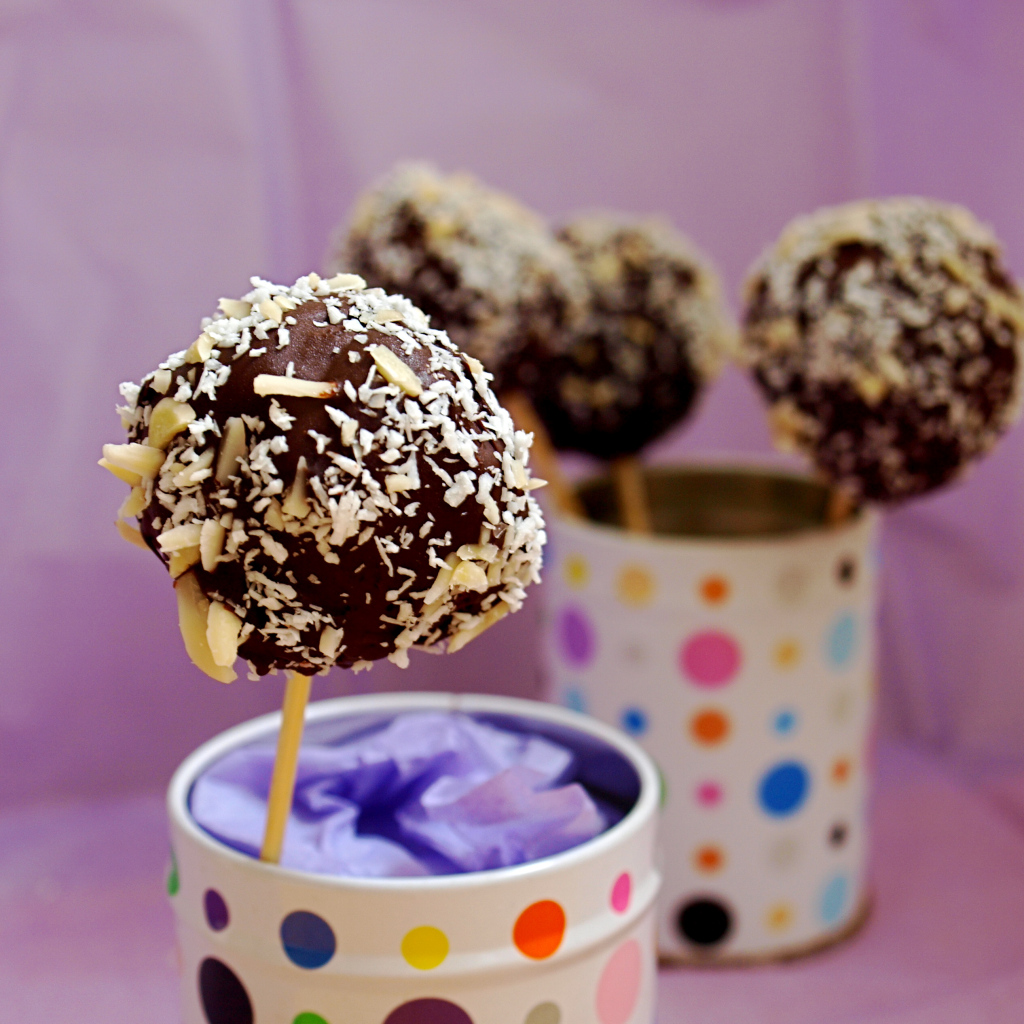 First, you make an actual cake (I didn't know this. I thought I this was going to be working in 'pop' form from the start. Not so!)

Preheat oven to 350.

Ingredients:

1 cup pitted dates (replace with sugar if you prefer)
1 cup almond milk (or milk of choice.  after all, I'm pro-choice).
1.5 cups chickpea flour (I used this as I was baking for a gluten-free friend.  Use the flour of your choice!)
1/3 cup apple sauce (unsweetened)
2 tbsp vanilla
1 tsp apple cider vinegar
2 tbsp cocoa powder (I used dark)
1 tsp baking soda
1/2 tsp almond extract
1/4 tsp salt
Pulse the dates in the food processor until they are chopped fairly small.
Add flour and all dry ingredients and pulse
Mix together wet ingredients
Pulse in wet ingredients
Pour into greased (or parchment covered) 9′ x 13′ baking pan
Bake for 35-40 minutes
While it was baking, I made the icing.  The icing is what glues the cake pop together.  But this icing is different.  This icing almost makes these cake pops passable for a post-workout snack.
Icing:
Using an immersion blender, blend the following:
3/4 cup chocolate whey protein powder (this stuff works great for helping the balls to stick together).
1/4 cup marzipan
1/8 cup unsweetened flaked coconut
4 tbsp almond milk*If you don't have protein powder or my other ingredients for the icing, free free to use make your own more traditional icing, using icing sugar (I don't have a recipe for you on this end, as I'm not really an icing girl in general).
When the cake is ready:
Let it cool for about 15 minutes, until it's comfortable to handle.
Here comes the fun part: dump the cake into a large bowl….and break the whole thing up with your hands!
When the cake is all evenly crumbled and there are no more large pieces, mix in your icing BY HAND.
Once icing is evenly distributed, it's time to make your balls.
Why are you laughing? You should have about 20 golf-ball sized balls.
Arrange your balls so they aren't touching, and place them in the freezer for at least 1 hour.
The final touch:
1 bag dark chocolate chips
1/4 cup slivered almonds
1/8 cup unsweetened flaked coconut
Prep:
Chop almonds so they are even smaller, and mix in a bowl with the coconut, and set aside.
Melt Chocolate chips in the microwave.  Use a low power, and stir a few times.  Be careful not to overcook.
Action:
One at a time, dip a stick into the melted chocolate, and put the stick into a cake pop (while it's still on the baking sheet).
Repeat for all cake pops.  This will help the stick to stay.
Once all pops have sticks, start back with the first one (as it'll be the most secure), and dip the whole pop in the chocolate.
Sprinkle wet chocolate with almond coconut mixture.
Place finished pop in pop-stand, and repeat until all pops are complete.
Place in fridge.
Wait…don't have a cake-pop stand?  Neither did I! I created a make shift stand, so all my pops could dry properly without touching our getting smooshed: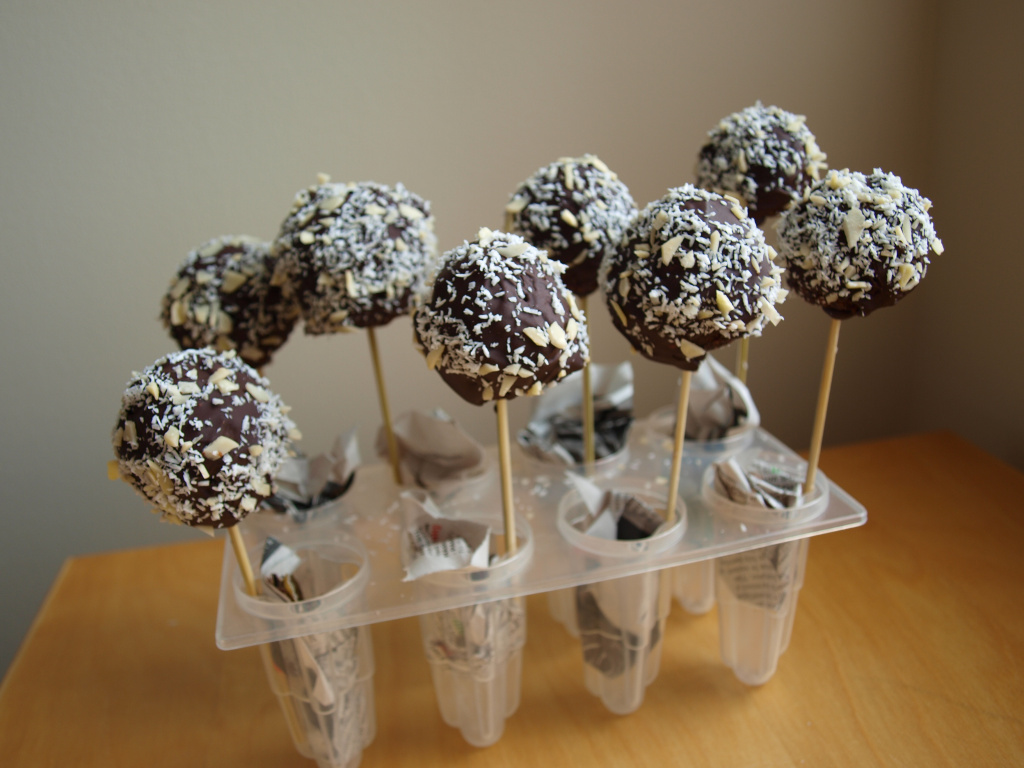 I used an empty popsicle mould, and stuffed each mold with a little bit of newspaper.  The mold was the perfect shape to space out the cake pops.
A note on balance: because the popsicle mold is so light, be careful not to tip it over, so try to place the pops in an order so the weight will be evenly distributed…or get a friend to help.
And if you can't find pop-sticks: use shish-cabob sticks, just cut 'em down with a sharp knife.
Voila!  Cake pops with no sugar, no cake cops sticks, and no cake pop stand require.  I'm also pretty darn sure these happen to be gluten-free and vegan (anyone know if marzipan is vegan?).