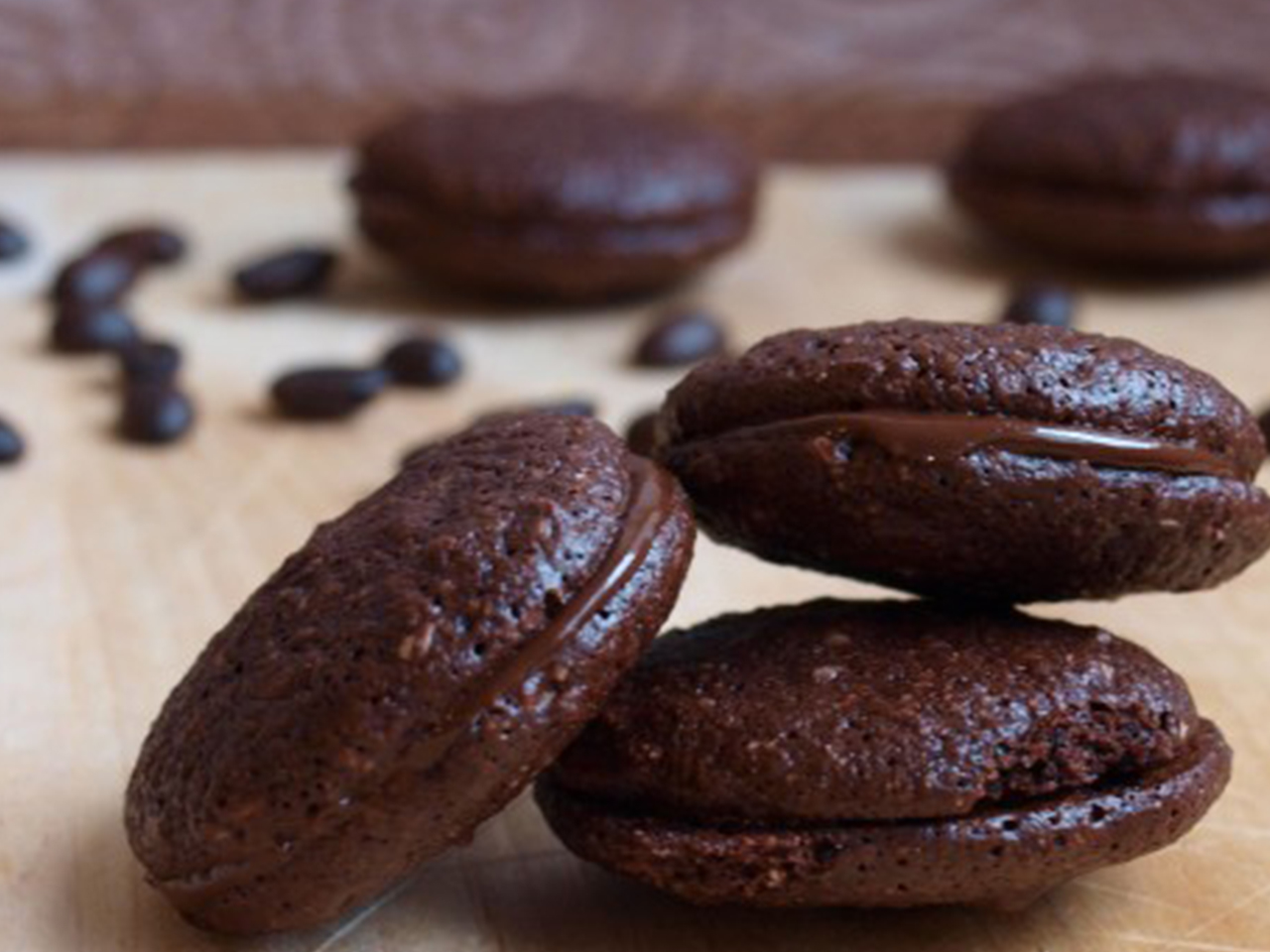 If you don't like things that are too sugary sweet, then these are for you.  If you like dark chocolate and coffee, you will love these. 
I'd never made maracons before…and though they always look extremely pretty, they're a little too sweet for me.  Until now.
These are super crunchy and delicious!  Just don't have too many…and don't have them too late at night because the coffee content can effect you.  Yes, I learned this the hard way.
Perfect for when you just need a bite or two of something sweet, but don't want to overdo it.  While these do use sugar, I opted for coconut sugar, which is lower on the glycemic index, so you won't get a sugar high and crash.

Chocolate Espresso French Macarons
Author:
Cravings Gone Clean/Lauren Breuer
Recipe type:
dessert, cookie
Cuisine:
french, clean eating
Prep time:
Cook time:
Total time:
Ingredients
1 cup coconut sugar
½ cup almonds, ground finely
4 T cocoa powder
2 egg whites, room temperature
1 T ground coffee
⅓ - ½ cups dark chocolate chips or baking chocolate (depends how much you use)
½ t sea salt
Instructions
Preheat oven to 375.
Separate your egg whites, let them come to room temperature.
If you aren't using almond meal, grind it. Grind cocoa, coconut sugar, coffee and almonds in a coffee grinder, or high powered blender. (if using a coffee grinder this could take a few rounds).
Whip your egg whites until stiff peaks form.
Fold in the cocoa almond sugar mixture with a spatula.
Move mixture into a piping bag, and pipe out 1" rounds onto a parchment lined cookie sheet.
Bake for 15-18 minutes.
Let cool. Meanwhile, melt chocolate, and stir in salt.
Make sandwiches with cookies and melted salted chocolate.
Enjoy!
I recently finished paper on the cardiovascular benefits of cocoa…and good news! It has been shown to help lower blood pressure.  The trick is, you have to make sure it's high quality chocolate. The darker the chocolate, the more flavanols, and the more antioxidant content. White chocolate does zilch. Raw chocolate is the best.  The studies I looked at did use some mainstream chocolate…but watch your intake. Everything in moderation! 50g a day is plenty.
In the mood for some more sandwich cookies? These are awesome too!