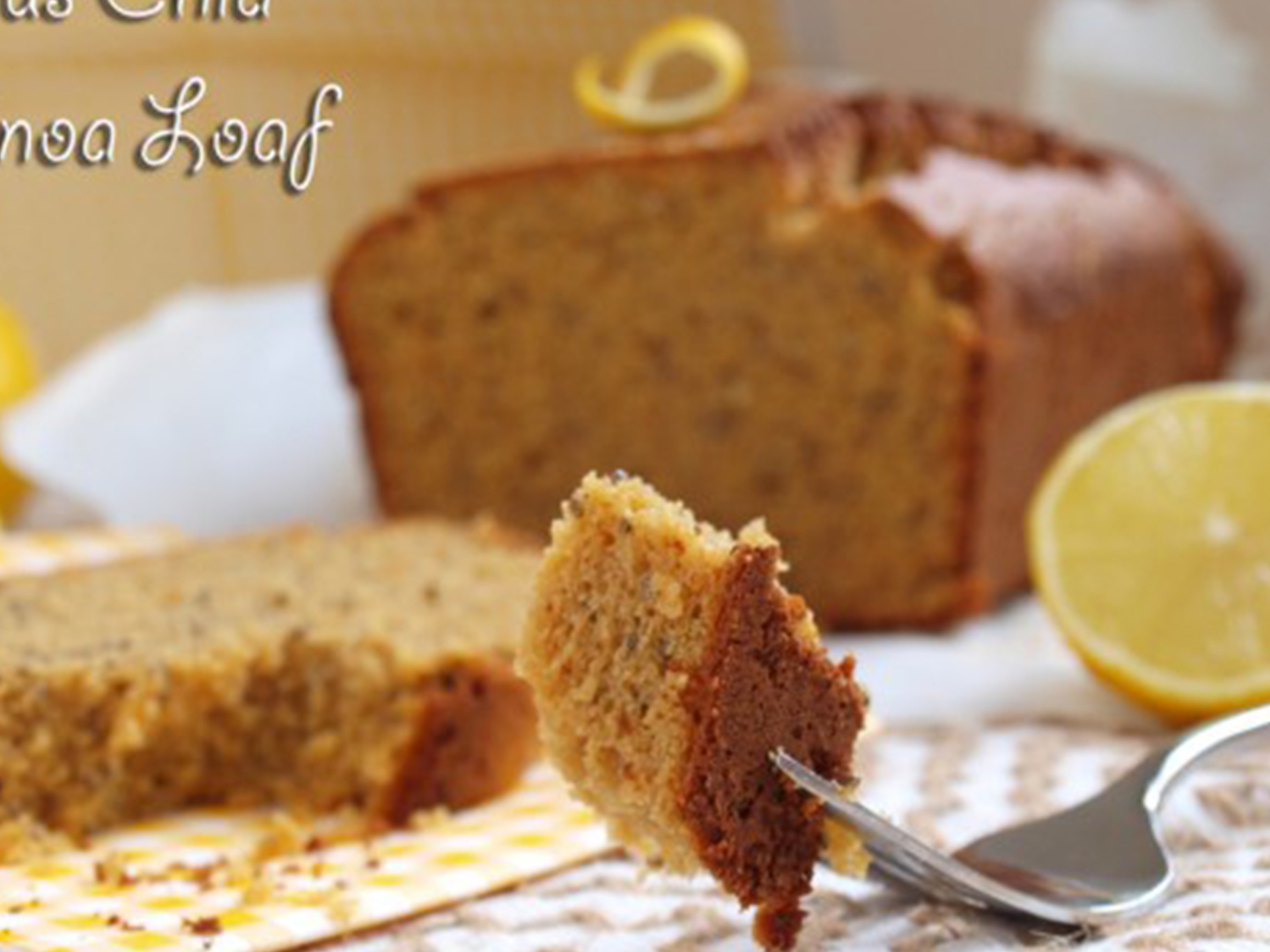 This is a hearty loaf that you can take with you on the run.  It's delicious, satisfying, and guilt-free!  It also packs a superfood punch, with lots of vitamin rich citrus zest, ginger, chia and quinoa.  It's gluten-free, and even grain-free.  It's dense, filling, and based off a pound cake recipe from the Vitamix cookbook…but I've replaced most of the ingredients.  It's full of protein, and healthy fats. Yum!
I am not going to do too much talking about the Vitamix, but all I have to say is that I make quinoa flour from whole quinoa in about 10 seconds.  I'm not exaggerating.  It's insane.  Other than a celebratory smoothie, this was the first recipe I made with it.  I woke up bright eyed and bushy tailed at 6 today with no alarm…and got baking.  I can't believe I can make my own flour in 10 seconds.  This weekend we'll be buying some wholegrains so we can make fresh flour whenever we want!  This means way more nutrient dense grains.  Though quinoa is actually a seed!
That said, don't worry if you don't or can't make your own flour.  You can use store bought flour, quinoa, or any other kind (after all, I was adapting a whole-wheat recipe).
Visit Site
I wanted to play with the idea of a lemon poppyseed loaf–but with a healthier spin.  Here's the transformation that happened to the ingredients:
Whole wheat flour became Quinoa Flour, so now the bread contains a complete protein
White sugar became Coconut Sugar, so now the sweetener is lower glycemic
"healthy butter spread" (or whatever that means..I'd rather see butter on the list), became Coconut oil, which helps you to flush fat, and is burned easily for energy
soy or low fat milk became Almond Milk
I added Chia Seeds to increase the fibre and the omega 3's which are good for your brain!
I doubled the zest, making some orange zest and some lemon zest.  Did you know that the zest is more nutrient dense than the juice?
Everything else stayed as is.  While this is very delicious and delicated, next time I might opt to replace some of the almond milk with lemon juice, to up the lemon flavour.  The ginger is anti-microbial, which is awesome. Onto the recipe!

Citrus Chia Seed Quinoa Loaf
Author:
Cravings Gone Clean/Lauren Breuer
Recipe type:
Bread, loaf, breakfast
Prep time:
Cook time:
Total time:
Ingredients
2¼ cups quinoa flour (or other flour)
2 t aluminum free baking powder
¾ t sea salt
½ cup greek yogurt
¼ cup almond milk
3 eggs
¾ c melted coconut oil
1 cup coconut sugar (or preferred sugar)
2 T lemon zest
2 T orange zest
1 t vanilla
1 T finely minced fresh ginger
2 T chia seeds
Instructions
Preheat oven to 350
Whisk together liquid ingredients and sugar.
In a separate bowl, combine flour, baking powder and salt.
Pour wet over dry and stir well.
Fold in Chia seeds last.
Pour into parchment lined loaf pan.
Bake 1 hour, until crust is golden and a toothpick comes out clean.
What's your favorite kitchen appliance?