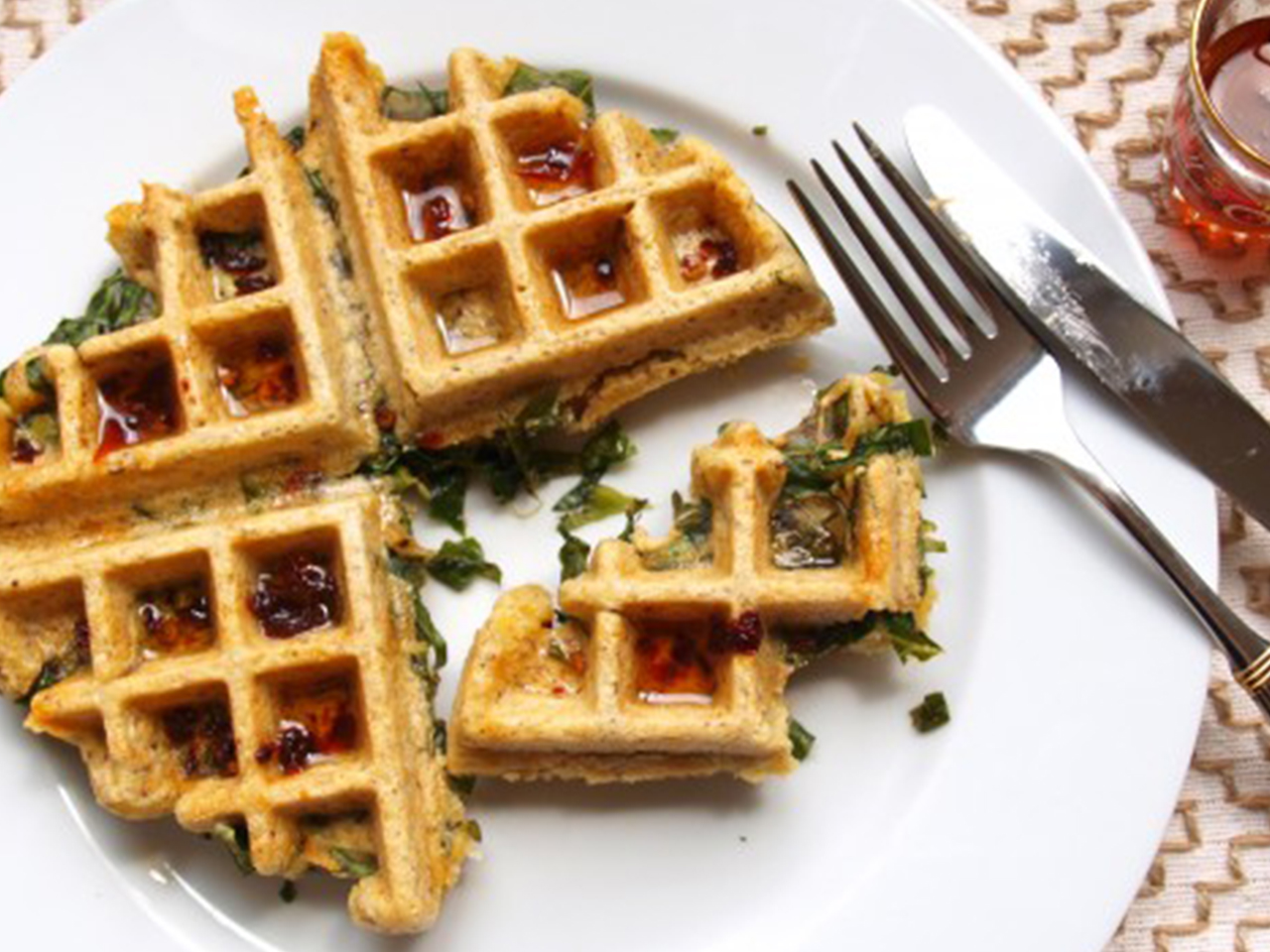 Okay.  This is one of my favourite brunch recipes ever.
Ever.  Around here we're obsessed with all things sweet, smokey, and spicy.  I'm also a little obsessed with waffles….but these waffles…they hold the best combo of flavours.
This recipe came together on Sunday after a trip to the gym–time for well-deserved waffles!  We only wished we had more collard greens on hand to make more.  So delicious.  Leftovers?  Perfect for dinner.  The collards get nice and crispy on the outside, and the ones inside the waffle get perfectly wilted–and you'd be surprised how many greens you can fit into a waffle!
Here's the recipe:

Collard Stuffed Cornbread Waffles with Chipotle Syrup
Author:
Lauren Breuer/ Cravings Gone Clean
Prep time:
Cook time:
Total time:
Ingredients
1 and ¼ cups spelt flour
1 and ¼ cups cornmeal
¼ cup flax seed (ground)
½ cup shredded aged cheddar
½ t ground chipotle pepper (I use a coffee grinder to grind a bunch, then keep it in a glass jar)
2 cups almond milk (or milk of choice) + 2 T apple cider vinegar
3 T coconut oil (melted)
2 eggs
1 t sea salt
1 bunch collard greens, de-ribbed and chopped
SYRUP:
½ chipotle pepper (in adobo sauce)
¼ cup maple syrup
Instructions
Whisk together milk and ACV, and then whisk in all other wet ingredients.
Preheat waffle maker.
Fold in flour, cornmeal, ground flax seed, chipotle powder, and sea salt.
Fold in cheddar.
Prep your collards.
Please adapt the size depending on your waffle maker, but here's what works with mine:
Scoop ½ cup batter, and spread out a little bit with a spatula.
Put a large heaping handful of greens on top.
Top with another ½ cup batter...it'll look like a lot, but it'll all get smoothed out and magically turn into a beautifully stuffed waffle.
Close the lid and wait!
Meanwhile, chop your chipotle as finely as possible, and then stir into the syrup.
Now, this is an ugly picture, but I'm sharing it to show you how it may look before you close the waffle iron.  Don't worry, it's magical, and all the greens will get hidden in batter!
I love the amount of veg you get in a serving here, and also how perfectly they're done.  They're not overcooked at all, and collards are so good for you!  Collards are an amazing source of potassium, vitamin A and vitamin C.  They're a fantastic way to get some antioxidants.
I try to make sure to have dark leafy greens at least once a day.  Do you?