Today this blog hits the big 50.  Fifty posts that is!  Not fifty years.  There was no internet back then, that's for sure. Hurray! I really can't believe I've already hit 50. This is pretty addictive.  They do say that 50 is the new 40, and really, it doesn't feel a day over 29 posts…  When I hit the big 60 you can look forward to some fancy shmancy menus and recipe categories that I plan to pull together in the near future.  Navigating the friendly seas of Cravings Gone Clean will be so easy!
Today I'm going to talk about healthy food stuff.  But there is a crazy dessert at the bottom, not to worry.
I try to eat pretty healthy, as I have for awhile, but I am still always getting little reminders of things that I could/should do a little differently.  When you're making dinner, do you think about the proportions? How big your protein, grains and veges should be? The proportions on this plate are just about what a well proportioned meal should look like (add a healthy dessert onto that and you have the complete picture).  I was very excited about this dinner because of the purple cauliflower!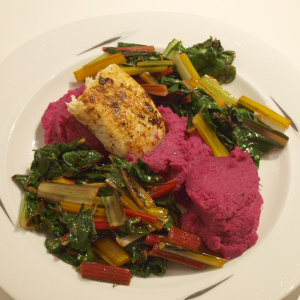 Did you know that cauliflower naturally grows in various colours, including purple and orange?  For some reason the big produce people seem to think that we want it white.  At the farmer's market, we found some purple, and had to get it!  While cauliflower is known to be good for you, I find purple particularly appealing, because foods rich in colour are rich in nutrients, like the swiss chard pictured above.
In one of my classes, we were told these are the proportions you should aim for with your plate:
3/4 veges
1/8 protein (a serving about the size of a palm of your hand)
1/8 grains/starch (sadly not pictured above, but consumed in dessert form, see below)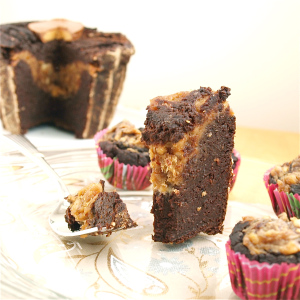 About the proportions:
Ever since I started out at nutrition school and learned more about factory farming and the real difference between organic and generic meat, dairy and veges, we've been buying organic, at least for meat. To read more on organic, check out this post.
We definitely suffered some sticker shock at first.  We cut down on our meat consumption, so we could have the best quality, and err, well, afford it.  In looking at these proportion recommendations, this choice is validated, because your body doesn't need protein the size of your head.  Or the size of your plate.  Or more than 2.5-4 ounces depending on how big you are. All you need to do is eat a portion about the size of the palm of your hand.  No kitchen scale needed!  In the dinner photo above a Tilapia filet that I split with my boyfriend is featured.  With all those veggies, we definitely had enough to eat.  In the past I've always given more thought to portion sizes while watching my weight, or trying to lose a few pounds.  It's refreshing to think of food proportions in the context of what your body needs, and what will help it to function optimally. We're definitely buying less meat and trying to buy enough veggies that we don't constantly run out!  I suppose that's a good problem to have.  Eating too many veggies.  My 8-year-old-hot-dog-eating-self would be surprised.
How to proportion your meal for a sweet tooth:
In terms of the proportions, my little trick (now this is just me, nothing I learned at school) is to go easy on the grains during dinner (or skip them altogether).  Then, have an appropriate sized dessert, like the cake shown above. The best way to enjoy dessert as your starch is to make it wonderfully healthy, like the reese cake I made!  Recipe next time!  This cake actually packs no refined sugars, and and some complex carbs, protein, healthy fats, and it looks like a giant reese cup!  Does it get any better?  Stay tuned.