It seems that many people are getting the sniffles, with this confusing weather/seasons changing we've been having! I wanted to wait a couple of days before posting again, but it seems the world needs this soup!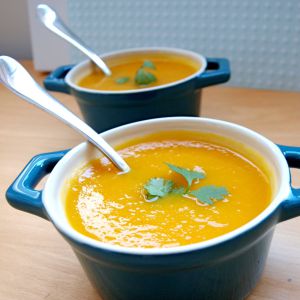 When I was at theater school, and everyone was overworked, I learned about at amazing tea that helps kick a cold, as I had no time to spare.  It's made with ginger (which is antibacterial)–see the tea recipe at the bottom.
I've created a food that is inspired by the cold fighting power of ginger and vitamin c.   I know many people (formerly myself included), gravitate towards orange juice when you're not feeling great, but that's not the best idea.  While OJ packs some vitamin c, it's very high in sugar, so when you drink it your body will be focusing on what to do with all that sugar, instead of trying to get better. Make this soup instead!
Ingredients
fresh ginger (at least 2 cubic inches, or more…if you can handle it!)
3 cloves garlic, minced
1 butternut squash
2 cups carrots, shredded
1/2 medium/large onion, diced
any seasoning you'd like (I used some Southwest Chipotle Mrs. Dash, and red pepper flakes)
How to:
Preheat oven to 350
roast your butternut squash (cut in half, scoop seeds, and cover halves in tin foil).  Bake until tender, about 1.5-2 hours
In a big soup pot: sweat* carrots, onions, and garlic
when butternut squash is ready, remove from oven, and let it cool, so it's safe to handle
when it's cool, scoop out the squash, and add it to the pot
add water to the pot so it just covers all the ingredients**
cover and simmer for 10 minutes
Put on an apron to prepare yourself for:
Immersion blending! ***  (although I bought my immersion blender for smoothies, soups are by far my favorite use now)*sweat means to cook at a low temperature…I do this for 5-10 minutes, until onions get a bit soft)
**I add this much water, because I like my soup thick and creamy.  If you want a thinner soup, simply add more water…if you add too much water, you can let it simmer after blending, and decide your optimum texture
***if you don't have an immersion blender, let the soup cool, and spoon it into a regular blender
And now, for the TEA:
Drink this all day, between your soup meals.
boil about an inch of fresh ginger, peeled and chopped, for about ten minutes
squeeze in half a lemon
add some honey.
It tastes like super-strong, natural home-made Neocitron.
Get better everyone!  Do you have any homemade cold-fighting recipes?