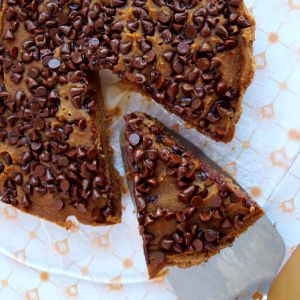 This pie is not your typical pie.  If you tasted it, you'd think that it just couldn't be good for you.  On the other hand, if you looked at a nutritional breakdown of this, you might think it was some super healthy concoction that is not a dessert-like at all.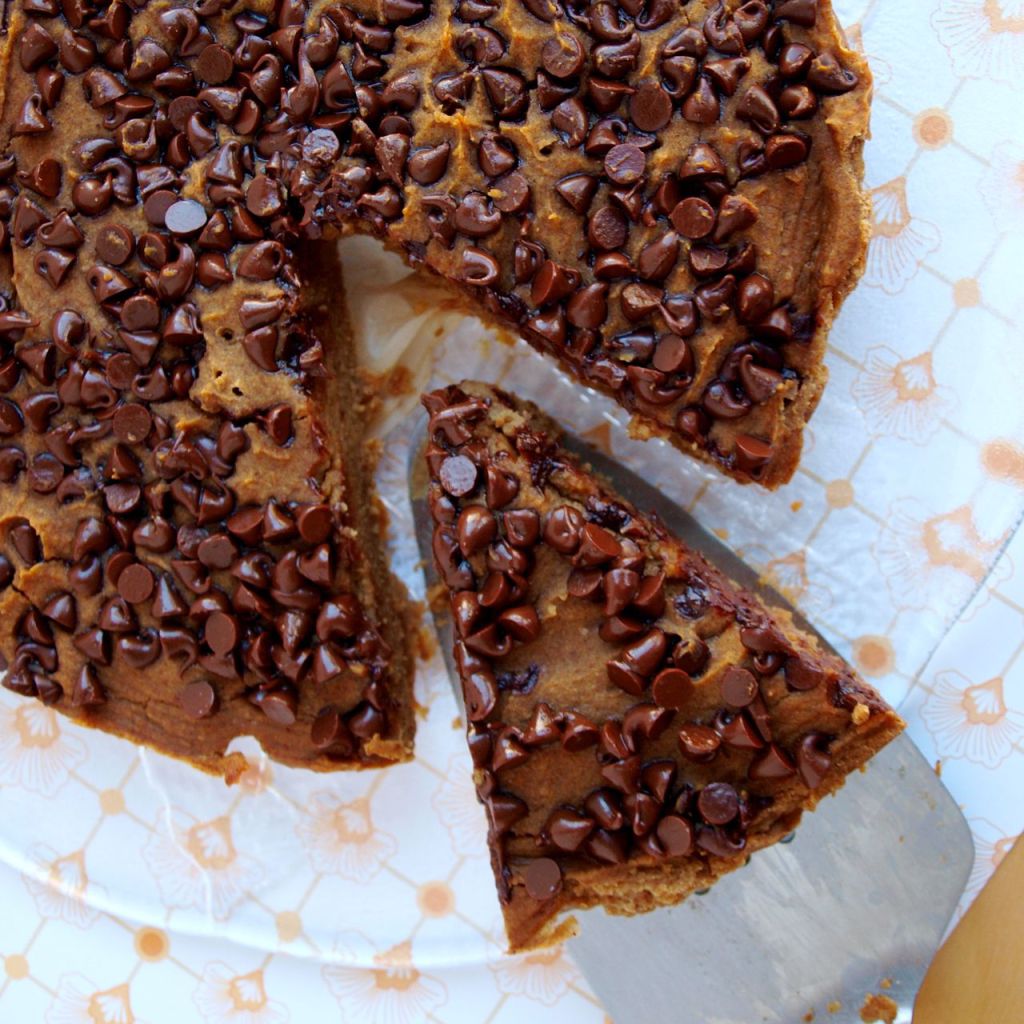 The truth is, it's both!  It's also something you can wow guests with if you have a party.  They will be asking what it's made of…and you can show off that you have found the secret of guilt-free and amazing desserts with this recipe.
I've taken a little break from my original plan of fall recipes, because I had to include this.  I served it at a party on Saturday, and the guests were waiting on the recipe.  Apparently, I should have made 2 pies.  It's actually an adaptation of my original gingerblondies recipe. But when it's a pie, it feels a little more classy.
Here it is:
Ingredients:
1 cup pitted dates
1 can chickpeas
1/2 cup egg whites
1/2 fat free cottage cheese
1.5 tbsp cinnamon (or to taste…I like a lot of cinnamon)
1/2 tbsp nutmeg
1/2 tbsp ginger
1 tbsp baking powder
handful (or 2!) mini dark chocolate chips
In the food processor:
preheat oven to 350
pulse dates for a minute or so in food processor
add chickpeas and blend (a minute or two)
add liquid ingredients through feed tube
add powder ingredients
pour into 9″ pie pan(I lined mine with parchment paper)
sprinkle chocolate chips on top, and press them in gently, so they stay in place
Baking time:
The baking time is different than the bars, as the pan is smaller, so you're making a thicker dessert.
You can vary the baking time, depending on the result you want: creamy or chewy.  I baked mine for about 50 minutes, and it was a creamy texture (great after having been refrigerated for a couple of hours).  If you want it to be chewier, try upping the baking time, to maybe 65-70 minutes (but do keep an eye on it, as I haven't tried that yet.
Why this is awesome:
 it tastes like a rich dessert
it could be a post-workout snack, as it features lots of great proteins (chickpeas, egg whites, cottage cheese)
it could even be a balanced breakfast!
it's gluten free
the prep time is about 10 minutes
ginger is antibacterial
cinnamon revs your metabolism
dark chocolate=antioxidants
Basically this dessert can help you recover from a workout, keep your skin glowing and your hair shiny with healthy fats…and make your life longer with antioxidants.  Need I say more? Get to the kitchen!