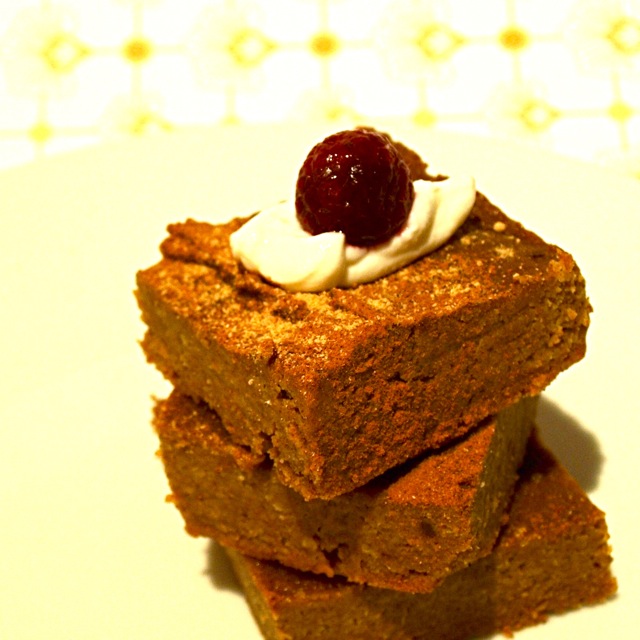 You won't believe what these are made of!  I feel like I am really starting to rock the science of substitutions (watch out for a post on just that topic next week).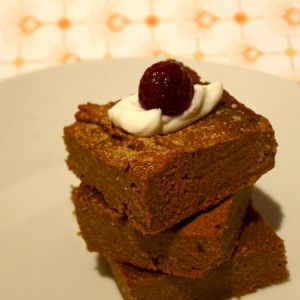 These are so moist that I wasn't sure what to call them.  First they were blondies, but then they are darker/warmer in colour…there is a lot of cinnamon in them.  They taste as rich as brownies, but are more moist.  They are like a combo of pecan pie and brownies…without the nuts?  ALSO, of course, they are healthy, and contain a decent amount of protein and fiber!  So everybody wins. I am open to better name ideas.  But please, don't make fun of gingers.  Trust me, if these are gingers, they are delicious.
Ingredients:
1 cup pitted dates
2 cups chickpeas
1/2 cup egg whites
1/2 fat free cottage cheese
1.5 tbsp cinnamon (or to taste…I like a lot of cinnamon)
1/2 tbsp nutmeg
1/2 tbsp ginger
1 tbsp baking powder
In the food processor:
preheat oven to 350
pulse dates for a minute or so in food processor
add chickpeas and blend (a minute or two)
add liquid ingredients through feed tube
add powder ingredients
pour into 9′ X 13′ baking pan (I lined mine with parchment paper)
I baked it for 30 minutes, literally because I really wanted to try this recipe idea, and I had to run out the door.  They are very moist.  If you prefer a crunchier bottom/outside, you could definitely leave them in longer.  Either way, very yummy!  (all of this is safe to eat at any amount of being cooked, anyhow)!
What's your favorite dessert?