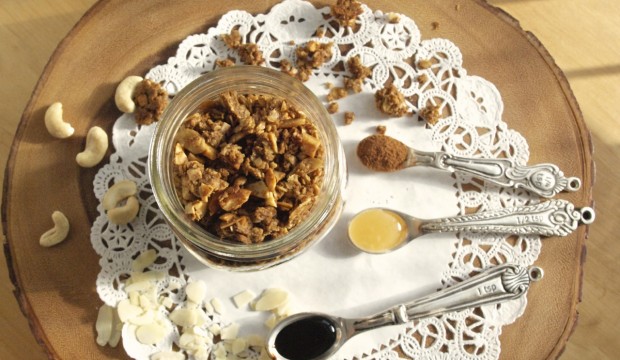 Today I present Granola- lightened up!  Often granola is loaded with sugar, and here I've taken that down a notch, but I definitely find it sweet enough for me.
This is a recipe perfect for a lazy Sunday morning.  It fills the house with delicious aromas…and you do need to bake it for some time…maybe while watching a movie in your pj's.  There's a nice mix of nuts in here for protein and healthy fats.  I've snuck in some quinoa flakes–because who says granola need only be oats? Again, these guys boost the protein!
This recipe as a whole is much lower glycemic than your average granola with the protein, healthy fats, and of course, fiber.  Oats themselves are a great source of soluble and insoluble fibre, but I've upped the fiber with some flax meal.
The best part really is the sweet smell of all these delicious spices.  With the way the weather has been, why not stay in, feel cozy, take in a breath of this cinnamon-ginger-vanilla?

Good for you Granola
Author:
Lauren Breuer/ Shockingly Healthy
Prep time:
Cook time:
Total time:
Ingredients
3 cups rolled oats
1 cup quinoa flakes
½ cup flax meal
1 cup sliced almonds, chopped roughly
¼ cup cashews, chopped
¼ cup hazelnuts, chopped
1 tablespoon cinnamon
½ cup almond milk
¼ cup coconut oil, melted
1 teaspoon vanilla
2 tablespoons molasses
1 tablespoon fresh ginger, grated
½ teaspoon sea salt
½ cup honey
½ teaspoon stevia powder (optional to boost sweetness)
Instructions
Preheat oven to 325.
Mix together dry ingredients.
In a pot, combine liquid ingredients and stir together over low heat
Pour liquid over dry ingredients, and mix well.
Spread over a parchment lined baking sheet and bake for 30 minutes.
Turn temperature down to 225, and stir granola, before returning it to oven.
Turn again in 10 minutes.
Turn off the oven, and leave the granola in for another hour.
Store in an airtight container.
A super delicious bite!
Lastly, I must add that I had the most delicious lemon poppyseed Greek Yogurt with Granola at one of Shockingly Healthy Brownie's newest retailers, Astarté !  You should check it out if you're in downtown Toronto!
In my next post I will be talking about the cookie development process down here…ie my professional explanation for having eaten way more cookies in a month than I care to admit.  Well.  If I'm a cookie developer, I suppose it comes with the job!