It's Saturday!  That means you have time for pancakes, so here you go.  These are a great way to get some protein, whole grains, antioxidants, and fiber in a delicious breakfast.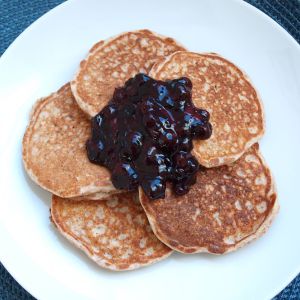 They serve 2, but you can easily double it, or divide it in half.
Ingredients
Pancakes:
1/2 cup egg whites
1/2 greek  yogurt
splash of almond milk
1 tsp baking bowder
1/2 c. flour (I used spelt)
1/4 c. flax seed, ground
1/4 c oatmeal
1/4 tsp almond extract
1 tsp vanilla
Compote
1 cup blueberries (mine were frozen)
3 tbsp syrup (I used No Sugar Added E.D.Smith)
1 tbsp lemon juice
1/2 teaspoon guar gum (or anything you can use to thicken…adjust amount to desired thickness)
How to:
preheat your pan or griddle
preheat saucepan to low heat for compote
In a medium mixing bowl, whisk together all wet ingredients except almond milk for pancakes
gradually whisk in dry ingredients
add splash of almond milk, to adjust thickness of batter
if you want the pancakes all to be the same size, use a 1/8 c measuring scoop to pour batter
cook until pancakes begin to bubble, and flip, cooking until goldenMeanwhile, as the pancakes cook:

add blueberries, syrup, and lemon juice into saucepan and cover, stirring every so often
when blueberries are warm, and no longer frozen, mash with the back of a wooden spoon, and let simmer for another couple of minutes
remove from heat
if you have guar gum, start by adding a very little bit, to thicken mixture…this is when it becomes a compote!If you don't have guar gum, do not fear.  You can let it cook down a little more to thicken it, and/or add a little bit of flour or corn starch to thicken as well.  If it's not as thick, it'll still taste good!   This is the first time I used guar gum.  I did find it at a mainstream grocery store in the baking section, so I think you should be able to also, if you're interested.  It was definitely the most powerful thickener I've used.
Enjoy!  What's your favorite kind of pancakes?