I like to cook!  I'm pretty breakfast obsessed, and I think you can make french toast suit any meal of the day.  This is a place for me to share ideas, and hopefully connect with others with similar inclinations…I try to keep it healthy, and I don't love to measure things (though it's always good start that way with a recipe to learn the basics, and to improvise after).  Anyhow, welcome!
Sometimes you don't have a lot of ingredients around. This day (which was actually a couple of weeks ago) was a lazy Sunday like that. I think the weather wasn't great either, and we just wanted to make do with what we had.
Ingredients:
bread (the really healthy spring water multi-seed bread) I've come be quite loyal to
smoked meat
leftover caramelized onions (from burgers we made the night before)
eggs
pickles
dijon mustard
maple syrup
milk
With this I created the Monte Moses: it's like a Monte Cristo, but the ingredients are traditional Jewish, meaning Smoked Meat is the key filling of the sandwich.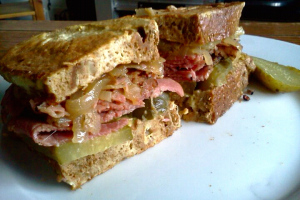 Start by making french toast. To serve 2 people, use 4 slices of bread, and 2 eggs.  Beat the eggs together, and add 1 tbsp dijon mustard, a little maple syrup,  and a splash of milk. Dip the bread in, and fry it with a little cooking spray or olive oil.
Heat up smoked meat in the microwave of oven.
Caramelize onions!(this should be done first, and generally, the slower you cook them the better they'll turn out).
Now, be sure to use a generous amount of smoked meat, as that is one of the distinguishing factors between a Monte Moses and  a Monte Cristo.
Throw it all together, adding dijon mustard or honey mustard to taste, and a few slices of pickles.  Voila!