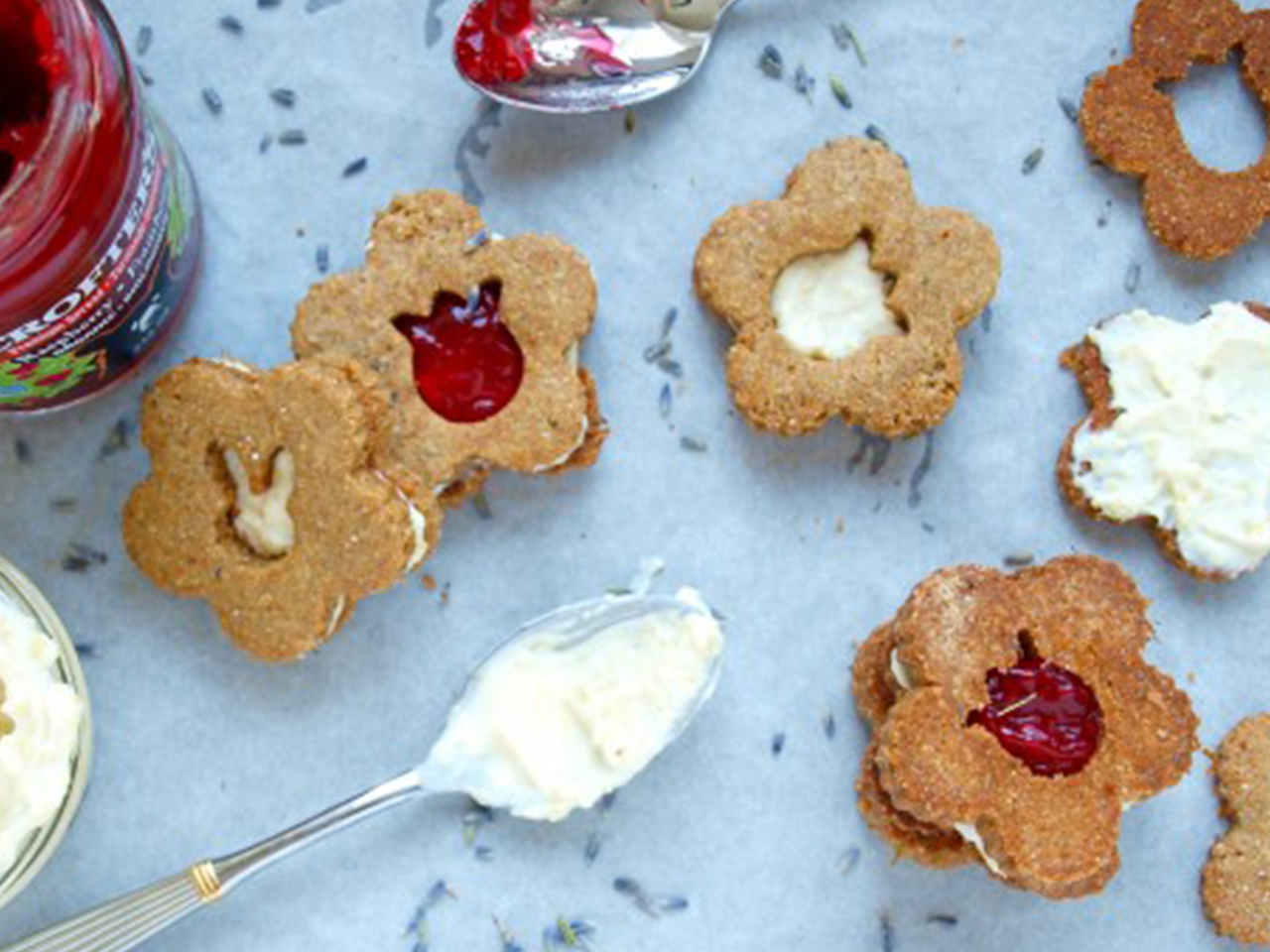 Lemon lavender linzer cookies.
I love a good alliteration.
These are delicate and have a nice complex and delicious combination of flavours!  They're like those peak freans cookies, but way better.  Do you remember those cookies?  I used to eat the outside of the top layer first, then the icing, then the bottom cookie, and I'd eat the center last.   But when they're homemade, I found myself going after the perfect bite.
I have to confess that I bought plain lavender.  Not "cooking" lavender.  If anyone wants to warn me of the difference, please do.
But we survived.  And so will you.  Until you run out of cookies.  So, without further ado, the recipe!
A quick note:  There are few ingredients in here that might not be in your kitchen cupboard: coconut sugar, spelt flour, and quinoa flour.  The coconut sugar makes these much lower glycemic, and the quinoa flour adds some protein.  Feel free to give these a shot–but if not, replace with what you have on hand.  I'm sure these would work with whole wheat, or a bob's red mill gluten-free blend.

Lemon Lavender Linzer Cookies
Author:
Cravings Gone Clean/Lauren Breuer
Recipe type:
cookie, dessert
Prep time:
Cook time:
Total time:
Ingredients
1 cup coconut oil (melted)
2 T ground lavender
½ t vanilla
½ cup coconut sugar
pinch salt
1.5 c spelt flour
1 cup quinoa flour
2 T almond milk
ICING:
4T plain greek yogurt
4T raw honey
2 t lemon powder* (or lemon extract, or lemon zest)
CENTER FILLING:
Raspberry jam.
Instructions
Melt your coconut oil, just barely (you don't want it to be hot, but it must be liquid).
Mix together all dry ingredients for the crust.
Mix in almond milk, vanilla and coconut oil. Wrap and chill for a half hour in the fridge.
On a floured surface, roll out dough so it's about ¼" thick.
Use your cookie cutter to cut the cookies!
Transfer to greased or parchment lined cookie sheets.
Bake at 350 for 18-20 minutes, until just barely golden (you don't want them to burn!)
While they're cooling, mix together the icing ingredients.
Spread the lemon icing, and the put a blob of the jam on the center of a bottom cookie, before topping with a top cookie.
Enjoy!
*Lemon powder.  I discovered fruit powders over here at
The Cupcake Project
.  I get a lot of inspiration from more mainstream but awesome blogs, actually.  Anyway–lately I'm a little obsessed with NOT wasting anything, if it's possible.  This means that every week when I juice a bunch of lemons, I then rough chop all the peel, dehydrate it, and puree it into lemon powder. The lemon powder goes in a jar in the fridge, and then gets used in, well.  A LOT.  It's got used so much I fear you'll get sick of lemon and orange flavoured things. But maybe you wont…because I'm not!
What's nice about the fruit powder is that it adds loads of flavour without adding any moisture.  I am aware that not everyone is going to make fruit powder, so feel free to use zest or lemon extract for icing–just taste as you go to get the right lemony-ness for you.
You'll want to keep these in the fridge because of the dairy in the icing.
Lavender is just so pretty.
What a beautiful spring cookie.