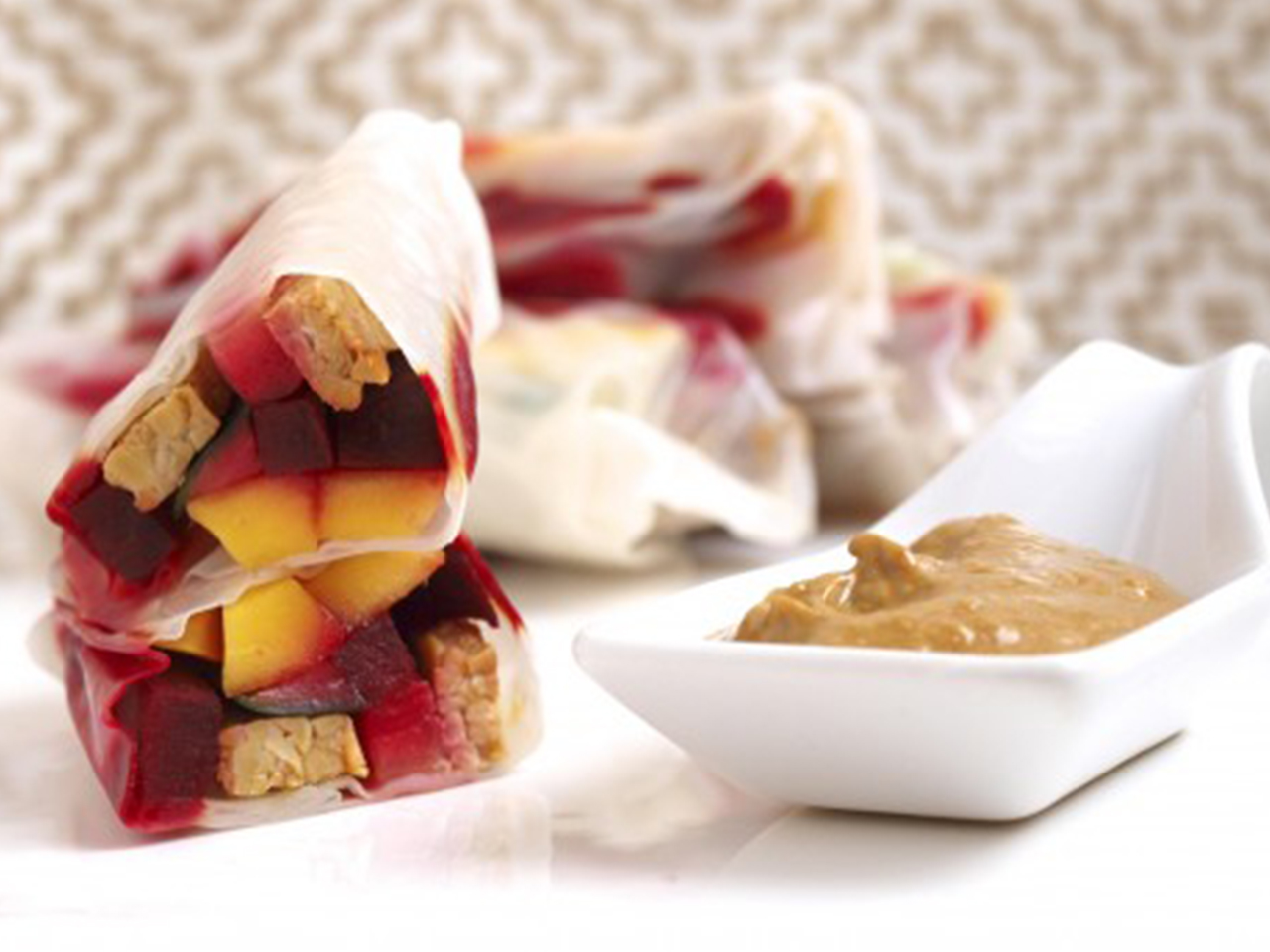 Now that it's finally spring (dare I say!) I'm moving away from soups and hot food and onto cooler salad-y food.  These are awesome!  They're super quick and easy to assemble, and you can use whatever flavour combination you'd like.  They're also fun to make–the rice roll wrappers start out stiff as a board, and soften in water in about 30 seconds.  We had a little assembly line going to make a few days worth of lunches.
I used mango, beets, cucumber and tempeh bacon for some protein.
Here's everything prepped:
You barely need a recipe insert, but here is mine:

Mango Beet Tempeh Rice Rolls
Prep time:
Cook time:
Total time:
Ingredients
1 mango, pelled and julienned
1 medium sized beet, peeled and julienned
16-20 rice rolls
⅓ cucumber, julienned
1 package organic tempeh
⅛ cup maple syrup
⅛ cup tamari
pinch cayenne pepper
Instructions
Giant julienne your tempeh (larger pieces than a usual julienne so that it doesn't break).
Mix together maple syrup, tamari and a few pinches of cayenne pepper, and marinate tempeh for about a half hour, moving the pieces around a few times.
While the tempeh's marinated, prep your mango, beet and cucumber.
Steam your beet (optional), but I prefer to do so.
Fry the tempeh in a non-stick pan (I love my GreenPan), for about 5 minutes, making all sides are evenly cooked.
Set aside and allow to cool.
Set up your production line: 1 large plate full of water, with your hard rice wraps beside, and a clean surface for rolling.
Soak 1 rice wrap at a time, and then place on cutting board. Put ingredients inside, and then fold in sides, and roll it up.
Keep going until they're all done!
I made a spicy peanut sauce for these…but I have to confess, I sort of improvised it.  It involved peanut butter, tamari, chili paste…and I'll have to recreate it, but I encourage you to improvise as well!
They're perfect for weekday lunches, or appetizers for a party.  If you make them ahead of time, be sure to separate them with some wax or parchment paper, because the delicate rice wraps can get stuck to each other.
What type of filling would you like put inside these fun rolls?