I have to interrupt my planned pumpkin programming (can you tell I love a good alliteration?) to bring you this amazingly decadent tasting piece of heaven.  It's that good.  And really, I am still excited about pumpkin…but I just HAD to share this today.  These taste like a cross between flourless chocolate cake…and a peppermint mocha.  Just as it's getting colder, we need a little comfort like this!  Guilt-free comfort, that is.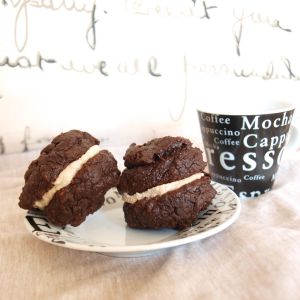 Of course, as you are at Cravings Gone Clean, there is a catch.  The catch is that there are beans and flax seeds in these babies.  I swear you would never know.  The other catch is there is no butter.  And no white flour, and no refined sugar…really, you MUST try them.   The best part is they only bake for 11 minutes!
Ingredients:
Pies:

1/2 cup flax seeds (ground)
1/2 cup spelt flour
1 cup black beans (rinsed and drained)
1/2 cup cocoa powder
1 tsp peppermint extract
1 tsp baking soda
1/2 tsp baking powder
pinch salt
2 tsp. vanilla
4 tablespoons instant espresso (or instant coffee)
1/4 cup coconut oil (use another oil, or more apple sauce if you don't have any)
1/4 c. apple sauce
2 egg whites
1 and 1/4 cups dates (dry)
1/2 c milk (I used almond)
Filling:
1/4 c. ricotta cheese (light)
1/4 c. greek yogurt
1/8 tsp peppermint extract
1 tsp instant espresso
stevia, or any other sweetener to taste
How to:
preheat oven to 350
in the food processor, pulse the beans and the dates until they're roughly broken down
add all other ingredients except the milk, and pulse and blend
lastly, add the milk slowly through the feed tube, while pulsing.  this will even out the texture
blend until smooth
on greased or parchmented cookie sheets, spoon heaping tablespoons, 2 inches apart (I used 2 cookie sheets)
bake for 10-11 minutes
In the meantime, make your filling:
mix all filling ingredients together, and voila!
when they're done, let your pies cool for 10-15 minutes, otherwise your filling will melt
resist the urge to eat them as cookies…
I liked these so much I shot them 3 times! I just didn't feel like could capture their wonderfulness in these shoots. So below (and above), you can see a few of my attempts…but maybe this is just another excuse to make them again in the near future!  They were a little tough.  Looks like I need a whoopie pie pan if I want these guys to have a more uniform shape.  First I shot them at the end of the day, as I was so excited about them: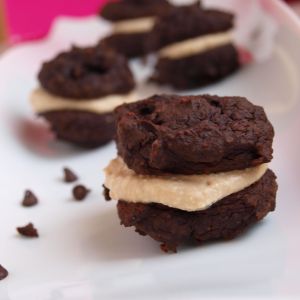 As you can see, there was much light.  But I had to shoot them, what if they were all gone by the time I was home with decent daylight?  Then, when I had some natural light, I thought that putting them on a pedestal of upside-down espresso cups would showcase them: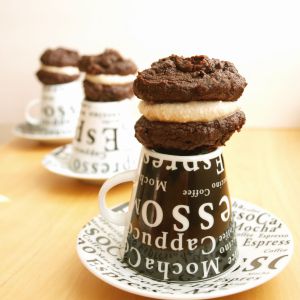 I'm not sure.  Here, they look like they're coming to get you: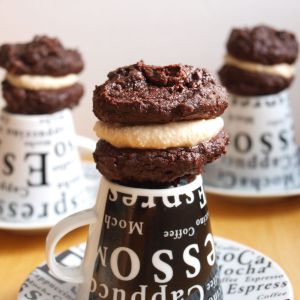 As you can see, the natural light really makes them look a lot more moist.  Yum!  For my next post, we're back on the schedule with a pumpkin breakfast bake.  Stay tuned!  And if you like these recipes, please try them, and let me know how they went.