The world has been crazy with Royal fever, as I'm sure you know well enough.  Now, in all the media coverage I've seen…the result for me has not been any more interest in the royal wedding… I just wanted a royal breakfast.  There have been lots of shows telling us how to host a party for the event..and I've definitely seen some scones that I'd like to sample.  However, scones for dinner didn't sound quite right.
Making some crazy combination of multiple breakfast food together sounded just right, and here you have what we ate for dinner last night (and breakfast this morning), the Montreal Sugar Shack Stack! It's wonderfully sweet and savory!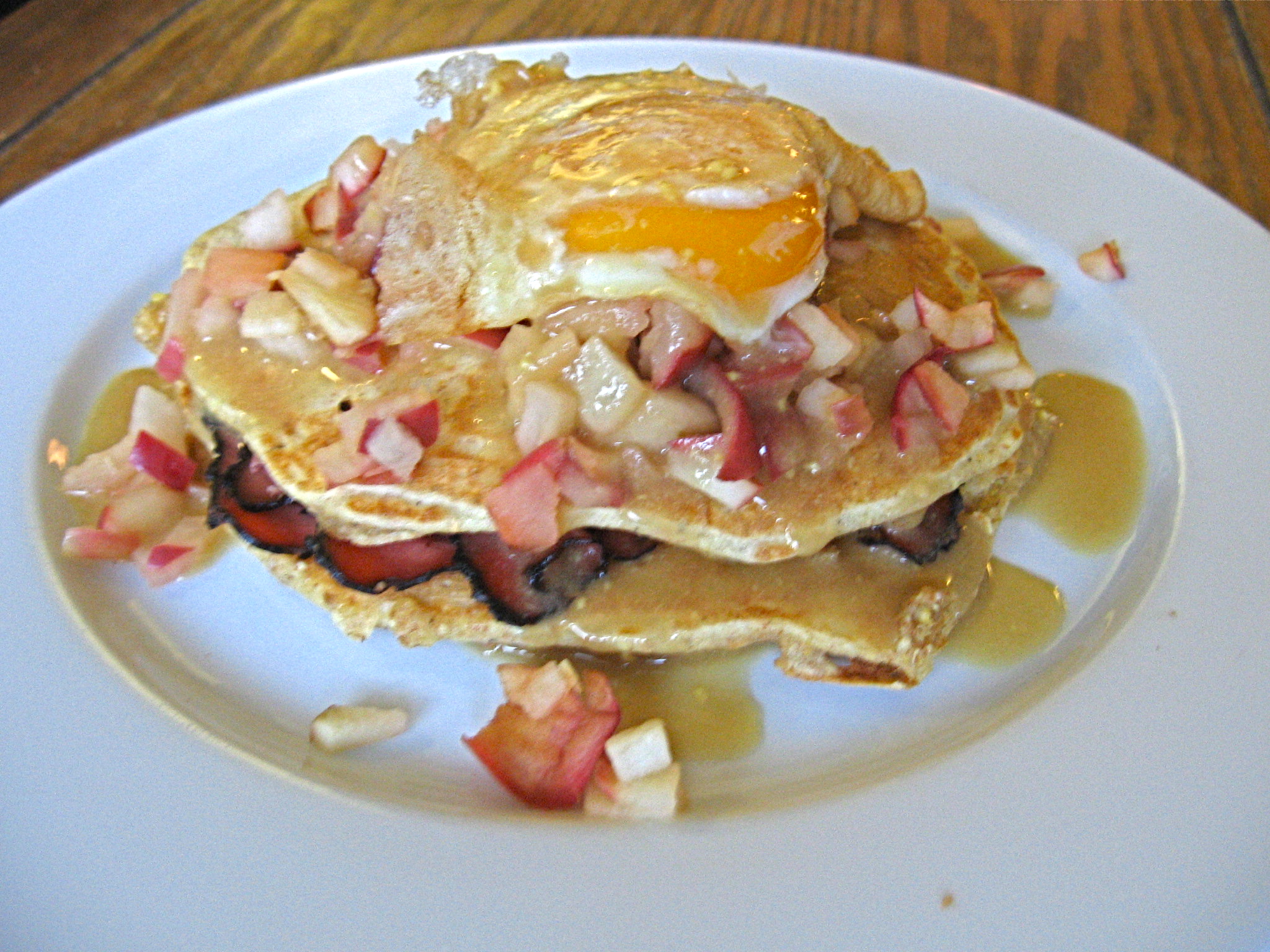 Pancakes (serves 4)
2/3 c whole wheat flour
1/3 c cornmeal
1 tsp baking powder
1/2 tsp. baking soda
salt and pepper taste
1/2 cup red peppers finely diced
1 c skim milk + 2 tbsp lemon juice (=healthy buttermilk substitute!)
Whisk together wet ingredients. Mix together dry ingredients. Combine, and then fold in the red pepper.  Cook 'em up!
Layer #1: Extra Lean Montreal Smoked Meat
Heat it up, and add it on top of pancake #1
Add Pancake #2
Layer #2
2 apples, finely diced and fried for a few minutes
Layer #3: Fried Egg

Despite my love of breakfast, I have yet to master the art of poaching an egg.  I mean, I've figured it out, but really, if everyone wants to eat together, it's hard to have them all ready at the same time. I will admit, that I don't find egg poaching to be a stress-free experience.  If you're using non-stick, and your goal is a runny center, I think a fried egg does the trick.
I used a really large pan, and when I was done with the pancakes, I cooked the apples in one half, and the eggs in the other half, (while microwaving the sauce) so everything would be ready at the same time.
Layer #4: Dijon Maple Syrup
Sorry, I really didn't measure on this one…but I'd say 4 parts maple syrup to 1 part Dijon mustards.  Whisk with a fork and microwave or heat up stovetop..and pour atop your stack.
Let me know what you think! 
Also, I'm wondering: poached or fried, do you have a preference?