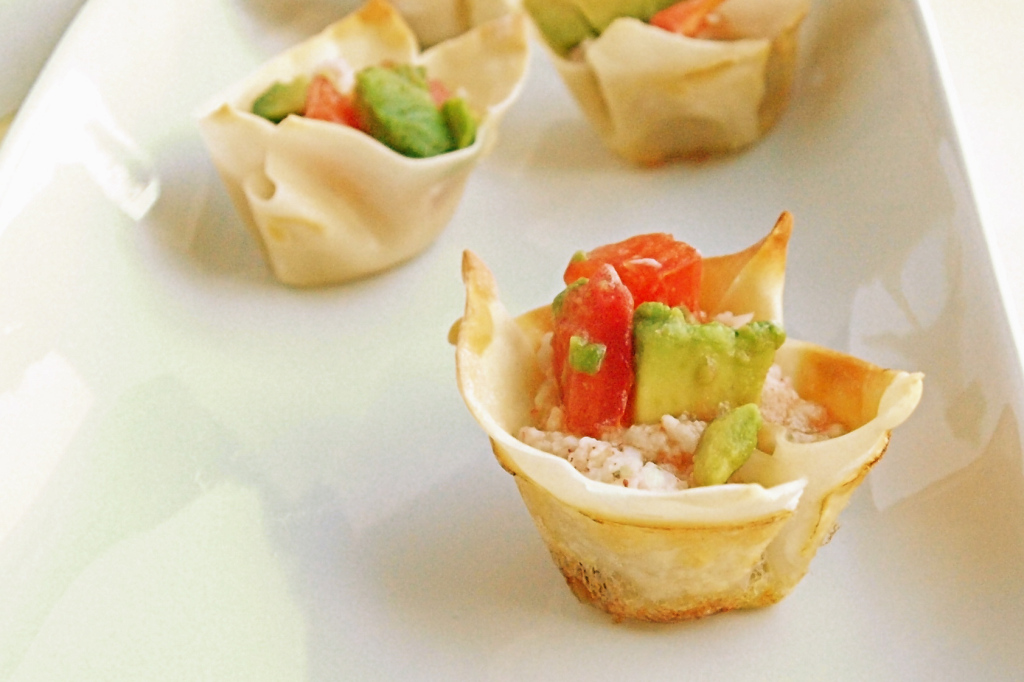 In the holiday season we're jumping from celebration to celebration. It was a good Christmukah.  A very good Christmukah.  Especially for this little blog, here, because the owner of this blog was treated to quite the shopping spree at Golda's Kitchen, a specialty baking/cooking store in Toronto. (This was not a sponsored post, unless you count "sponsored" by my lovely parents to be "sponsored").  I felt like a kid in a candy store.  In fact, I was more like a kid in a candy-making-supply store. I did get some chocolate moulds.  It was a lot of fun.  And now I've got some lovely pie pans, and spring form pans, and nifty little gadgets.  That means we are ready to move beyond recipes that involve ramekins and loaf pans!  Hooray!  To celebrate my new kitchen hardware, I made a quiche and a matcha green tea cheesecake.  Here they are: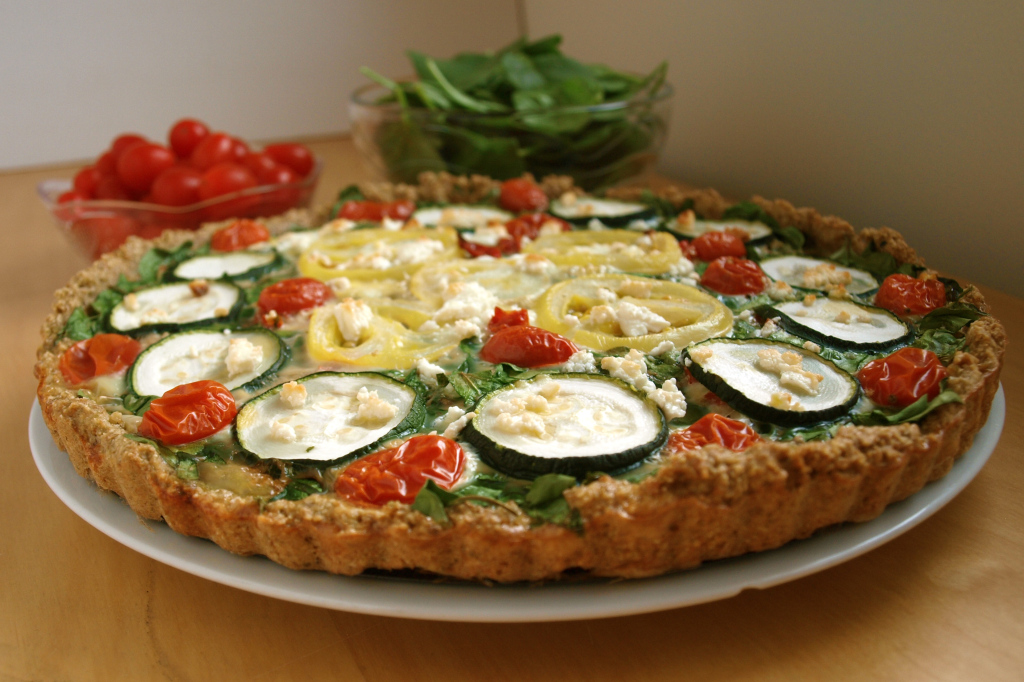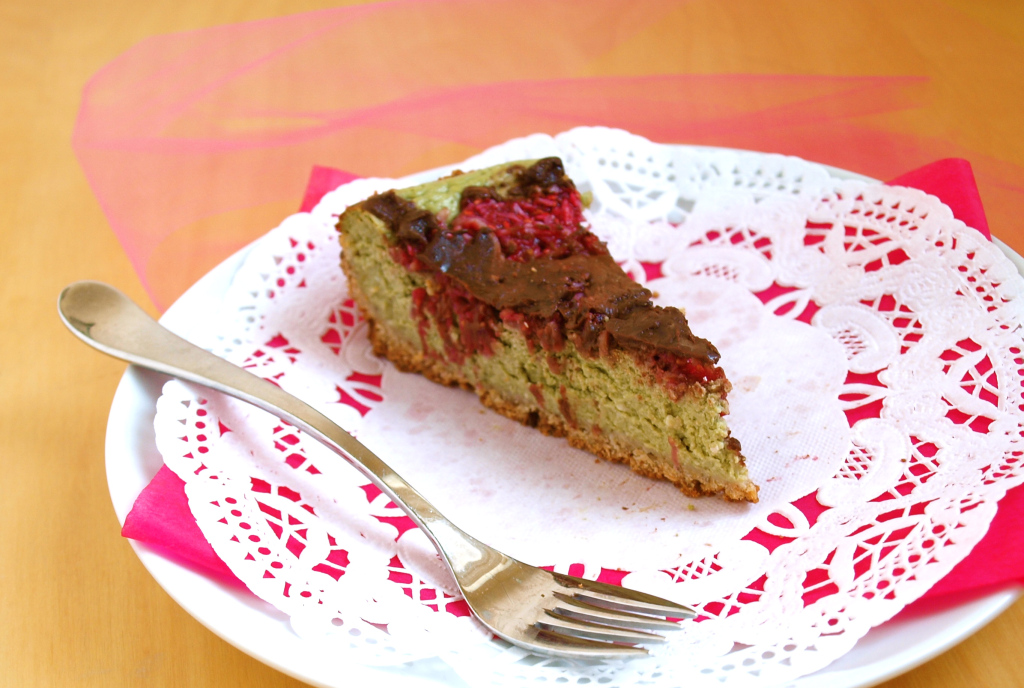 Recipes for those will be coming in the near future.  But now, let's talk about New Year's.  New Years is a time for finger good.  If you're throwing a party, you want to make stuff that might look fancy, but is relatively easy.
Egg rolls are egg rolls.  But egg roll wrappers can take any filling to a whole other level.  Like this: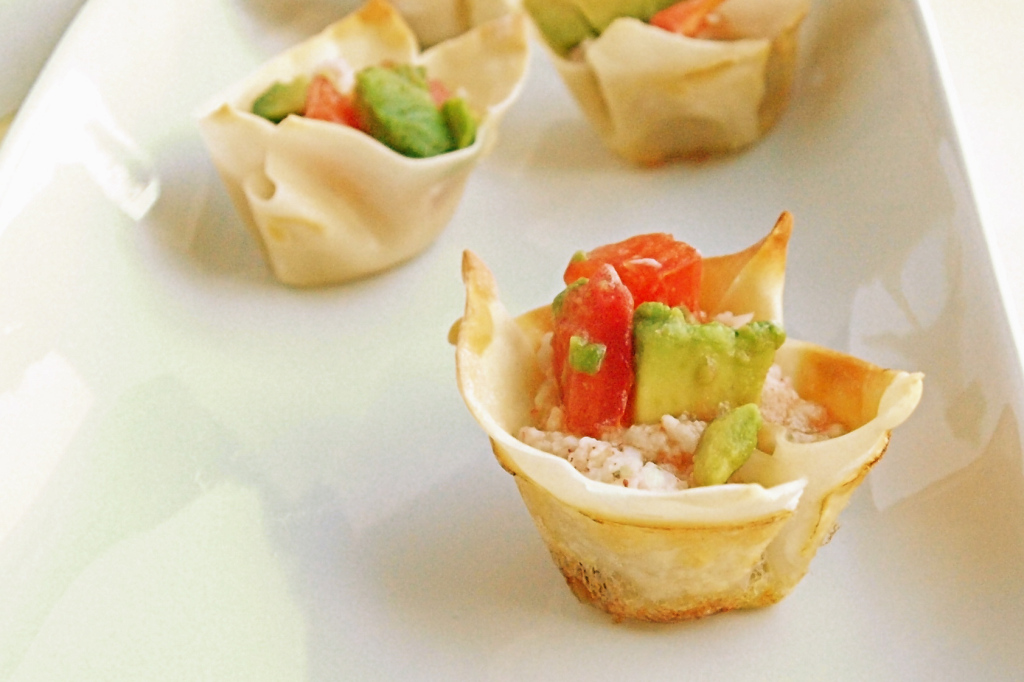 They are so easy.  All you do, is buy the pre-made egg roll wrappers (because, sadly, I am not going to tell you to spend time making egg roll wrappers in preparation for a party, when I'm sure you've got lots on the go).  Here is your custom ap in a few easy steps:
Spray or brush each wrapper with olive oil on both sides
Pop each wrapper gently into a mini muffin pan
Bake until crispy, 400 for maybe 10 minutes, but keep an eye on them (it's be awhile since I've done this)
When golden fill them with whatever filling you have.
If you are serving something you'd like to warm up, just toss the filling in before you bake them, and adjust your baking time.  In the image above I've filling them with a crab salad (made from crab, greek yogurt (no mayo!), some avocado and tomato.  The great thing about these is that you can even use them to dress up your leftovers.  Turkey and cranberry sauce would go nicely in these. Really, your filling options are only limited by your imagination!  Any type of dish you'd like to cook is transformed into finger food.  Voila!
Here are a few other ideas for recipes for New Year's, and other parties:
Cake Pops, because you want something on a stick.  It's just fun.


If your party is going really late, why not introduce some french toast cups late in the evening? It saves party-goes from hitting up a sub-par greasy spoon on the way home.


The gingerblondie pie. This pie is always popular.  You-better-make-a-double-batch kind of popular. Cut it in squares it becomes party food.  Better make two, because this is one popular pie.  Plus it packs some great protein, to give you the stamina for a late night.

And of course, you can make truffles.  Really, if you want to be the most successful host, it's simply the right thing to do.  You could make mini truffles, and put them on wine or champagne glasses as a garnish, but cutting a little dent. They're sturdy, I think it would work.  Here are my ginger-coconut, and cranberry white chocolate truffles.

I hope you have a safe, happy and healthy New Year's, filled with lots of good food that is shockingly healthy!  I might be back before then, but with the chaos of traveling home, my schedule is a little unpredictable.
Have you thought about New Year's resolutions yet?  I might be talking about that next time…