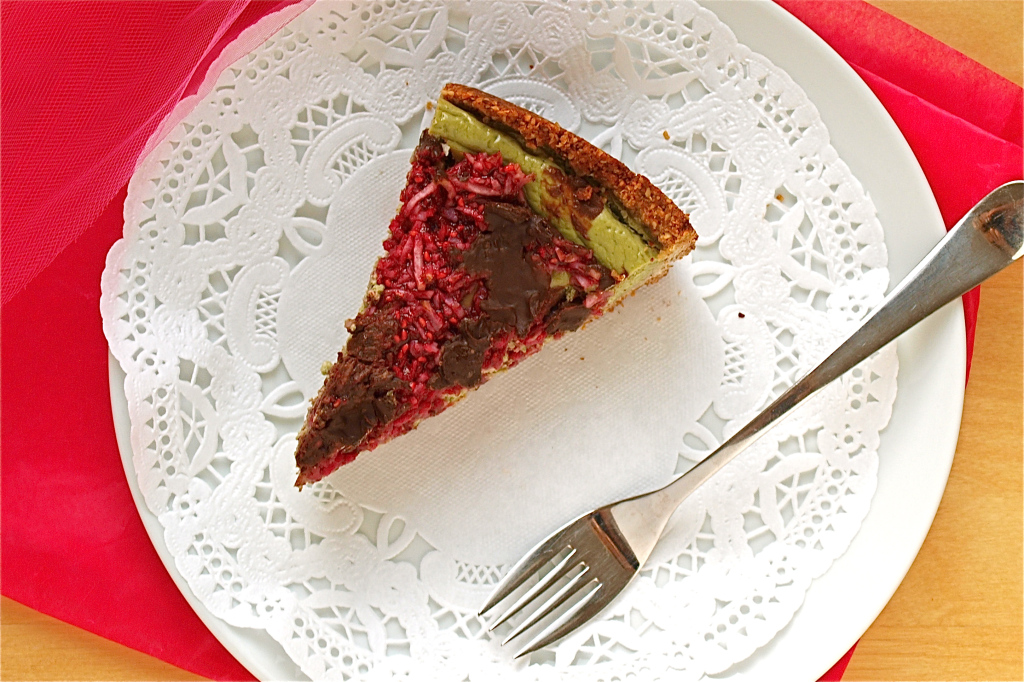 Happy New Year!  I hope you all had a great new years, and a happy healthy holiday season. I want to thank everyone who's been reading here. This blog has become one of my favorite things to do, so thank you for being a part of it.
While at a friend's house for dinner last night, the topic of New Year's resolutions came up.  It seemed that half of the group was hoping to lose weight.  This made me realize that this is one of the first years in my adult life where weight loss isn't on my mind, and isn't a resolution. That made me realize that I've actually (finally) accomplished that. Weight loss is probably the most common New Year's resolution out there.  Weight maintenance is actually the more challenging aspect.  You'd hope I'd have this figured out given that I am a personal trainer studying to also be a nutritionist, who writes a healthy food blog. It wasn't until this discussion that I realized how far I've come. I feel like I've got a great handle on my relationship with food, after lots of learning, and some mistakes, like yo-yo dieting.  But it's all these changes, and all the gradual learning I've done, mostly over the last few years, that brought me here that helped me finally figure out my relationship with food.
Today I would like to share with you what works for me  in terms of having a good relationship with food and weight loss/maintenance.  I hope this is helpful!  I've got a lot to say on this topic, so it might take me a few posts.  This way we squeeze a recipe in with each one!  Here is my first tip, or proposed resolution/way of thinking about food:
See cooking as an opportunity to create something amazing, not a chore.  This is a goal I've been thinking of lately.  I already love to cook.  But I am busy, and I know how hard it is to fit things in.  I've decided to make every meal a reason to do something creative.  With the internet and this big world, there is lots of inspiration out there.
Remember the best meals you've had out, or browse restaurant menus online, and try to recreate their dishes.  Chances are the ingredients are on the listing, which will help you along. Bring the gourmet home, and best of all, make it good for you.
When you're lost, go to www.foodgawker.com.  This is one of my favorite sources of inspiration.  You can actually create an account where you can "favorite" any recipes that you like.  That helps because you can "favorite" (you click a button, and it saves them for you) things whenever you feel like browsing for a minute or two, and then when you're looking for inspiration, you've already got a list ready to refer to. If we're not sure what we want to eat for a week when we're planning groceries, we turn to online inspiration.  This makes it fun.  By the time the list is done, I'm excited to grocery shop, and I can't wait to eat what we're planned!  In my next post I'm going to talk about not depriving yourself!

Now it's time for cheesecake!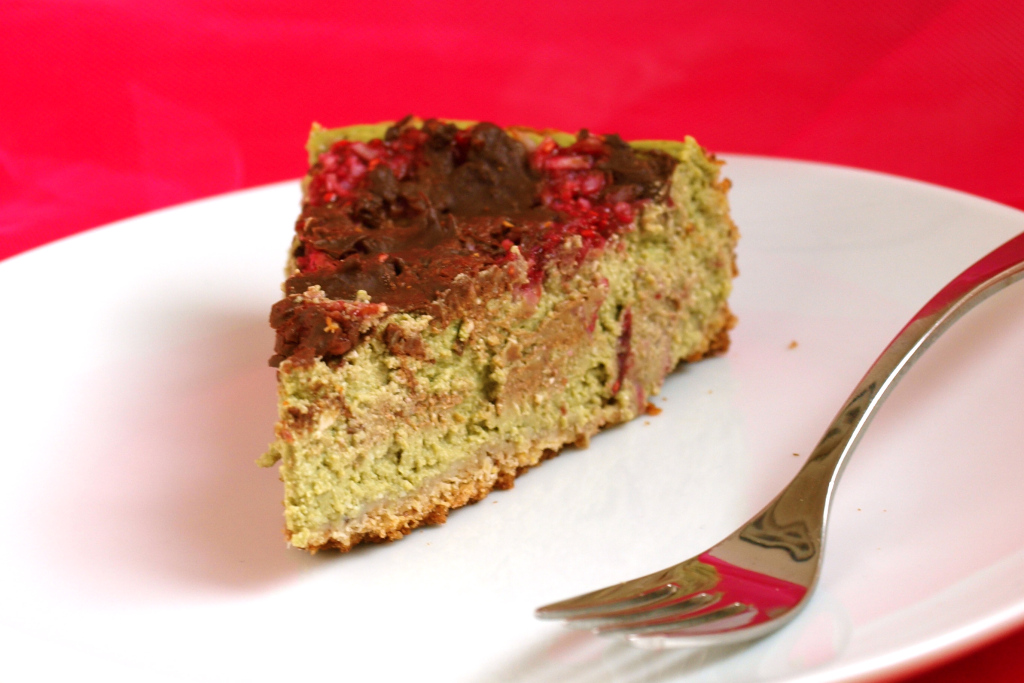 I have to thank my usual source of inspiration, Sonia over at The Healthy Foodie who I adapted this recipe from.  She had an amazing looking pecan apple cheesecake. While I wasn't going for pecan apple, her recipe was the backbone of my Matcha Green Tea Cheesecake.   Here's the recipe:
Ingredients:
Crust:
1.5 cups oats
1/2 cup oat bran
1/2 cup ground flax meal
1/2 cup almonds (I used slivered)
1/4 cup apple sauce (unsweetened)
2 T coconut oil
2 T agave
pinch salt
1 T vanilla
Filling:
1 500g tub fat free cottage cheese
250g greek yogurt (I used fat free vanilla)
2 eggs
1/2 cup egg whites
1/4 cup agave
6 T matcha powder
Topping:
2 cups raspberries
1-2 tbsp agave
1/2 tsp guar gum
1/2 cup shredded unsweetened coconut
Optional: dark chocolate chips
How to:
Preheat oven to 350
For the crust, combine all dry ingredients in the food process, and pulse and blend.  Once it's a grainy mixture, pulse the liquid ingredients in through the feed tube, and blend until it becomes a big ball of crust. (Stop and spatula the sides as needed).
Grease your 9″ springform pan
Press the crust onto the bottom of the pan, and up the sides.  It might not reach the top, and that's okay.
Wash the food processor, or use a big bowl and an immersion blender if you've got one.
Combine all filling ingredients and blend until smooth.  This won't take long! When it's done pour the filling into the crust.
Bake for 45 minutes
While it's baking… simmer your raspberries and agave while mashing them with the back of the spoon to create your topping, and reduce some of the liquid.
When the raspberries are ready, stir in the coconut and a little guar gum.  This will help the mixture stay together, but you can try it without if you don't have any.
After the pie has baked for 45 minutes, take it out and pour/spread your raspberry mixture on top.  If you are going the chocolate route, sprinkle 1/4 cup dark chocolate chips on top of our mixture.
Return the cake to the oven for another 20 minutes
When the cake is done, place it on a cooling rack.
When cool, transfer to the fridge, preferably overnight, to help it really solidify.
Enjoy!