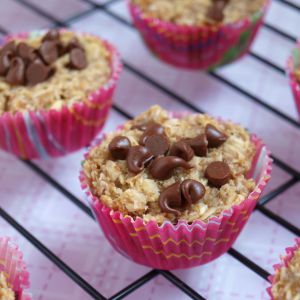 I had a request from my friend Rahaf to tackle a makeover of the Starbucks Oat Fudge Bars.
A bar makeover was a little daunting, as I had one major goal:
Butter is a challenging substance to take out…with my goal of NOT adding margarine (this week I learned how much I want to avoid margarine).
The verdict is in, from my taste-tester boyfriend: they taste like there is butter! These are so healthy you could have a few of them for breakfast and feel good about it.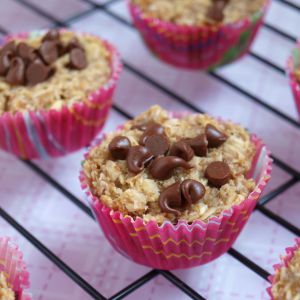 Ingredients:
wet:
1 medium banana
2 tbsp coconut oil  (you could use canola or an oil of choice…but this stuff is more buttery)
1/4 cup egg whites (or 1 egg)
4 tablespoons agave
1/4 teaspoon salt (salt joins the liquids because it dissolves)
dry:
1.5 cups rolled oats
1/2 cup spelt flour
1/2 cup oat bran
1/4 cup ground flax seeds
middle and topping:
1/3 cup mini dark chocolate chips (or more if you want it fudgy-er)
Time to make them happen in your kitchen:
preheat oven to 350
mash banana
add other liquid ingredients into banana mixture
add dry ingredients, one quarter cup at a time, mixing until well blended
line mini muffin pan with liners (or grease it)
spoon 1 tablespoon (I eye-balled this) into each spotJust make sure you have enough room to put a middle layer of chocolate chips, and then another layer of oat mixture on top.
Press chocolate chips into each mini
Cover each mini with remaining oat mixture
press a few more chocolate chips into each one
Bake for approx. 15 minutes
Why these are awesome, especially compared to your coffee-shop bought variety:
no butter! no margarine!
sweetened naturally
antioxidants if you're using dark chocolate
lots of fiber
spelt flour and oats = more protein!  feel full.  have muscles.
servings size using the mini muffin pan might help you not eat them all at once…but no guarantees on that one!
A note on sweetness:  I often find storebought bars to be a little on the sweet side for me. These are a little less sugary.  If you like things on the sweeter side, I would add another couple tablespoons of agave to the oats.  You can also throw in more chocolate chips, to you liking.  I taste the batter just a little bit as I go, to check the sweetness level.
But wait, here's one more options:
If you're vegan: replace the egg whites with unsweetened apple sauce.
What's your favorite coffee shop indulgence?