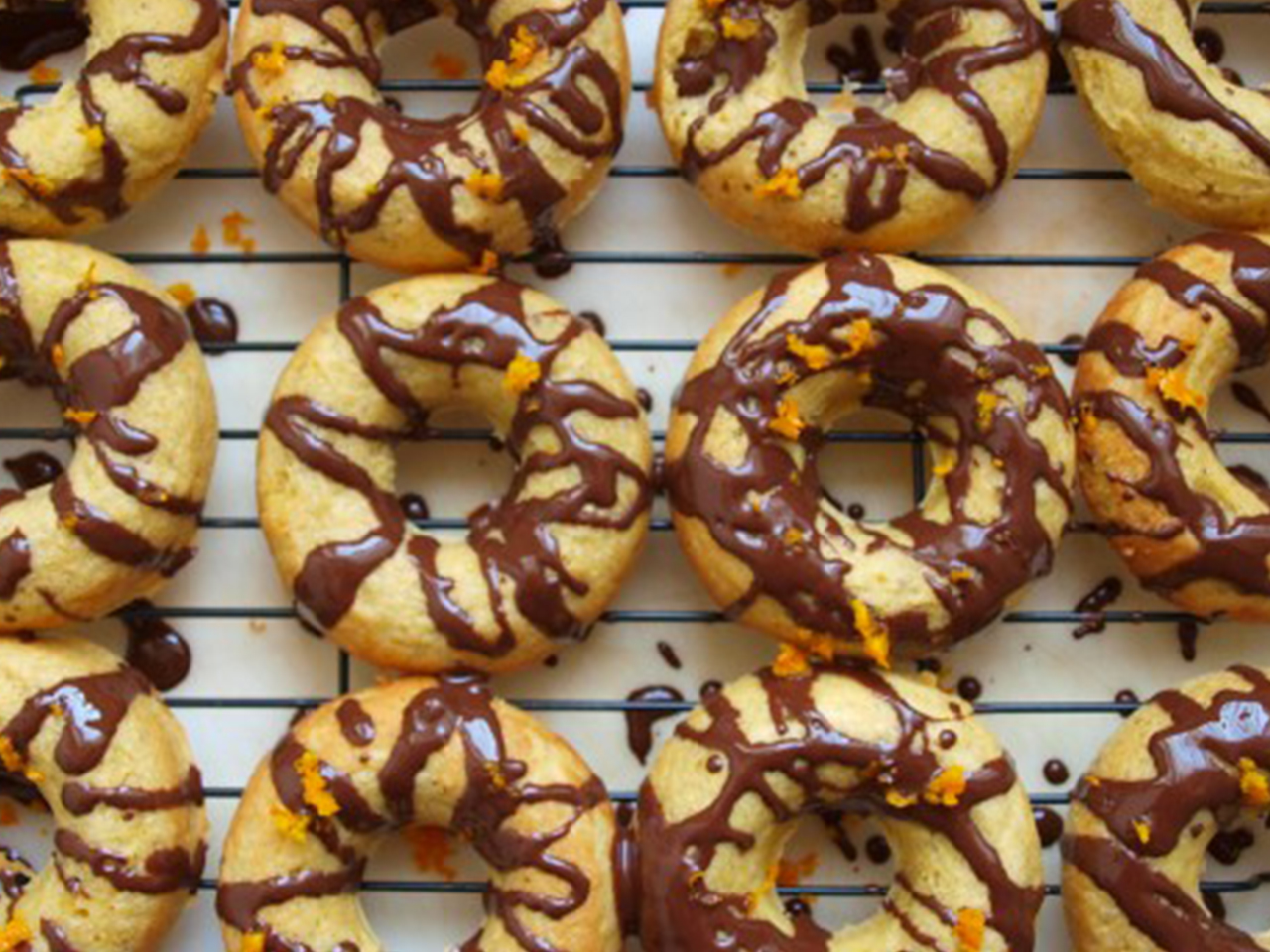 I'm reading Wheat Belly right now, and I have to admit, it's a little hard to eat wheat at the moment.  That's fine with me, and just gives me one more excuse to challenge myself with gltuen-free takes on lots of recipes.  Today, doughnuts! These doughnuts don't leave you wanting anything else, or realizing they're gluten-free.
Orange zest has so much flavour!  If you have a high speed blender, you can actually just section the orange, and put the whole thing in, so you've zested and juiced it in seconds.  If not, you can still juice and zest and use the whole entire fruit.
The greek yogurt adds some protein and makes these super moist.  They're quite dense, but not too heavy feeling.  I made them without baking powder or soda, but I think I'd add some next time.  It was a passover thing.
So delicious!

Orange Doughnuts, Gluten-free & Guilt-free
Prep time:
Cook time:
Total time:
Ingredients
1 cup brown rice flour
1 cup oat flour (use gluten-free oats)
2 T apple cider vinegar
½ t salt
2 T chia seeds
2 eggs
½ cup greek yogurt
1 cup almond milk (or milk of choice)
juice of 1 orange
zest of 1orange
3 T honey
⅓ cup dark chocolate chips, melted
Instructions
Zest and juice orange
Whisk together almond milk, eggs, yogurt, honey, orange juice and half of orange zest. (reserve remainder of zest for sprinkling)
Fold in dry ingredients.
Grease doughnut pans.
Pour batter into pans, and bake for 18 minutes.
Cool in pan 5 minutes before removing.
Melt chocolate, and drizzle on top of doughnuts, sprinkle with orange zest.
What type of doughnut would you like to see?