This recipe makes PB & J balanced breakfast worthy…and worthy of this healthified recipe blog.
Ever since I discovered the secret ingredient "guar gum" (which I got at a regular grocery store), I was excited to make this recipe. It involves a delicious compote, whose texture wouldn't have been possible without the guar gum.
Because the "jelly" is a homemade raspberry compote, the sugar content is far lower than that of regular jelly or jam!  In fact, there is no refined sugar. The compote is 90% fruit, some almond milk and a little agave.  And damn, is it yummy. The pancakes themselves have a nice combo of healthy grains, and a decent amount of protein.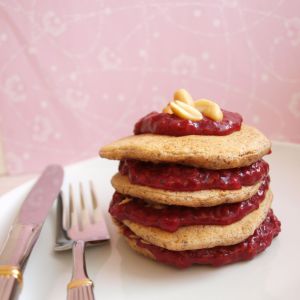 I think it's the sweet and salty combination that makes me love this flavor so much.  You may remember my peanut butter and jelly cheesecakes.

Ingredients:
Pancakes:
1/2 c. egg whites
1/2 c. +1/8 c almond milk (or milk of choice), plus a little more to thin the batter if needed
1/2 c. spelt flour (or flour of choice)
1/4 c. oats
1/4 c. peanut butter
1/4 c. flax seeds, ground
1/2 tsp. baking powder
1 tsp. vanilla
cinnamon
oil for greasing pan
Raspberry compote:
1.5 cups raspberries (for this recipe I used frozen)
1/2 cup almond milk
1/8 cup agave
1-1/5 tsp guar gum
How to:
preheat your griddle or pan, and spray with oil (I used olive)
In a mixing bowl, whisk together peanut butter, almond milk, vanilla and egg whites
add dry ingredients and mix until just combined
pour pancakes onto heated griddle
flip when they begin to bubble
before you pour the next batch, check texture of batter to see if you need to add a little milk (I found this batter got pretty thick quite quickly)If you're a good multi-tasker, start on the raspberry compote at the same time.  This means preheating the saucepan, and throwing in the berries while the pancakes are going.
Put all compote ingredients EXCEPT guar gum in a saucepan
bring to a boil, and then reduce heat to simmer
simmer, stirring occasionally for 10-15 minutes
when berries are all melty, crush them with the back of your spoon
when ready to serve, add some guar gum (start with a little) to thicken the compote
Serve!
As you can see, I like to layer the pancakes with the compote!  Garnish with peanuts and raspberries.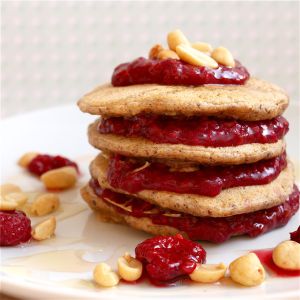 What other ways do you like to enjoy these traditional childhood flavors?