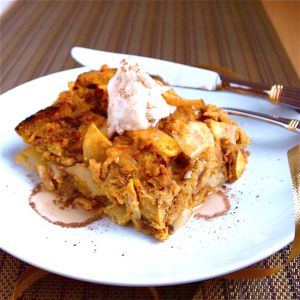 The pumpkin series continues!  Pumpkin adds a nice warm creaminess to every recipe it joins.  This bread pudding/baked french toast is super moist and delicious.  The apple and pumpkin are a great combination, which definitely in season!  I often like to use banana in baking to add a creaminess, but pumpkin is great for fall.  Although it doesn't add sweetness the way banana does, but a little agave makes up for that in this recipe.
6 eggs
1 cup pumpkin (I used canned,unsweetened)
5 apples, chopped
1/4 c. agave
1/4 c. almond milk (or milk of choice)
8 large slices bread (*see not on bread below recipe)
1 tbsp nutmeg
2 tbsp cinnamon
1/2 or 1 tbsp ground ginger
How to:
preheat oven to 375
grease a pyrex (mine is 9″x13″)
cube bread
core and chop apples
in a large bowl, combine and beat eggs, agave, milk, pumpkin and spices
slowly mix the cubed bread into the wet mixture, making sure everything is evenly coated and absorbed
after all bread has been added fold apples into mixture
spread evenly in the pyrex
bake for approx 40 minutes
As usual, this could easily be breakfast or dessert!
*About bread:
I've had a couple of questions about bread lately.  For this recipe, I used Healthy Living Prebiotic Multigrain Bread, pictured below. In the last year I've seen it springing up in many stores in the GTA.  You can usually find it near the deli part of the grocery store..and it's got those big slices, like pumpernickel. So if you're using more of a square loaf for this recipe, you may need to use a few more slices.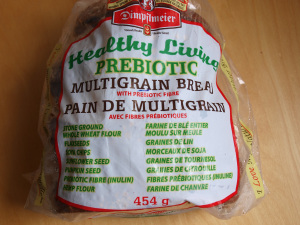 Why do I like this bread? Let's take a look: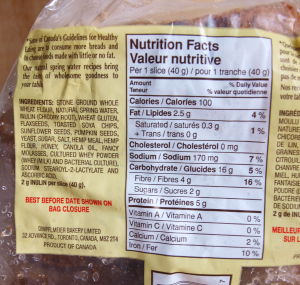 Overall, nothing is refined!  The main reason I was drawn to this bread is it's high protein and high fiber content.  I also like that it's very grainy and seedy (flax seeds, pumpkin seeds, sunflower seeds), lots of extra goodies.
I'm used to using this type of bread for everything, and the fact that it's the farthest thing from white bread allows me to eat things like french toast, or bread pudding completely guilt-free.  If you're at a bakery looking for bread, seek out something like 7 or 12 grain.  The less refined, the better.  Unfortunately, I don't have a bakery right near me, so I usually opt to pick up this bread.
What's your favorite type of bread? I have to confess that those cheesy breads are always very tempting, but I rarely ever buy them, because they're very white!  I would love a cheesy super whole grain healthy bread….hmm…maybe that's a project for the near future!