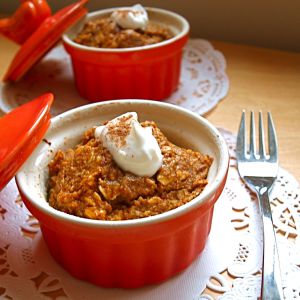 Back to the pumpkin series!  These are sooo moist and yummy! I ate them for a week straight.  And I could eat them for another week…but then I would have nothing new to blog, and we can't have that! They are good, though!  They're also sturdy enough to be eaten on-the-go as a giant pumpkin oatmeal muffin-type thing.  These are wholesome with some great grains to give  you some fiber, protein, and energy in the a.m.  I swear, these will turn you into a morning person, if you aren't one already.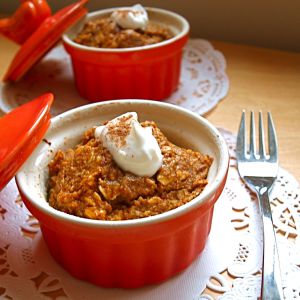 Top them with syrup, some cinnamon ricotta cheese (just mix it together with some sweetener), or, of course, greek yogurt!
Ingredients:
1/2 cup almond milk (or milk of choice)
2 cups pumpkin puree (I used canned unsweetened)
1 and 1/2 cups egg whites
1 tablespoon vanilla
2 tablespoons baking powder
1/8 cup molasses
1 cup spelt flour
1 cup oat bran
1.5 cups oats (I used slow cooking large flake)
1/2 cup ground flax meal
1-2 tsp cinnamon
1 tsp ground ginger
1 tsp nutmeg
sweetener to taste (I used 5 packs stevia)
How to:
Preheat oven to 375
combine all set ingredients
fold in dry ingredients
pour into greased ramekins (this made 8 for me)
bake for 25 minutes, broiling for the last 2
What's your favorite way to eat pumpkin?  I've got a pumpkin "cheesecake", and pumpkin apple bread pudding. I enjoy pumpkin puree mixed with ricotta on whole wheat pasta as well! (with a nice balsamic reduction, of course). I would like to expand my savory pumpkin recipe repertoire. Any ideas?  In my next post, I'll share these guys, which are pumpkin-based as well!