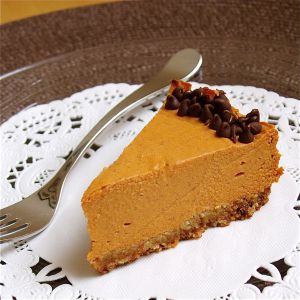 I'm on a seasonal streak!  It's great, because it helps to keep costs down too, and everything tastes wonderful and fresh.  I'm thinking I'm going to divide my recipes into seasonal categories soon.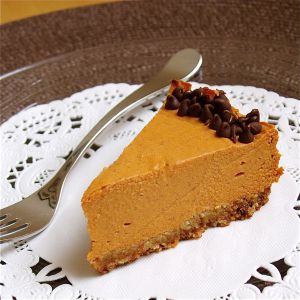 My favorite part of this recipe is that I've created a very healthy crust that tastes great.  Traditional pie crust is flaky and wonderful…but has no nutritional value, and isn't great for your arteries or your thighs.  This crust is crumbly and delicious…different but delectable.  This "cheesecake" is actually made of (you guessed it), my all time favorite ingredient, greek yogurt!  You could definitely replace the yogurt with cottage cheese or ricotta cheese if you wanted it to be a little more cheesy.  I find with a flavored cheesecake like pumpkin, the cheese serves more for texture than anything, so I'm quite happy with the higher protein substitution.
Ingredients:
1 cup slivered almonds
10 dates (small), plus 1/2 dates (all dry)
1 T peanut butter
1 and 2/3 cups pumpkin puree (I used the canned unsweetned variety, but if you want to tackle a whole pumpkin, be my guest!)
1 and 1/3 cups greek yogurt (0% fat)
1/4 cup agave
1 T lemon juice
1 T cinnamon
1 T nutmeg
1/4 tsp sea salt
How to:
Preheat oven to 350
For the crust:
in the food processor, or magic bullet…or what you've got:
puls together almonds, 10 dates, and peanut butter until it's all ground up and well mixed together
transfer mixture to pie dish, and press firmly into the bottom
(you may choose to grease your, I lined mine with parchment)
For the filling:
puree all remaining ingredients together
pour into pie shell
bake for 50-60 minutes (until centre isn't jiggly)
let cool on a cooling rack (garnish with dark chocolate chips as shown, if you choose)
refrigerate for a couple of hours before serving
Here it is, staring you right in the face.  I think that means it's time to go make it!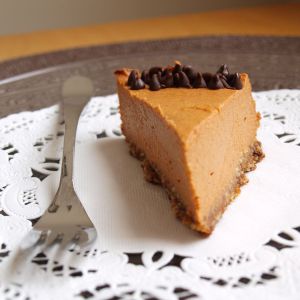 For the record, this has my "dessert for breakfast" healthy seal of approval.