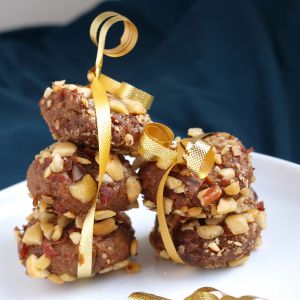 Today wraps up my pumpkin series!  I do have another can in the pantry, so don't think there won't be any pumpkin recipes showing up from time to time.  There are so many more pumpkin things to do!  I didn't do pumpkin blintzes…and I didn't share my pumpkin ricotta pasta. I did share pumpkin breakfast bakes, pumpkin apple bread pudding, and pumpkin cheesecake!
Sadly, I realize now that I didn't do a Halloween post!  However, you can easily decorate these with scary faces if you so desire…
I like to have a dense little snack hanging around.  These guys are gluten-free, vegan (assuming you use vegan protein powder), and a fit food. They pack some energy, but they're small and dense so you won't feel bloated. They're great for a pre-workout boost (if it's first thing in the morning before your workout, or you need a little zing at the end of the day before working out.) If you haven't eaten for hours, you'll get more out of your workout if you have a little powerful snack beforehand.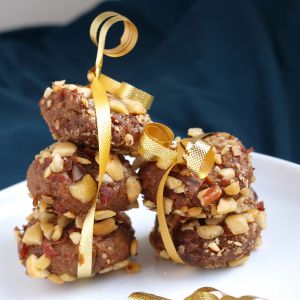 Of course, because they taste great, they're also a decent dessert or snack!
Ingredients:
1/2 cup pumpkin puree
1/2 cup dates (dry pitted)
2/3 cup walnuts (or another nut of choice)
1 cup natural peanut butter
2 scoops protein powder
2/3 cup flax seeds, ground
2 tbsp cinnamon
extra nuts or chocolate chips for rolling/topping
How to:
In the food processor, pulse the dates and nuts for a minute or two, until they're broken down
add everything else
blend until smooth, scraping down sides a few times
transfer to a bowl
refrigerate for 20 minutes minimum (but you can leave them longer if you like)
roll into cookie shapes, and top with nuts or anything else if you like! I used walnut pieces in the photo above, and chocolate chips in the photo below
Storage: I like to make these in advance, and keep them in the freezer. I wrap each one in a little parchment paper so they don't stick together.  I actually prefer the taste out of the freezer.  Something about the density of the ingredients keeps them from freezing solid.  If you keep them on you all day, they get a little melty, so bring an ice pack.
Are you dressing up for Halloween?  I've got a costume I'm pretty excited about…but not sharing what it is until after.  Last year, my boyfriend and I won a costume contest with this costume, Disney animated Robin Hood and Maid Marion: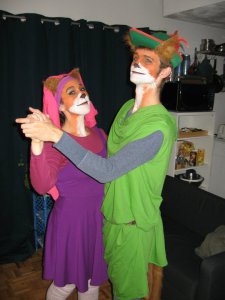 It was a proud moment.  I hadn't won anything since the coloring contests of my youth! What was your favorite costume you've created?