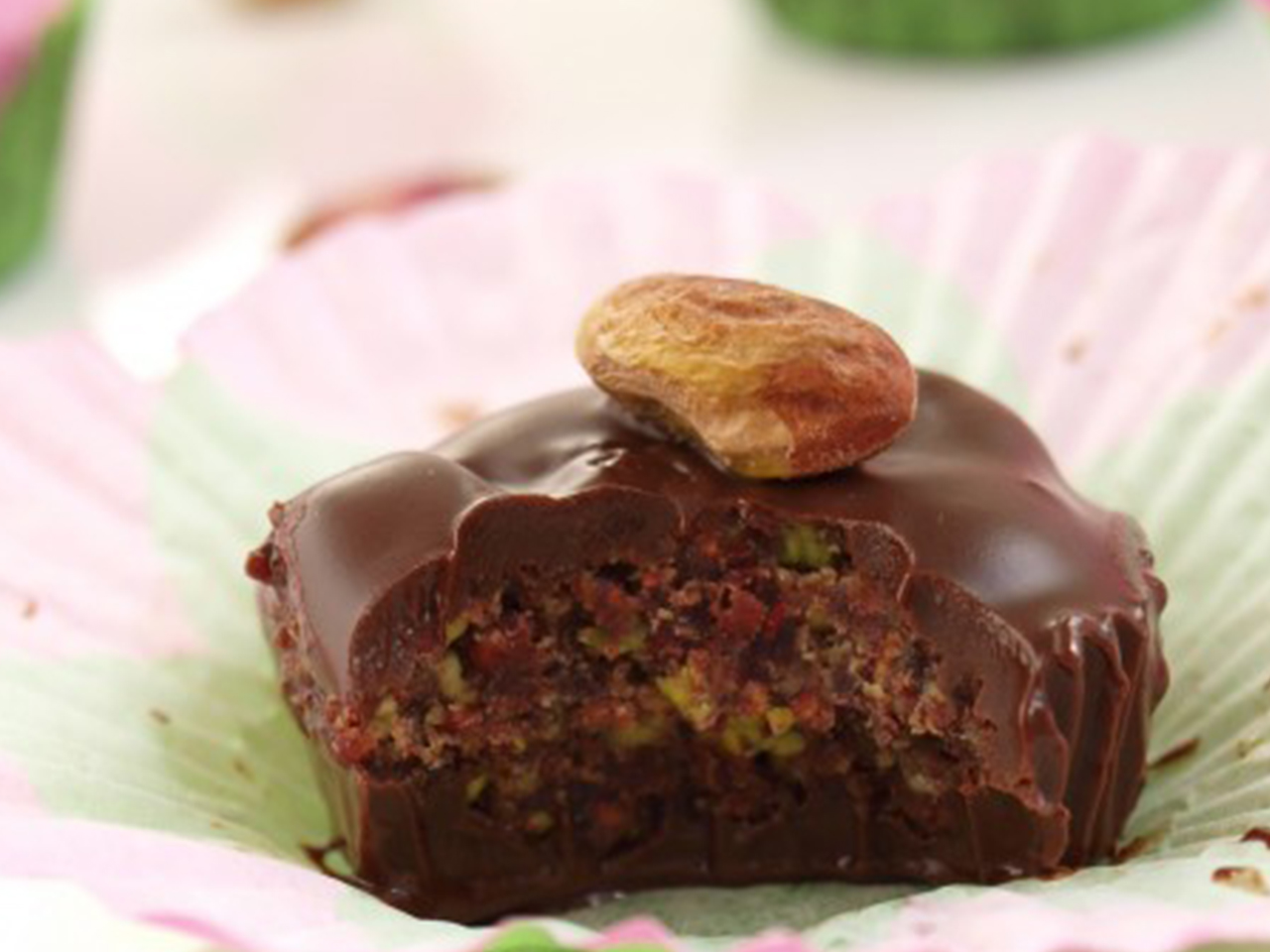 Happy Easter!  Whether you celebrate or not, this is a good weekend to embrace chocolate.
These are super, SUPER flavourful, and made of simple, healthy ingredients.  They are a splurge in terms of price, but well worth it.
Raspberry and pistachio is a dynamite combination.  Salty, sweet, and a little tangy, all enrobed in dark chocolate.  You're welcome.
I reserved a bit of the filling, because I wanted to make pancakes out of it.  This was an excellent idea.  I then topped them with a raspberry chocolate syrup.  Delicious!
You don't need anything fancy to make these. While I splurged on some plastic chocolate moulds the size of peanut butter cups, I actually prefer to use a mini muffin tin and some mini muffin liners.  It's easier to wash than a mould–actually, you don't really have to wash it.
I made mine relatively small, but you can fill them as much as you like–you just might end up with less, but bigger cups.  If you make them bigger, they could also take more time to set.

Raspberry Pistachio Chocolate Cups
Ingredients
1 cup dried raspberries
½ cup hulled pistachios
12-20 additional pistachios reserved for topping each chocolate
4 T melted coconut oil
pinch sea salt
1 cup semisweet chocolate (or as dark as you like) + 1 T coconut oil
Mini muffin pan and molds--12-20, depending on how much mixture you use for each.
Instructions
Melt 4 T coconut oil, and combine with raspberries, ½ cup pistachios and sea salt in the food processor. Blend until it becomes a nice crumbly mixture, that you can press together. This may take a few minutes to break down. You'll need to scrape down the sides a few times. Most delicious mixture ever.  
Melt chocolate in a double boiler, stirring occasionally. Add 1 T coconut oil to help liquify it.
(Prep your molds while this is happening)
Fill each liner with some chocolate (about ½ T)
Using your hands, create small patties of the raspberry/pistachio mixture (about 1 T each), and place in each mold on top of the chocolate.
Cover with more chocolate, and spread for an even coating.
Top with a pistachio.
Place in refrigerator to set.
ENJOY!
Here are those pancakes…sooo good. I think I'll be making a double batch of this filling next time so I can use it all different ways.  So good.
Here are some of my other favorite chocolate recipes: