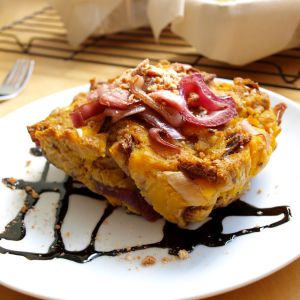 Finally, the day is here where I am to prove that I don't exist on breakfast and healthy desserts alone.  I do eat other food.  Someday I'll share something a little more green…but for now, let's have a savory bread pudding.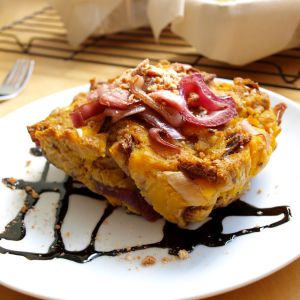 This little dish has a few of my favorite things.  Basically, if I put everything I like about fall in one dish, this might be it, including: butternut squash, caramelized onions, a balsamic reduction…and cookies.  Yes, cookies.  The use of beef broth and caramelized onions gives this a bit of french onion soup flavor, which works really well with the sweeter butternut squash and balsamic reduction.   I am also fond of the fact that this recipe yields a lot of servings, which is handy during a busy week.  You can have it as a main, with some greens or meat on the side, or have a little on the side of whatever else you're making.
Ingredients:
1/2 loaf super healthy bread, cubed
1 medium sized butternut squash
1 large onion
1/4 cup +4 tbsp balsamic vinegar
2 tbsp apple cider vinegar
1 tbsp agave nectar
1.5 cups beef broth (vegetable broth if you're a vege/vegan)
1/2 cup egg whites (egg substitute for vege/vegan)
8 amaretti cookies, crumbled (they're very light fluffy almond flavored cookies, that I found at a regular grocery store)
How to:
preheat oven to 350
prep your squash:
-cut squash in half and scoop out seeds
-spray with olive oil and season with salt and pepper as desired
-wrap each half in tin foil, and place on baking sheet
-bake until squash in tender, about 1.5-2 hours, depending on size of squash
when the squash is ready, take it out of the oven, and let it cool down so it's safe to handle
when it's safe to handle:
-scoop the contents out of ONE half, and mash them up
-cube the other half
While the squash is baking, caramelize your onion:
preheat pan to medium heat
Thinly slice onion, and separate all the rings
coat pan with a little bit of oil, and add onions
add 2 tbsp balamic vinegar, agave, and apple cider vinegar to pan
mix well
after about 5 minutes, bring the heat down to low, stirring occasionally for about 25 minutes
when they're done, remove the onions from the heat
Now you can cube your bread. 
You can probably take a little break at this point, as you're waiting on the squash.  Go read a book.  Or come catch up on your favorite food blogs while you're waiting!
Prepare the bread soaking mixture:

in a large bowl, combine: broth (sub for different broth if you're vege), egg whites (sub almond milk or egg substitute if you like), 2 tbsp balsamic vinegar, and mashed squash
mix until sort of smooth, but don't be too picky!
add bread cubes, and mix gently until bread is evenly coated and soaked in mixture
gently fold in HALF of your onions, and the cubed butternut squash
You're almost there!  (This is the kind of recipe to make on a weekend). 
I choose to make mine single servings.  I lined five 3″x5″ mini loaf pans with parchment, and filled them with the mixture.  If you don't have mini pans, you can make this one big casserole, just watch your baking time
For the loaf pans, bake for approx 30 minutes, at 350. 
While they're baking:
Smash your cookies! 
I crumbled them manually, and then put them in a small bowl, using the back of a ladle to further crush them.
When you have about 15 minutes of baking time left, start on your balsamic reduction:
In a small saucepan, heat remaining 1/4 cup of balsamic vinegar.  Cook on low until it reduces, and has a syrupy texture.
reheat your remaining caramelized onions
Time to serve them up!
When they've cooled, about 5 minutes, remove loaves from pans, and remove from parchment paper.
Top with remaining caramelized onions
drizzle balsamic glaze
sprinkle amaretti cookies
Enjoy!  If you've got some more butternut squash on hand, as this is the season, try making the healthiest fries in the world.
This recipe is a lot of steps, but it's well worth it.  Trust me.  Next time, you'll make a double batch.