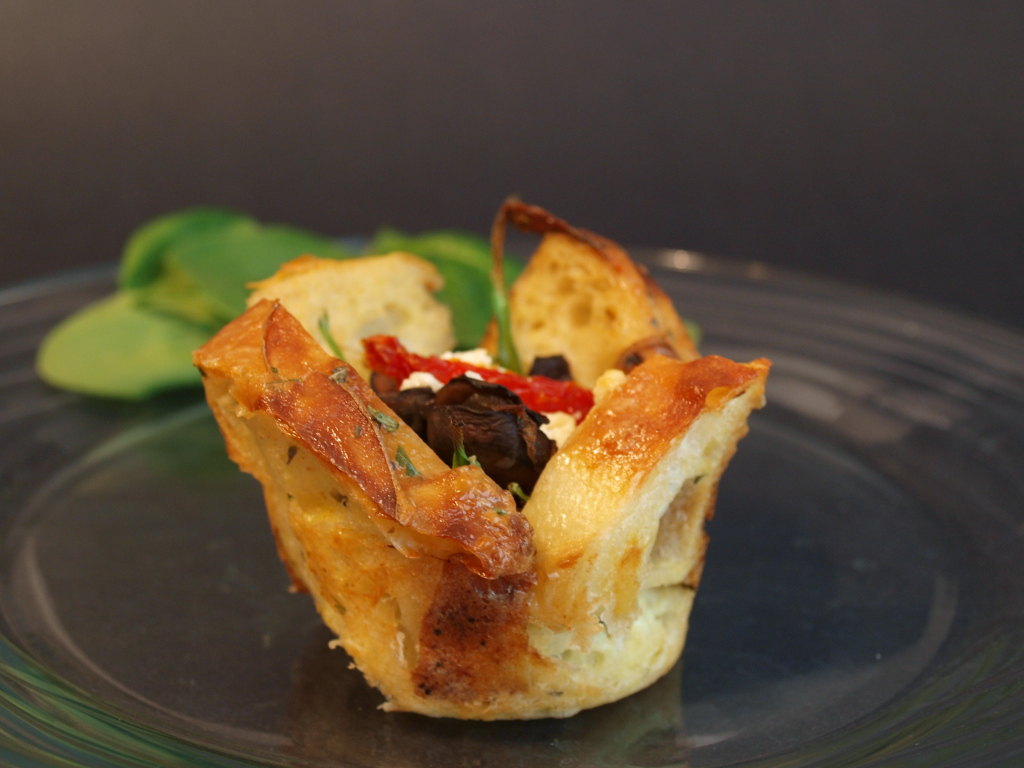 Here comes my suggestion for a Christmas/Holiday breakfast recipe.  I served it at a brunch last weekend, and made them again this week.   I did most of the prep the night before, and while there are a few different steps, nothing is very complicated…though they look quite fancy! They've got a few of my favorite things, including caramelized onions and sundried tomatoes.  You can't go wrong with those two involved.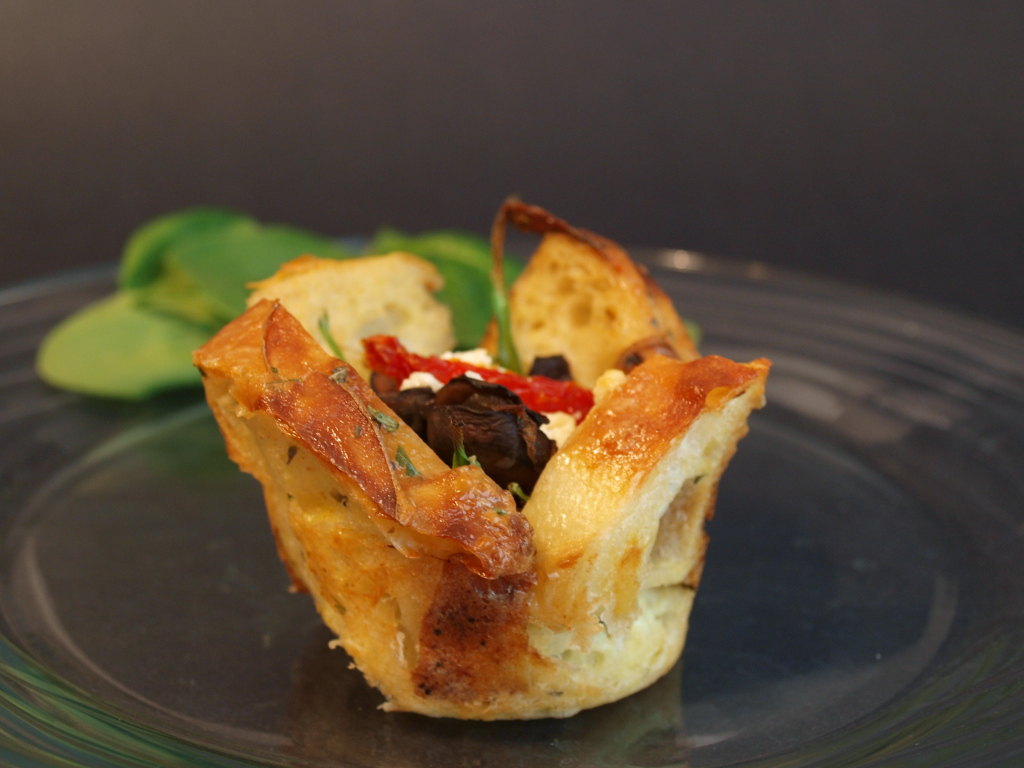 For holiday recipes, or any time you're planning on hosting, it's always great to use recipes where most prep can be done ahead of time.  That's why I wouldn't be suggesting any kind of benedict on this type of occasion!  Even french toast can be a little time consuming, standing there at the stove, flipping slice after slice.  Baked french toasts give you so much more free time in the morning.
I have put together a step by step guide for you.  Although this recipe is savory…I do have a lot of desserts that could be breakfasts, and breakfasts that could be desserts if you are looking for that kind of thing 🙂 Maybe a combination of some sweet and savory recipes is the best thing. Take a look around for some shockingly healthy desserts that you might want to whip together as well! Now, onto the recipe!
Ingredients:
1 loaf of bread (I used a thinner, gourmet potato bread the first time, and then I used my super heatlhy grainy bread the second time)
Egg wash:
3 eggs
2/3 cup egg whites
1/3 cup milk (I used almond)
1/2 tsp parsley
1/2 tsp italian seasoning
1/2 tsp paprika
pinch sea salt
Filling:
1 vidalia onion, thinly sliced, and separated into rings
225 g mushrooms, cleaned and sliced
2 tbsp balsamic vinegar
10 sundried tomatoes
2 cups baby spinach
Topping
a few tablespoons crumbled goat cheese
Balsamic to drizzle at the end
Plus:
coconut oil/butter for greasing pan
flour for flouring pan
How to:
In a large mixing bowl, prepare egg wash by whisking all ingredients together. Once combined, dip your bread in, making sure each slice gets nice and soaked.

if you're making it to prep overnight, you can mix the egg wash in the tupperware in which you plan to store your egg-ified bread), and keep the bread in the tupperware as you dip
if you're making it to bake immediatelythen grease and flour your muffin pan, and gently place each slice into a muffin cavity, shaping it to create a cupAbove you can see all the eggy bread, ready to be stored.  Use a good container, and you can flip it once or twice, to make sure all the liquid gets spread evenly.

Meanwhile, make your filling by slowly sauteing the sliced onion and mushrooms over medium (and then low heat after a few minutes) for about a half hour.  About 20 minutes in, add your balsamic vinegar.  This whole process should take about a half hour.

if you're making it to prep overnight, then let this mixture cool before storing it in the fridge in an airtight container
if you're making it to assemble now, set aside

When you're ready to assemble everything:
First, place the bread slices into your greased and floured muffin pan.  Depending on the shape of your bread, you may need to do some trimming and re-arranging.
Don't worry.  Even if you have to cut off some ends of bread, and place them in, everything will stick together like a pretty cup in the end, provided there is enough egg wash involved.
Fill 'em up!
Start by pressing the spinach at the bottom.  Follow with the onion/mushroom mixture, then top them with some julienned sundrieds, and the crumbled goat cheese!
This might look a little busy, but get that filling in there!
Bake at 360 for 18-25 minutes, until they're golden,and egg is no longer moist.
Gently free each french toast cup by going around the edges with a fork or spoon, to make sure you don't rip it apart (if you're greased and floured well, this should be easy).
Enjoy! Serve with some balsamic (or balsamic reduction).

Depending on the shape of bread you use, you'll get a different look.  Using a shallow (not tall) bread (as seen in the first picture), almost gave the look of a flower.  In my second round (pictured below), I used a healthy grainy bread, that had a pumpernickel type of shape.  For that batch, I used the largest slices, and cut them in half.  Once placed in the muffin cups, these ones had more of a round cup look.