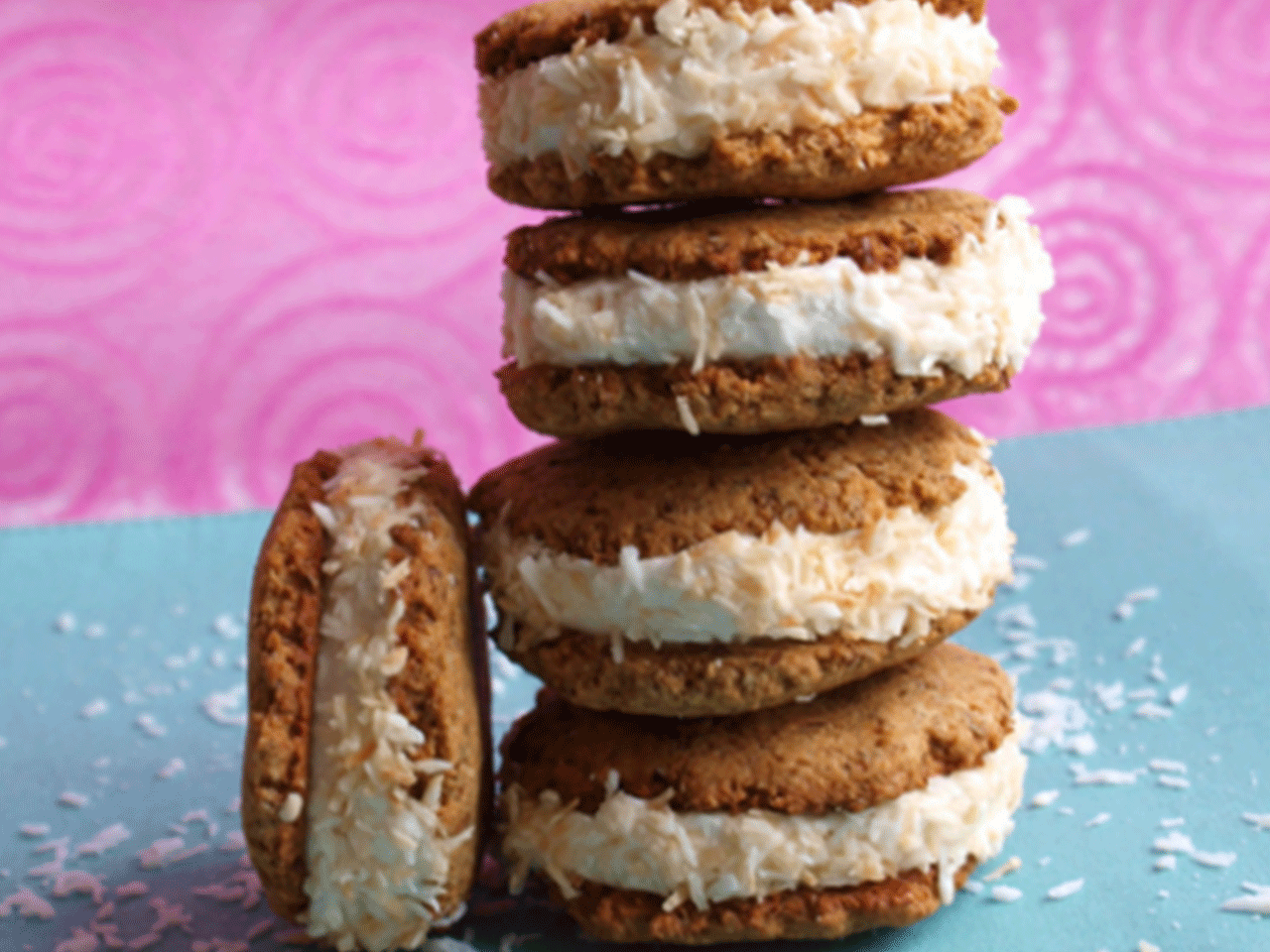 It may be first day of fall in a couple weeks, but it CERTAINLY doesn't feel like it. While we definitely don't believe you need a hot summer day to indulge in this absolutely timeless treat (do it all fall if you fancy, we say), this intense heat wave and seemingly never-ending humidity has sparked an urgent craving for ice cream.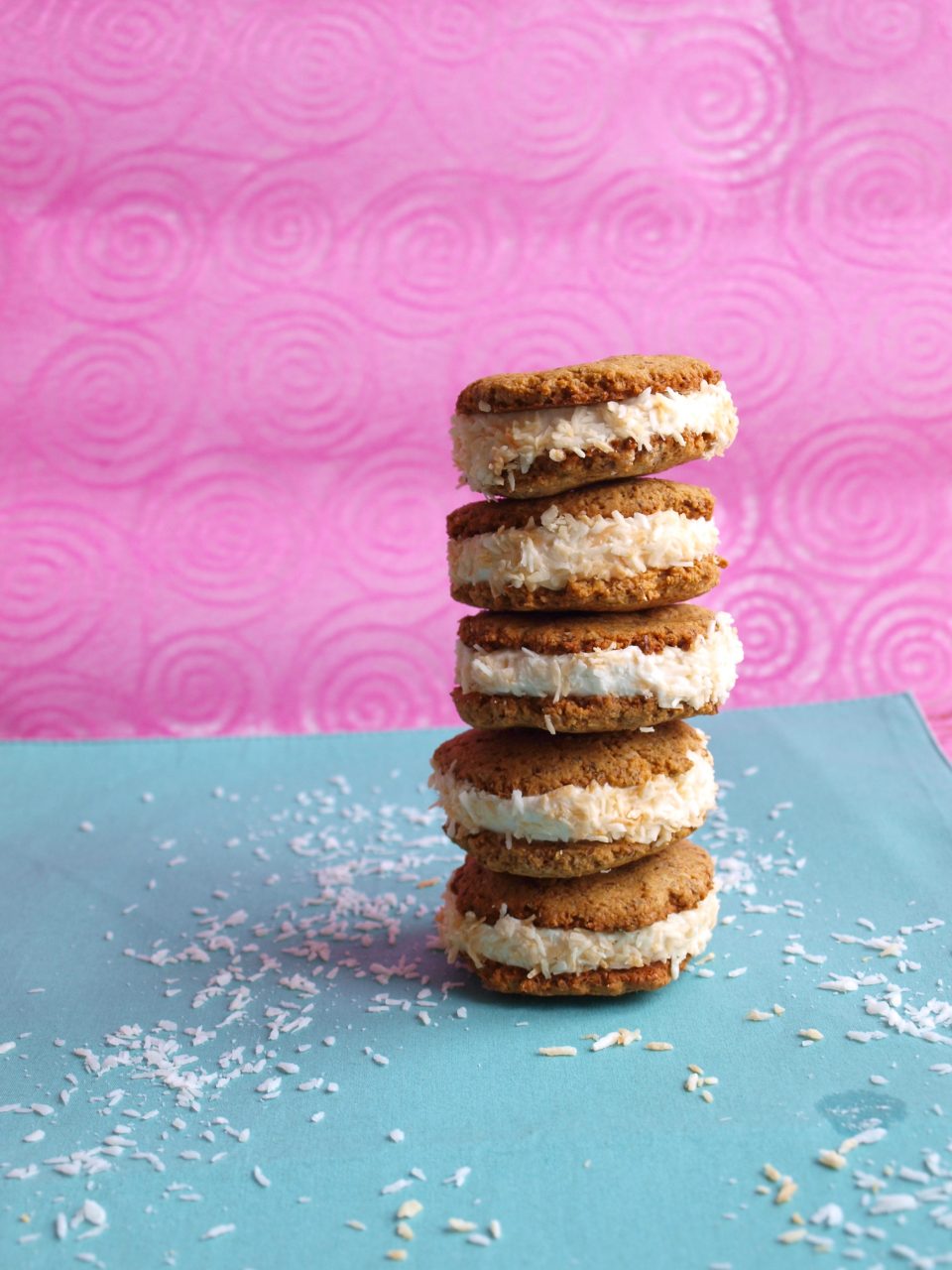 There's nothing quite like a homemade ice cream sandwich to satisfy a sweets craving when it's hot. It's just what you need.
Here's a healthified version of the summer comfort-food mainstay that also pairs well with a post dinner evening unwind on the back patio, or as an after-school snack. This recipe will satisfy without causing a sugar spike and energy crash. We promise. It's made with low glycemic sweeteners and whole-food ingredients, so you'll be able to keep your focus and motivation for these busy September days.
The recipe comes together easily with minimal, basic ingredients – many of which you probably already have in your pantry. So… what are you waiting for? Classic vanilla cookies with fresh coconut milk cream ice cream rolled in flaked coconut on the sides – now THAT, we want in our freezer all the time.
Aaaaand… bikini season's over.  Just saying. 😉

End-of-Summer Coconut Ice Cream Sandwiches
Serves:
20 ice cream sandwiches
Ingredients
COOKIE INGREDIENTS:
2 cups oat flour
½ cup ground flax seed
¾ coconut sugar (or brown sugar)
2 teaspoons baking powder
1 teaspoon salt
¼ teaspoon baking soda
⅓ cup melted coconut oil
½ cup unsweetened apple sauce
3 tablespoons vanilla extract
2 tablespoons water
TOPPING INGREDIENTS:
¾ cup unsweetened flaked coconut
ICE CREAM INGREDIENTS:
2 cans of natural coconut milk, full fat (it's healthy fat that's actually good for your metabolism anyhow!)
3 tablespoons agave (honey would work too)
1 tablespoon vanilla extract
Instructions
COOKIE INSTRUCTIONS:
Combine water and ground flax seed, and let sit for a couple minutes
Add apple sauce, coconut oil, vanilla and sugar to the mixture, and blend well
Add remaining dry ingredients and stir
Spoon heaping tablespoons of dough on a parchment lined cookie sheet and
press down gently with a spoon to flatten
Bake for 18-23 minutes at 350 degrees, until edges are just barely golden
Allow to cool completely before assembling sandwiches
TOPPING INSTRUCTIONS:
Toast coconut in a pan over medium-low for 5-7 minutes. Watch it carefully so it doesn't burn! Allow to cool before using.
ICE CREAM INSTRUCTIONS:
Refrigerate cans for a minimum of 24 hours, freeze bowl for 15 minutes prior to making ice cream
Turn cans upside down, and pour out liquid into a container-you can save it for later (the water will separate from the cream)
Spoon all cream into a bowl or stand mixer bowl, and add agave and vanilla
Whip on medium high for 10 minutes, until it's a thick cream texture
SANDWICH INSTRUCTIONS:
Spoon a heaping tablespoon of cream onto one cookie, and gently top with another.
Roll edges in toasted coconut.
Place in the freezer for 1 hour on a cookie sheet, and then wrap each sandwich individually in saran wrap
Enjoy straight out of the freezer!
If you happen to have extra cream after making, it's best to put into popsicle moulds or store in the fridge to be used as coconut whipped cream. If you freeze the ice cream alone, it may be too solid to scoop — but it eats great in the sandwich. Hopefully this sweetens up the very bittersweet last days of summer!
If you're seeking more guilt-free ice cream creations, check out our Lazy Elvis Peanut Butter Banana sundae.