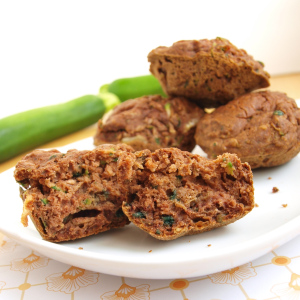 Going gluten-free wasn't easy.  These saved the day: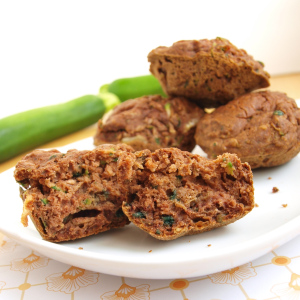 There was a failed scone recipe, involving buckwheat flour.  They looked like rocks.  It was mildly embarrassing, and I wouldn't let my boyfriend even try them.  It was the first time I used buckwheat flour.
I have since learned that buckwheat flour can be alright if you use it with other things, but it gets lonely, and misbehaves when left all alone in a recipe.  Yup.  I'm personifying buckwheat flour.
I was desperate to come up with something that was snack-able. Something I could grab and go, and not have to assemble if I wanted a quick snack, but I knew the buckwheat flour couldn't be used on it's own.  Given that the failed scones were so dry, I started to think about super moist baked goods, and then it hit me: zucchini!  While I had always loved using zucchini in sweeter things like loaves with chocolate chips, they could definitely serve for a savory baked good. After all, they're a vegetable!
These did the trick.  I used so curry style spices, which gave them some flavor.  They almost taste like they could be an indian appetizer, except they're not deep fried!  They're a great snack, a decent side dish, and could even pose as breakfast, if you wanted to get all savory.  Here they are:
Ingredients:
Makes 12.

1/2 cup + 3 tbsp buckwheat flour
1/2cup + 3 tbsp brown rice flour
1/2 tsp baking soda
1 egg
1/4 cup raw almonds (buy ground or slivered if you don't have a food processor)
1 zucchini, shredded
1/4 cup sunflower seeds
1/2 tsp sea salt
2 tbsp coconut oil
1 cup water
1 tbsp cumin
1/2 tsp pepper
1 tbsp cinnamon
1 tbsp tumeric
coconut oil (or an alternative oil for greasing)
How to:
Preheat oven to 375
In the food processor, pulse the almonds until roughly broken down
In a big mixing bowl, combine all dry ingredients except sunflower seeds, almonds and zucchini
gradually add coconut oil and water, until mixture is combine
fold in remaining ingredients, and mix well
scoop into greased or lined muffin pans
bake approx 20 minutes
ENJOY!