When I saw Sonia's recipe over at her amazing blog The Healthy Foodie, I knew what special recipe I had to make the on the weekend, when I had the time to make something so delightful.
This pizza is guiltless! Everything about it is healthy.  Whole grains and spinach make up the crust.  Fresh and seasonal veggies top the pizza.  There is no sugar.  If you skip the cheese, you even have a vegan option.  I've opted for a sharp cheese, because I find a very little adds a lot of flavor.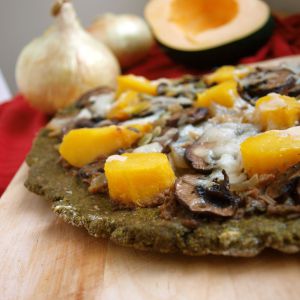 A few of my favorite time consuming ingredients are on this pizza, including caramelized onions (which take at least a half hour), and roasted squash.  I've embraced these ingredients before, with my amazing butternut squash bread pudding. 
This is seasonal and delicious.  Also, it's a super healthy way of enjoying pizza.  It's unconventional for a pizza, as there is no tomato sauce.  The tomato sauce is replaced with a caramelized onion sauce.  I took this as an opportunity to test out my very own super healthy crust.  I've also been inspired by one other blog, Skinny Fat Girls.  They constantly amaze me by how they sneak veggies into everything!  I thought the least I could do was sneak a little extra spinach into a savory recipe. So, there began my quest to make spinach pizza crust.
This is a great way to use up spinach, if you've got some in the fridge that needs to be eaten before it goes bad. I buy these big boxes of spinach, so from time to time I can't make it through one, and I need to do something like this to use it all up!  I find that one of the best things about making dough from scratch is that you can get it really nice and thin.
Let's make the dough!
Dough ingredients:
1 packet dry yeast
2 tbsp agave (or honey)
¼ c. warm water
1.5 cups spelt flour (or flour of choice)
1 cup oats
1/2cup flax seeds (ground)
1 tsp. salt
6 big handfuls of spinach
extra flour for rolling
How to:
in a bowl, combine warm water (make sure it's pretty darn warm!), yeast and agave.  Stir and let sit for 5-10 minutes until it's super foamy
in the food processor*, pulse the spinach until finely chopped
add in dry ingredients, and pulse with spinach until loosely blended
when the yeast is ready, add it through the feed tube, while pulsing
blend it all for a couple of minutes, until the dough is all in one ball
transfer to a bowl
cover and let sit for 30-60 minutes
when the dough is ready, roll it out!
I rolled mine quite thin, and it just about covered my pizza stone.  It would also make about the size of 1 large cookie sheet if you don't have a pizza stone, and like your dough to be this thin.
Making the rest of the pizza!
Ingredients:
250g (or 1 package) sliced mushrooms
1 large Vidalia onion
1/8 c balsamic vinegar
100g asiago cheese (shredded)
a couple cups of roasted squash (I used pepper squash)
a few tbsp. fresh sage, chopped
handful of pumpkin seeds
How to:
Preheat oven to 400 degrees
sautee sliced onion at a low temperature for about a half hour

when onion is cooked, blend 1 cup of cooked onion with balsamic vinegar (I used my immersion blender)

to prep the squash (if you don't have any leftover):

remove pulp and cut into slices
roast in a 400 degree oven for 20 minutes, turning half way
let cool
slice into cubes, removing skin

sautee mushrooms with a little salt and pepper, stirring occasionally, for a half hour, at a low heat
shred cheese (or skip cheese, to veganize!)
What's your favorite kind of unconventional pizza?
Check back soon, or subscribe, because you surely don't want to miss out on my next post: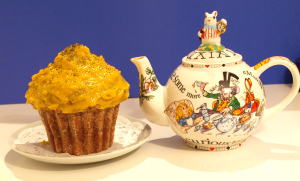 Yes, that's a very full sized tea pot.