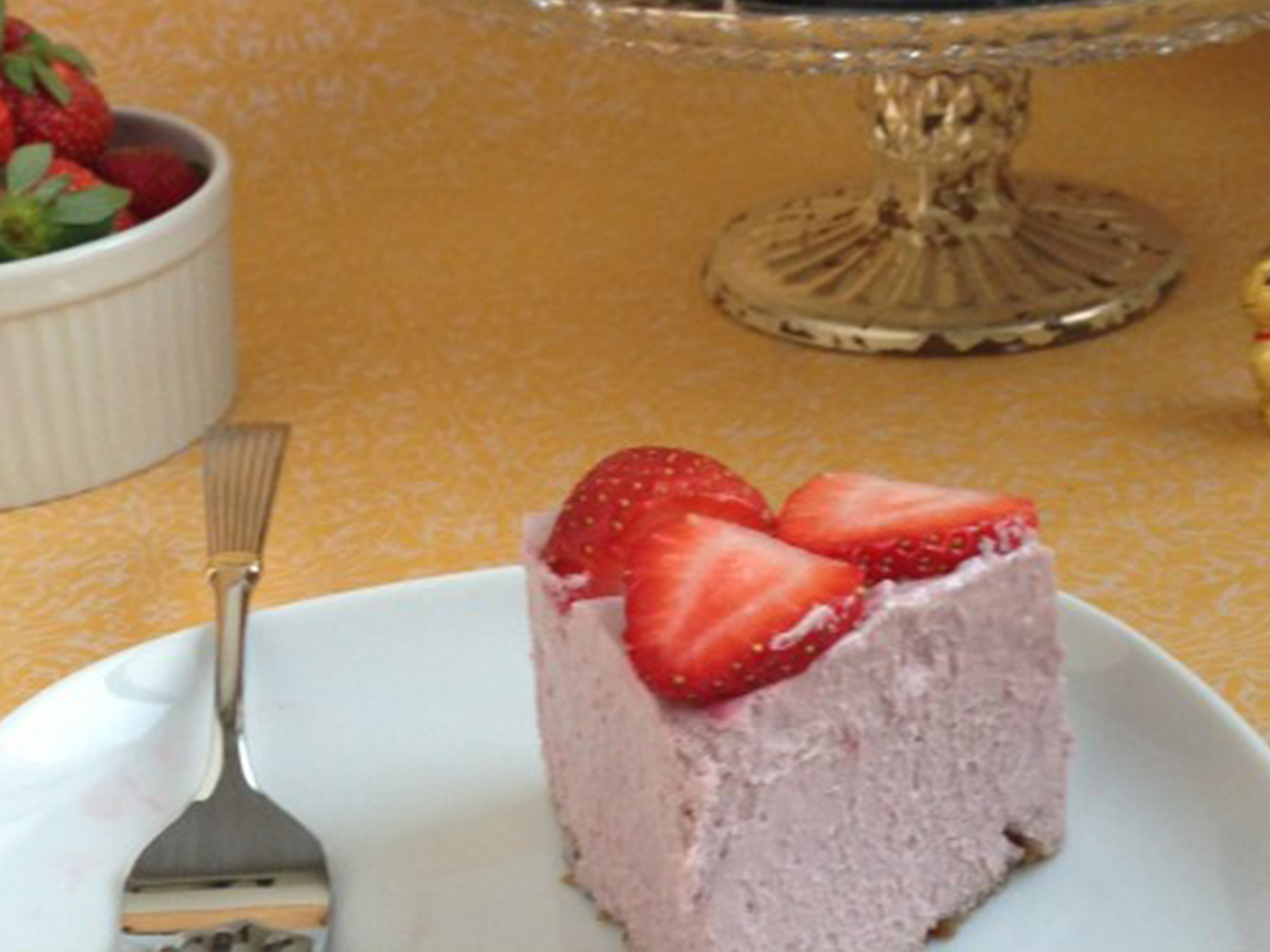 I'm not vegan, but I know lots of people who are. When I started reading a lot of Michael Pollan just before I began studying nutrition, I thought veganism might be on the horizon, but the more I learned, the more eating well for me because about moderation and quality meat/animal products.
Being an (almost-1 course to go!) nutritionist, I'm very interested in many peoples' dietary choices. I don't think a good diet is one size fits all. For example, we eat vegan at least a few times a week at home…but to us that means eating tons of veggies. I always feel great when I eat loads of veggies.
However, I'm not the biggest fan of vegan food that pretends to be other things (fake chicken, fake cheese, all kinds of soy concoctions)…though I really wanted to give a vegan cheesecake a chance. This recipe is actually a vegan cheesecake, but I've renamed it, as, being a lover of cheesecake, for better or for worse, I just couldn't call this cheesecake. It is delicious and smooth and creamy, and I'm indeed in awe of how cashews can turn into this mousse, but this ain't no cheesecake.

That doesn't mean it's not pretty.  I brought it to a dinner at a friend's house, and everyone liked it, but we all decided it wasn't a cheesecake.  This recipe is from the Vegan Post Punk Kitchen.  Check it out here.  I have to say, I was quite amazed at the crust–and the crust is definitely something I'd repeat.  It came together in seconds in my Vitamix (thought any food processor would do the trick).  I'd use this crust for any no-bake dessert.  I think it'd be a great option for these lemon squares.
Onto the topic of dairy.  I was particularly interested to find a happy, healthy cheesecake alternative because so many people are lactose intolerant.  There are lots of campaigns out there to make us think that we need dairy. Here's the thing:  many people have lactose intolerance because we're not designed to drink milk beyond childhood.  We're also the only species on the planet that consumes milk from another animal.  Many people are lactose intolerant because we stop producing lactase, the enzyme that allows us to drink lactose.
We're led to believe that milk is the key to calcium, but there are so many other way to get calcium.  Broccoli, sesame seeds, any dark leafy greens…so many ways! Here's an article about how milk actually decreases the calcium in your bones http://saveourbones.com/osteoporosis-milk-myth/
But I doubt you'd be having cheesecake everyday anyhow.  I might experiment with this again…or maybe play with goat cheese. Maybe a hybrid of cashews and goat cheese would be the perfect compromise. We'd get a tang in a dairy form that is more easily digestible by many.  Goat's milk more closely resembles human milk, and it is therefore a lot easier to digest.
If you're looking for a mousse, though, this is a delicious option.  It's extremely filling.  I didn't have a 9″ cake pan that the recipe called for, so I used a 6″, and also made a bunch of mini muffin size bites. The minis were the perfect portion size.
Cashews have excellent health benefits!  They have the same heart healthy oleic acid as olive oil.  They're also rich in magnesium, which can help you and your muscles relax. They are rich in one class of flavanols that can help prevent cancer.  The strawberries are a good source of vitamin C.   So, cheesecake or not, this isn't a bad cake!
What are your thoughts on dairy?