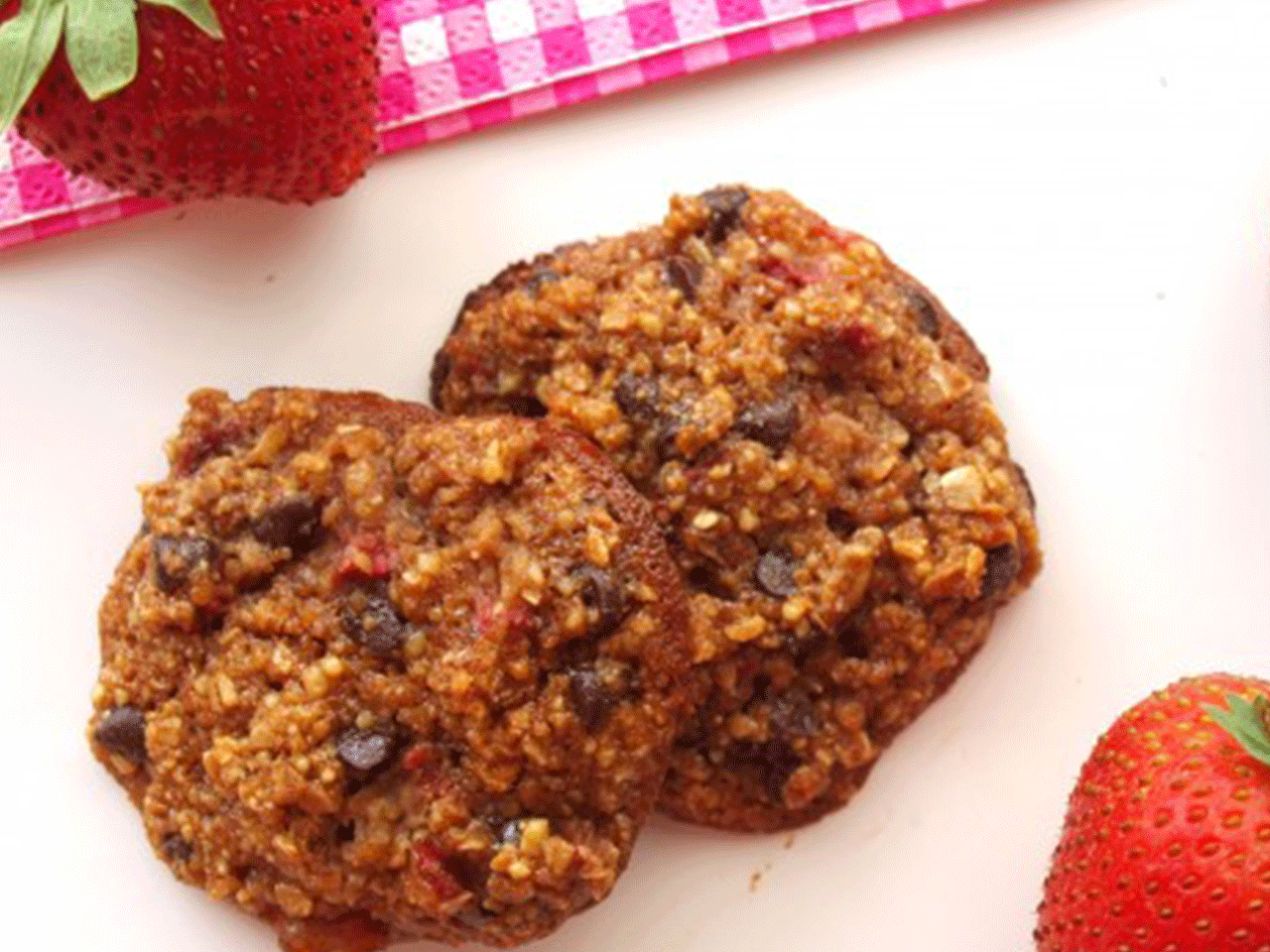 Hello, hello!  Happy first day of summer!
In Toronto it's been pretty summery for a few weeks now, but it's nice that it's now official.  I had a bunch of fresh strawberries waiting to be used so I made these cookies.  They're sweet with a little tartness from the strawberries, and completely delicious!  Super moist and chewy, and remind me a little bit of a lacey cookie (just around the edges). They're also gluten-free, but you'd never know!
What's your favourite thing to make with strawberries?
Strawberry Chocolate Chip Cookies
Author:
Shockingly Healthy Lauren
Prep time:
Cook time:
Total time:
Ingredients
1 cup coarsely chopped fresh strawberries
¾ cup almond meal
1 cup gluten-free oats (I used quick cooking)
½ teaspoon baking powder
¼ teaspoon salt ¾ cup packed brown sugar
¼ cup coconut oil, softened
2 teaspoons vanilla extract
1 large egg
¼ cup dark chocolate chips
Read more at: Strawberry White Chocolate Oatmeal Cookies http://dinnerthendessert.com/strawberry-white-chocolate-cookies/
Instructions
Whisk together almond meal, oats, salt, baking powder, and set aside.
Coarsely chopped strawberries, and set aside.
Whisk together your egg, vanilla and coconut oil, and vanilla (make egg and coconut oil are room temp, or the coconut oil will get too hard)
Add your wet to dry and mix well (mixture may appear dry but will get more moist when strawberries are added).
Fold in strawberries and dark chocolate chips.
Spoon in heaping tablespoons onto cookie sheet. Bake for 15-20 minutes.
Let cool on cookie sheet.
Enjoy!
For anyone who's not been following our social media, we've got a lot of amazing news!  Our brownies and blondies (and sometimes cookies) are now available at all Whole Foods in Ontario (even Ottawa)!  We've got quite the list of retailers now, so take a look at our "Where to Buy" page.
Simply plug in your postal code on our Where to Buy page to find the closest location to you. http://shockinglyhealthy.com/where-to-buy/
Not finding your favourite store on the list? Let us know where you'd like to see us!
Now…get to the kitchen and make THESE cookies.