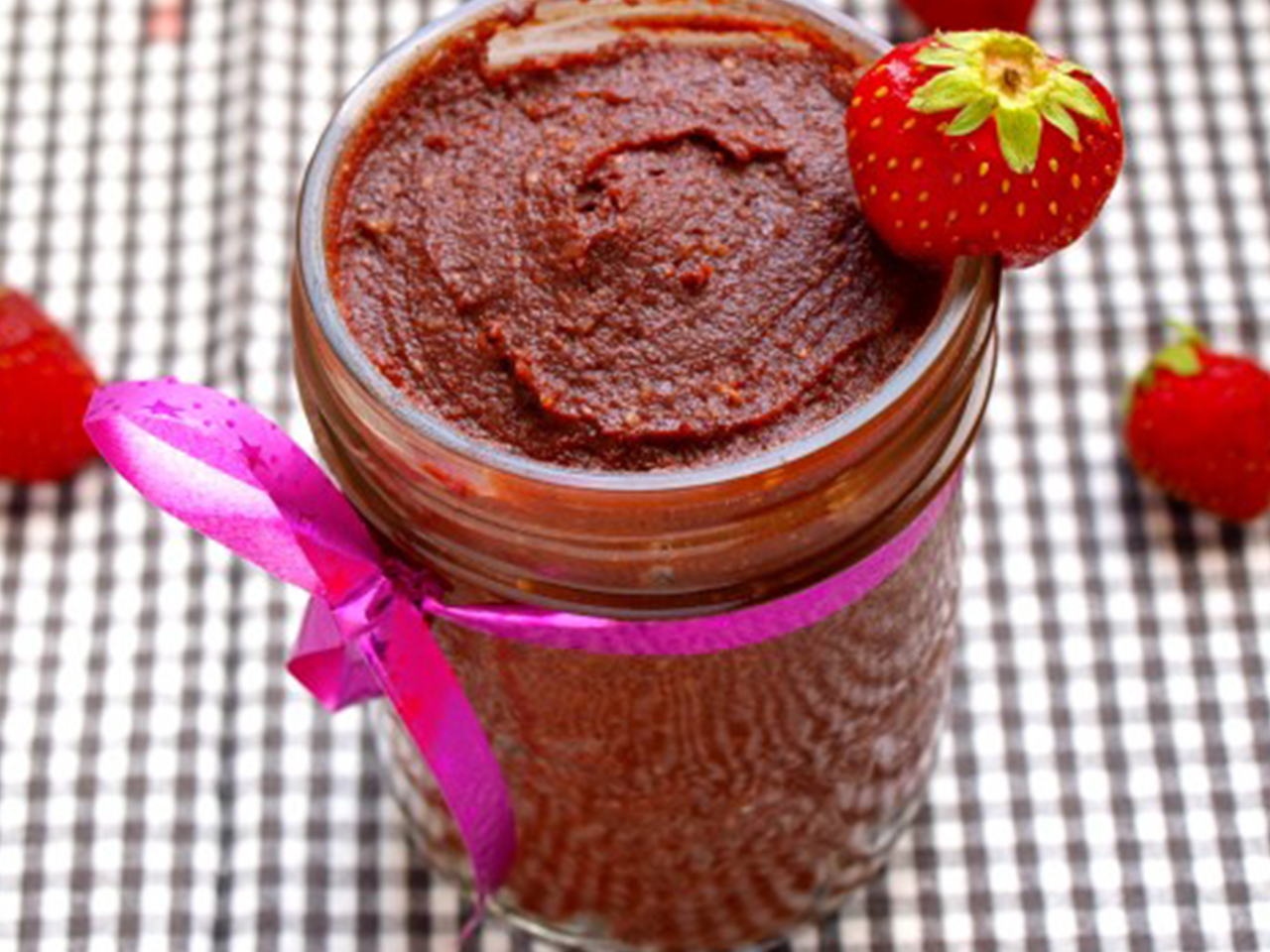 A week and a half ago I went strawberry picking for the first time.
Together, Cam and I picked a whole bucket.  It didn't take very long, actually.  This seemed like a lot of stawberries to us, but we saw many people leaving with 2 buckets per person.
This $23 bucket got us pretty far.  Since then I made strawberry rhubarb crumble, most of which we froze to save for quick breakfasts, strawberry chocolate cake, a strawberry balsamic reduction, strawberry topping (we even learned how to can), strawberry pancakes, and last, but certainly not least, strawberry hazelnut spread, or "homemade nutella" if you will.  For people who can, I can (pun intended) see how they need a lot more, because the strawberries really reduce in that process.  Now it's time to talk about this recipe, though. The last one I made, but maybe my favorite.  It's a toss up between this spread and the strawberry balsamic reduction.  Sauces and spreads are so versatile and add a lot to any dish.
This stuff is good.
Eat it by the spoon out of the jar good.
Don't worry, because YOU made it, it's full of recognizable ingredients, and sweetened with just a little maple syrup.  This stuff is good for you.
Superfood Spread!
If you make it using raw cacao, it packs an antioxidant punch.  The coconut oil is great fuel for your brain, and the hazelnuts are a source of magnesium, potassium and fiber.
This stuff is naturally gluten-free, vegan and paleo.  Not a group that always gets along!

Strawberry Chocolate Hazelnut Spread
Prep time:
Cook time:
Total time:
Ingredients
1 cup hazelnuts
4 T cacao powder
3 T maple syrup
3 T coconut oil (melted but not hot)
1 t vanilla
⅛ t sea salt
1 cup hulled and sliced strawberries = ¼ cup reduction
Instructions
You may want to do the strawberry reduction part ahead of time to let it cool. Begin by prepping your strawberries. Hull them, and slice them. Then, puree them ( I pureed them using an immersion blender, right in the pot I used to reduce them). You could also use a magic bullet.
Reduce the strawberries: bring to a simmer, and continue to simmer for about 20 minutes.
In a food processor or vitamix (I used the dry container for the vitamix), grind your hazelnuts until they are quite fine.
Add all other ingredients except the strawberry reduction (wait until the reduction is cool). Measure your reduction before you add it (you don't want to add too much liquid if it hasn't reduced yet).
Blend everything until it's nice and smooth, stopping to scrape down the sides of the bowl a couple of time.
Enjoy!
This stuff is great on crackers for a quick snack, on top of pancakes, by the spoon. Any way you like it!  This will keep in the fridge for about a week.  But it won't last that long 😉