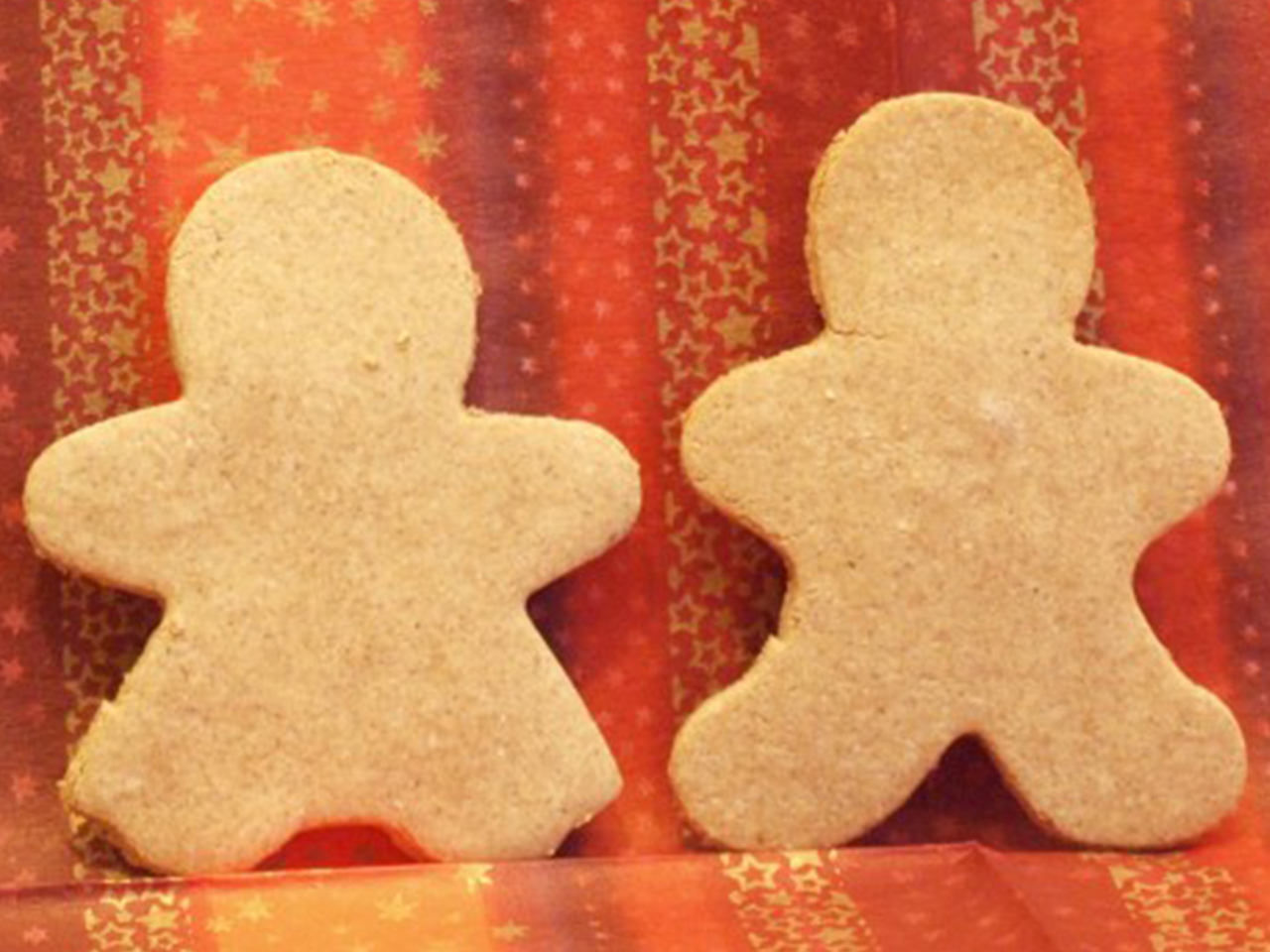 I needed to get one special new cookie recipe in before the end of the year! I also need to thank anyone and everyone who has ever bought a Shockingly Healthy Brownie or Blondie!  It's been an amazing year, and we've grown a lot!  Every brownie lover means a lot to me!  Thank you from the bottom of my heart, for making a healthier dessert choice, and for choosing my product.
Now, it's cookie time.
This one was developed out of necessity.  My fiance can't eat butter or dairy or wheat…the main ingredients of a standard sugar cookie.  Decorating sugar cookies is a staple activity at Christmas with his family (shall I call them the "Camily" because his name is Cam?  That idea came out of me typing that accidentally.   I thought it would be nice for him to have cookies he could not only decorate, but actually EAT!
Now, his mom is allergic to almonds, so I didn't want to make a version that was based out of almond meal, so I got more creative.  These are made with a blend of quinoa flour and plantain flour.  I'm not sure if you'll be able to find plantain flour, but if you can, it's totally worth it!  You can also make super delicious pancakes using plantain flour.  I buy mine at a big cash and carry store where I buy some ingredients for my business.  Maybe some special Latin American grocery stores may carry it?
This recipe was adapted from Chocolate Covered Katie's grain-free sugar cookie recipe.  I bet she's got some good icing recipes so go visit her!   http://chocolatecoveredkatie.com/2012/12/18/grain-free-sugar-cookies/

Sugar Cookies...without the sugar, gluten or butter
Author:
Shockingly Healthy/ Lauren Breuer
Prep time:
Cook time:
Total time:
Ingredients
1 cup quinoa flour
1 cup plantain flour
¼ cup maple syrup
3 tablespoons coconut oil, melted
¼ teaspoon salt
¼ teaspoon baking soda
2 tablespoons almond milk
Instructions
mix all dry ingredients
in a separate bowl, combine liquid ingredients
add wet to dry, and mix well until a dough forms
roll out between two pieces of parchment paper and cut into shapes
place in freezer for 25 minutes
bake at 315 for 18 minutes
Onto the recipe!