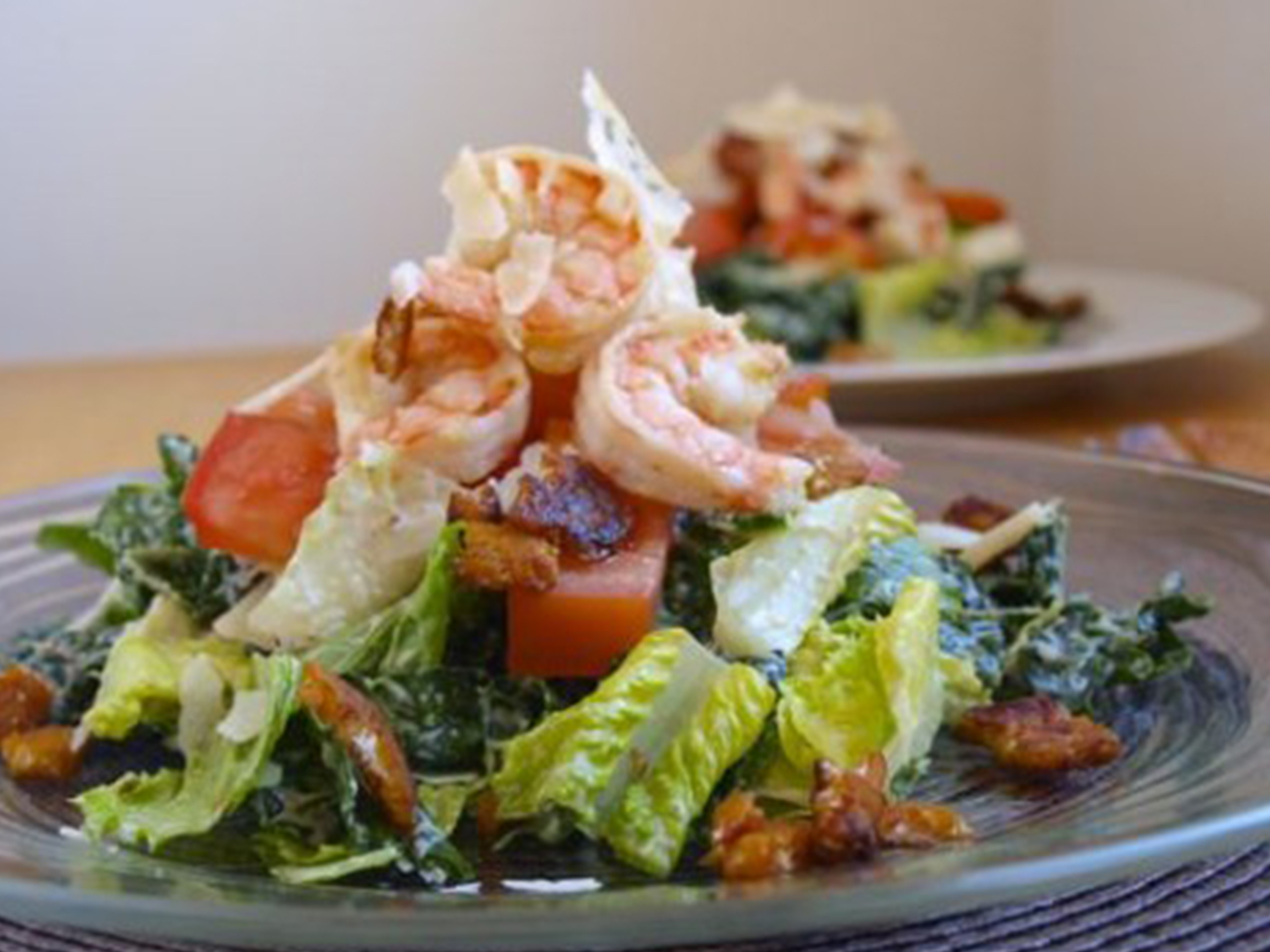 I think I forgot about caesar salads.  Were they too simple?  Too classic?  But since I remembered them a couple of weeks ago, I've been on a major caesar salad kick.  Of course, I had to take my own spin on it. This one's got an awesome homemade dressing, and all the ingredients are kicked up a notch.
I've been making this for lunch and eating it a least a few times a week.
Nope, I'm not sick of it yet!
Part of why this caesar works so well as a make-ahead meal is that the main veg is kale, which is so hearty that it's okay to sit in dressing for a day or two–I actually find it's better once it soaks it up a little.  Kale is super nutrient-dense!
Instead of regular bacon, I've used tempeh bacon here.  I swear, it's one of my favorite things.  Vegetarian or not, you should make this stuff.
My salad is topped with garlic shrimp, and a little shaved parmesan.  I've also added tomato.
Now, onto the recipe!

Super Caesar Salad
Author:
Lauren Breuer/Cravings Gone Clean
Recipe type:
Salad, entree
Ingredients
Ingredients:
•2 bunches kale, washed a de-ribbed
•2 hearts of romaine
•15-20 shrimp (depending on size—enough for a serving size the size of your palm, x4)
•1 T coconut oil
•2 cloves garlic, minced
-1 or 2 tomatoes, cut into bite sized pieces
-parmesan cheese to taste
Dressing
• 1 cup full fat organic greek yogurt
• 1 head of garlic, roasted and peeled
• 3 T olive oil
• 2 T worchesterchire sauce
• 1.5 T capers
• 3 T lemon juice
• black pepper to taste
TEMPEH BACON (see link in post).
Instructions
• defrost your shrimp in cold water, and peel.
• Sautee shrimp in coconut oil with minced garlic
• Puree all dressing ingredients in a blender or magic bullet
• After washing and de-ribbing your kale, chop your kale and romaine
• In a large bowl, massage your dressing into the salad to ensure the kale absorbs the dressing.
• Top with shrimp, tomatoes, parmesan and tempeh bacon to serve.
Here's what it looks like when you peer over it.
What's  your favorite salad?