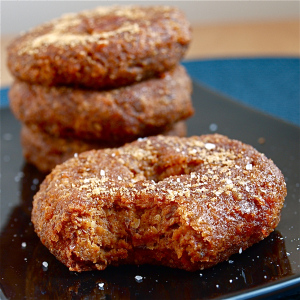 This was the first time I ever made donuts. I tried some sweet potato donuts a few months ago at a vegetarian food festival.  I was disappointed in them.  I loved the idea of sweet potato donuts, but those ones were overpriced, and didn't actually taste like sweet potato.
Recently, I got the urge to try to make some myself.  I knew I could beat the ones I tried at that festival.  Mine were going to taste like sweet potato, not just have a pale orange hue! I actually I made donuts twice while on this mission, and I'm going to share both recipes.   The first batch allowed me to just get a feel for donut making. In the second batch, I perfected the healthified donut. I looked at an an awful lot of recipes that required frying.  And I have to confess, the first recipe I developed, I fried.  I figure, when you've never made something before, it's good to try a more traditional approach.  I used our new dutch oven, thinking I could get away using less oil (I did), because the moisture would circulate inside.  These were good. I used olive oil, and only poured less than a centimeter.  Here they are: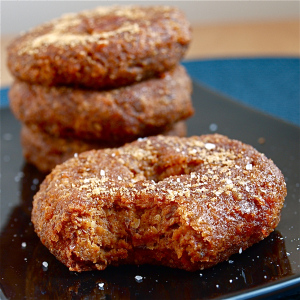 Ingredients:
1/5 cups sweet potato puree
1/2 cup spelt flour
extra flour for your hands
1/4 cup flax seeds (ground)
1/2 tsp salt
1 tbsp cinnamon
cane sugar for sprinkling/rolling
How to:
preheat oven to 350, preheat dutch oven as well
mix together everything except for sugar
on a floured surface, and with floured hands, shape dough into 6 bun shapes
poke a hole in the middle of each ball (I used a floured wooden spoon)
fry for 7 minutes, flipping halfway
transfer to paper towel to drain excess oil
transfer to oven (I put them on a pizza stone, but you can use a cookie sheet), and bake for 10-15 minutes)
roll in a small amount of cane sugar (2 tsp or less per donut)
enjoy!
So, I did enjoy these.  And I made them on a cheat day.  They were good, but not good enough for me. Not good enough for a healthy food blog.  There was a little guilt in the sugar.  I don't usually bake with sugar, as organic an unprocessed as it was.   I want to create desserts that are so healthy you could eat them for breakfast…so then, a few days later, I did!  There is absolutely nothing questionable about this next donut.  No frying.  No sugar. Just amazingly healthy ingredients.  And you know what?  It's more enjoyable, for all those reasons, and I think it just plain tastes better too.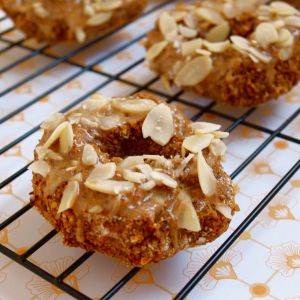 Healthiest Donuts Ingredients:
2 cups sweet potato puree
2 eggs
1 cup oat bran
1/2 cup ground flax seed
1 tsp salt
2 tsp cinnamon
1 tbsp molasses
1 tbsp baking powder
Healthiest Icing ingredients:
1 scoop vanilla protein powder
1 tbsp cinnamon
1/8 cup water
1/3 cup raw slivered almonds
Healthiest Donuts How to:
blend all donut ingredients in the food processor
transfer to bowl and refrigerate for 30 mins or more (this will make the dough less sticky to handle)
preheat oven to 350
with floured hands, shape into 8 bun shapes
with a floured back of a spoon, make holes
bake for 16-18 minutes
transfer to a wire cooling rackWhile they cool off, make the icing
in a bowl, mix together protein powder and cinnamon
slowly stir in water (you may want to use less, if you'd like a thicker icing
when donuts are cool, spread icing over them
sprinkle with almonds
store in the fridge, so the icing can set (and keep in the fridge after, as these are made of super-fresh ingredients, and are not your leave-on-the-counter type of baked goods!
Enjoy!
I found that the dough was pretty sticky to work with, but loved the texture when they were done.  You could use only 1 egg if you wanted them a little less moist/sticky.  At the end, they really did have the texture of a cake-y donut. This second batch was so healthy, that we did in fact eat them for breakfast.  After all, that's how I justify spending all this time baking!  We dipped them in a yummy breakfast dip (apple sauce, protein powder, cinnamon and yogurt)…and on the last day, we got really crazy.  We topped each donut with a fried egg.  And some amazing sauce (apple sauce, a little maple syrup, and a little spicy mustard)…when I open a breakfast place some day, this will be on the menu.
Fun facts: cinnamon speeds up your metabolism! Almonds are good for your brain…and these lots of fiber!