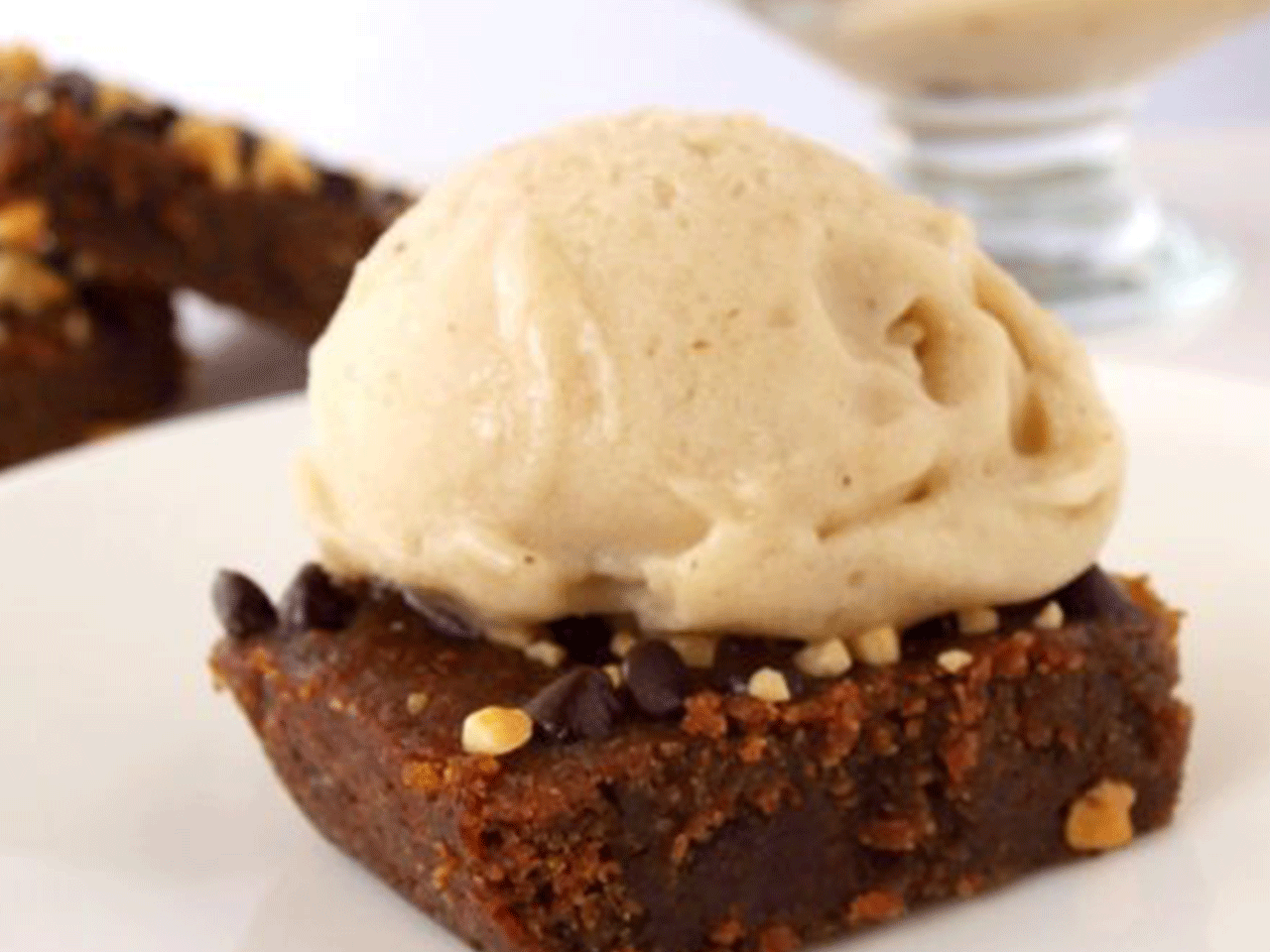 During his post-prime years, Elvis earned a reputation for his peanut butter and banana cravings, a signature quirk that became part of his legacy. He may have been a little… unrefined in his snack preferences, but the king was not dumb. This combination is just the bomb, any way you prep it. When peanut butter and banana come together in a sandwich, a baked good, cake, or our personal favourite du jour – an ice cream treat, PB & B just lends a flavour that's tough to beat.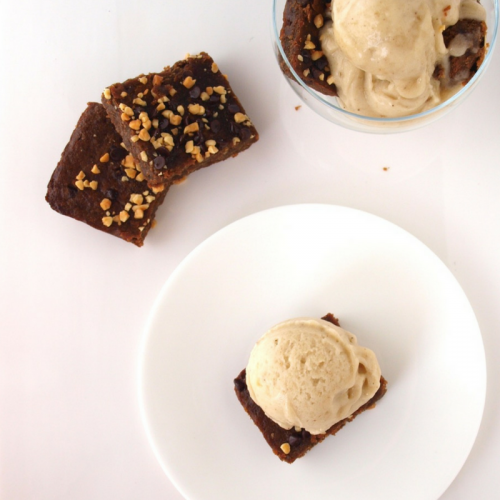 Sweet, salty, soft, chewy… you don't need much to make this pair shine. We'd argue they're best left as in-their-natural-state as possible. That's why we love this 2-ingredient banana ice cream paired with our Peanut Butter blondies. Pure and simple perfection meets pure and simple perfection, if we don't mind saying so ourselves 😉
While that scoop on top of that blondie might look like sheer indulgence, you're also getting your fibre, vitamin B6 and C, and paired with a Shockingly Healthy Peanut Butter Blondie, a good deal of protein. You can expect to feel satisfied for longer, and you won't miss the sugar-crash an hour or so after eating – our blondies are naturally sweetened with dates and coconut sugar, and won't mess with your energy-levels. 
For those hot nights when cravings hit, there's just no substitute for ice cream. So have it, we say!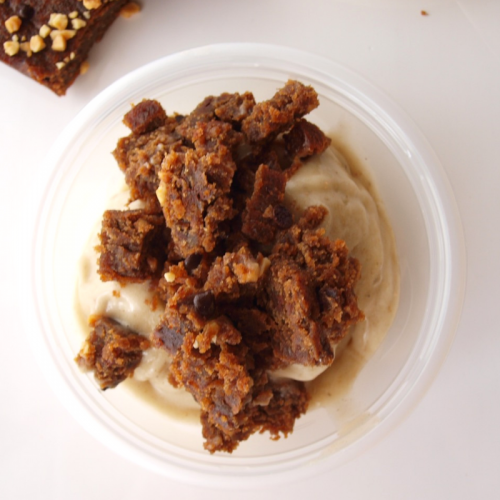 Not in a sundae-mood? Chop that blondie up and mix it in, DIY-blizzard style. Who needs soft serve when you can be your own dairy queen, right?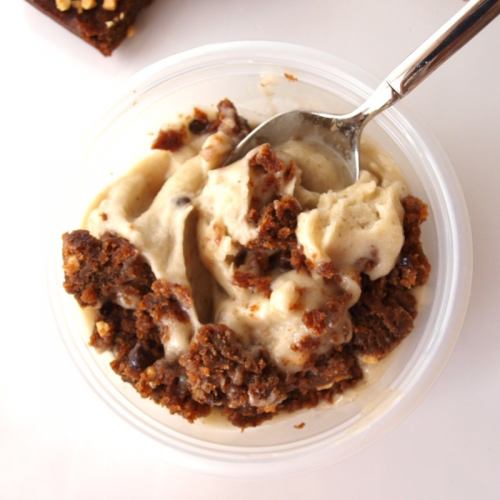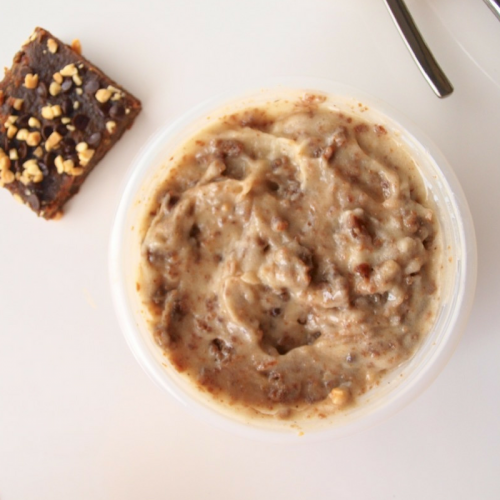 Got peanut butter? Nutella? Coconut? Nuts? Soup up your soft-serve and add your own mix-ins for a totally customized creation. As a base, banana ice cream lends itself to many flavour pairings, fruity, or chocolate-y.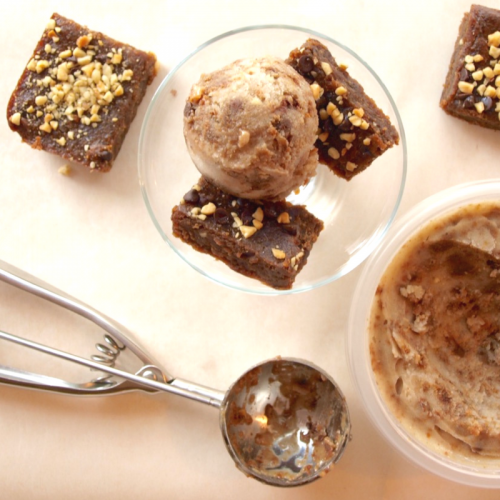 Or, if you're a hard-ice cream lover, freeze your chopped-blondie banana ice cream mix in the freezer until solid. Eat it by the scoop in a cone, or dress with syrups or whipped cream. Sometimes, you just need a beach-style scoop of something cold and sweet.
Nutritionist-Recommended Banana Ice Cream Sundaes
Ingredients
1 Banana
Pinch of sea salt
Shockingly Healthy Peanut Butter Blondie
Instructions
Slice peeled banana into discs and freeze overnight.
Blend frozen banana in blender or food processor with pinch of sea salt.
Scoop "soft serve" onto Peanut Butter Blondie and serve.
To make a banana soft-serve "blizzard": After pureeing, fold in diced pieces of Shockingly Healthy Peanut Butter blondie at a ratio of 1 blondie to 1 banana. Add toppings or mix-ins such as peanut butter, coconut, etc. to taste. Serve immediately.
To make banana peanut butter blondie hard ice cream: After folding in diced pieces of Shockingly Healthy Peanut Butter blondie, freeze ice cream. Scoop to serve.
How do you like your banana ice cream? Send us a tweet
@ShockinglyHealthy
 and leave us a comment on
Instagram
. We'd love to see your banana ice cream mixes.