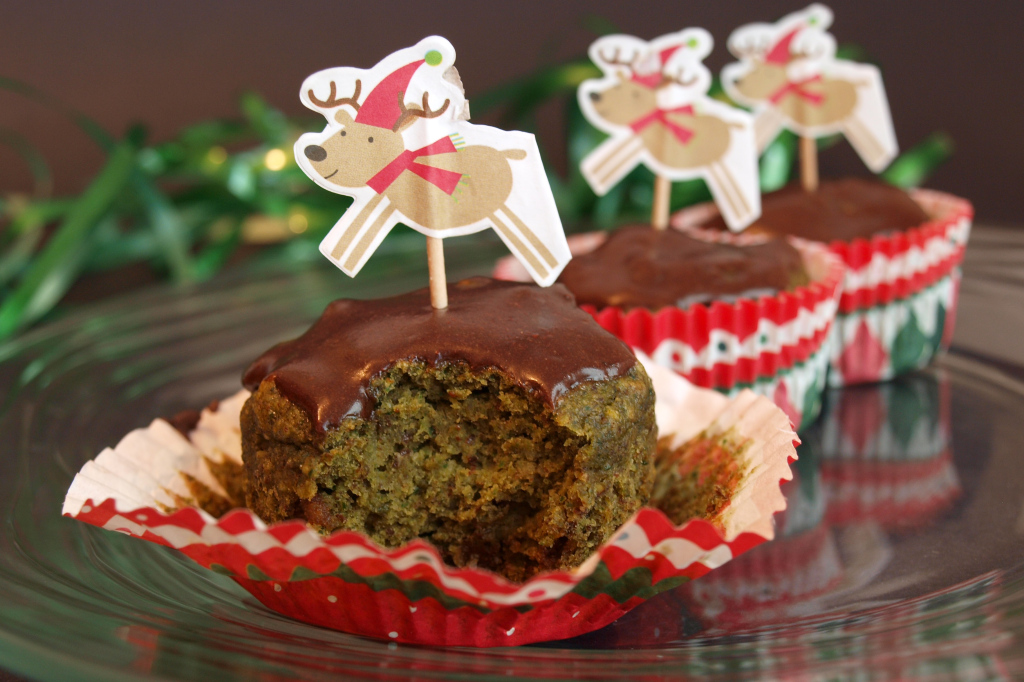 Don't worry, they're nice. You might feel a little naughty sharing them with family and friends, but really, you're doing them a favor. There are a lot of sweets to eat this time of year.  Everyone's in the mood to eat them, and lots of people are in the mood to bake them.  Having a little time off is a great opportunity  to bake.  Here's the thing: with all this sweet temptation, as much as it's relatively easy to bake tasty stuff without much oil or butter…you still need to find a way to get some veggies.  Why not sneak them into your baked goods?  I had seen a few versions of healthy mint chip cupcakes around, and I wanted to try my hand at my own…and it had to the be the sneakiest of cupcake.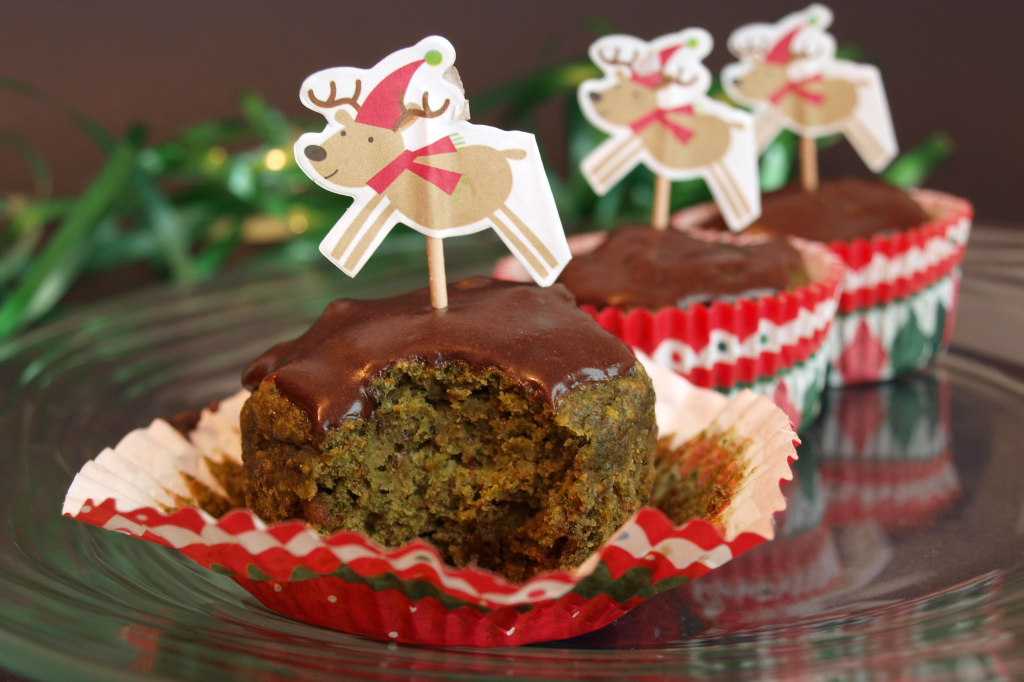 I made these for breakfast in ramekins a few weeks ago…but wanted to try them out on some "normal" eaters just to make sure I could get away with it before sharing the recipe.  The verdict? They took a bag home.  I think that spells success.  This could be a great way to sneak veggies into kids' meals on a regular basis, but it doesn't hurt to have a festive dessert that hides a few good things.
Before I shared these with my guests, I declared that I wouldn't say what they were made of until after everyone had tried them.  All my guests knew was that these were mint chocolate.  Well, people gobbled them up so fast that they were all finished before I said a word! And now, the hidden ingredients:
Drum roll please….
Banana!
Okay, that's not so shocking.
Zucchini!
Slightly surprising.  But the next one takes the cake:
Spinach!
And I promise, other than the colour, you would never know.  To mask the colour, you could actually up the cocoa powder.  Feel free to give that a try if you're dealing with some really picky eaters.  Onto the recipe!
Ingredients:
1 cup oatmeal
1/2 brown rice flakes (or oat meal, spelt flakes, quinoa flakes…pick your flake)
1 cup buckwheat flour (or other flour)
1/2 cup flax meal
1.5 tsp baking powder
2 tsp baking soda
1 tsp salt
1 cup dates (pitted and packed)
2 ripe bananas
1 zucchini
1/4 c greek yogurt (I used fat free vanilla)
1/2 c. egg whites
3 tbsp coconut oil
3 cups packed baby spinach
1/4 cup agave
1.5 tsp peppermint extract
(optional) 1/2 cup chocolate chips–I used mint chocolate chips!
How to:
preheat oven to 350
in the food processor, pulse the dates with some egg white, until broken down slightly
add fruits and veggies, continue to pulse (add liquid ingredients as needed to help it blend down)
make sure you let the processor run for a couple solid minutes, stopping to scrape down the sides
once all whole foods and liquids are in, gradually pulse in all flours, oats and powders
when the mixture is blended, add chocolate chips and pulse a few times, just to break them down a bit, but not completely
line muffin pan with lines, and pour in your batter
Baking time options:
For regular muffin size, bake at 350 for 20-25 minutes (recipe would make about 20 in this case)
for mini muffin pan, bake 15-20 minutes (recipe would make about 40 in this case)
for large ramekins, bake at 375 for 25 minutes (fills 8 breakfast sized ramekins)
Let's not forget the icing!  This icing makes these a pretty good workout recovery snack, actually.
9 tbsp vanilla protein powder
9 tbsp cacao (or cocoa) powder
scant tsp peppermint extract
4-6 tbsp water
Stir together dry ingredients, and peppermint
gradually add water, spoon by spoon until you reach your desired thickness.  Remember, you can add water, but you can't take away!
Make sure you store these guys in the fridge, as they're super fresh and packed with nutrients!
For the super health enthusiast:
You're already going to all this effort to sneak veggies in, why not make them insanely healthy? The thing about veggies, is they're a little delicate.  All the nutrients get destroyed at high temperatures, or in the microwave (this happens to anything, really), so slow baking is a great thing to try out if you're home and can allow for the time.  To preserve nutrients, I baked once batch of breakfast-sized ramekins at 225 for 1 hour and 50 minutes.  It worked fine, just took a little more patience.
So there you have it.  Enjoy!