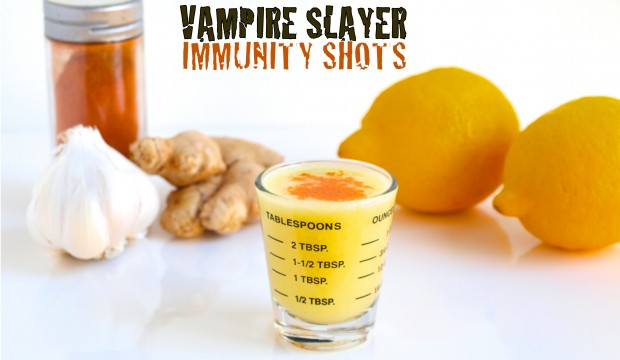 Hello!  It's that time of year where the weather is super fickle, and sometimes we start to feel a little tickle in our throat.  So I'm sharing a pretty intense recipe that really boosts your immunity when you need it most.  And yes, it's a shot.  It's intense, and you'll want to slam that glass down after you throw one back.   I am a big fan of lemon and ginger, and even garlic when you're desperate to kill some germs.  I have another recipe that's a nice tea you can sip on all day.  This shot, on the other hand, cuts straight to the point.
I discovered this drink when I was in New York early August on my Honeymoon! (Yess!!!).  My relative absence from my blog can be explained by a crazy year of wedding planning and business growing.  Anyhow…we discovered this really great place called The Butcher's Daughter near where we were staying.  We were blown away by the amount of green juice available in the city! For a nutritionist on a health permanent health-kick it was a dream. Aside from green-juice, we also enjoyed these shots.  I'm not quite sure how many times we went to the Butcher's Daughter, but we tried to order other shots too.  This seemed to be the only one they had in stock.  I guess it was meant to be?  I drank it so many times that it was pretty easy to replicate when I came home.
Why you should down this shot:
Its like an antibacterial wash for your throat and insides.  The lemon is a great shot of vitamin C, and everything in here is antibacterial.  The garlic is antimicrobial.  It gives you a good burn…and makes you feel better instantly.
Don't have a juicer?  Simply put everything in a high powered blender and then pour through a strainer.  Done and one.
RECIPE:
You can definitely tinker with this based on what ingredients you have.
3 and a half lemons, peeled
3 inches fresh ginger
4 cloves garlic, peeled
a few shakes of cayenne pepper
Prep you ingredients, juice, them and then sprinkle a little cayenne pepper.  This recipe makes 5-8 shots depending on how much you want at once…and how big your lemons are.
What tricks do you have to help ward off sickness when you feel it coming on?