Strawberries and cream fondue brownie pie. Yes, it's a mouthful, but it's a delicious mouthful that encompasses how amazing this dessert is.
Is there anything that doesn't get better when dipped in chocolate?  We don't think so.  So today we give you a Strawberries and Cream Fondue Pie.  With Valentine's day coming up, we wanted to do something that suits the occasion.  This is easy to throw together, and we think it's pretty impressive, but relatively easy to do, though it does take some time to set, and a little planning (you need to put your coconut cream in the fridge overnight, and then your pie itself needs a little time to set).
Did you know our shockingly healthy brownies make the best crust?  And it's the easiest thing, as you don't have to bake it, knead it or anything. You just press the brownies into a parchment lined pan, and you've got an instant, super chocolatey delicious crust with secret chickpeas in it, of course. If you wanted to simplify this you could omit the "fondue" component, and just use sliced strawberries.  I guess it depends how much chocolate you want…so really..you should dip your strawberries in chocolate.  You know you want to.
This dessert is of course gluten-free, dairy-free and vegan.  You'd never know from how decadent this tastes.
Strawberries and Cream Fondue Brownie Pie
Author:
Shockingly Healthy
Ingredients
1 can coconut cream
8-12 strawberries (depending on size)
3 shockingly healthy brownies
1 tablespoon maple syrup
¾ cup dark chocolate chips
1 tablespoon coconut oil
TOOLS
pie shell - ours was 8"
electric beater
metal bowl
cookie sheet
parchment paper
Instructions
Refrigerate your coconut cream overnight (we like coconut cream so much we just keep a can or two in the fridge). It's helpful to also chill a metal bowl and beater blades.
***the next day***
Cut a circle or parchment the size of the bottom of the pie plate. Put it at the bottom of the pie plate, and smoosh a few brownies into it, spreading evenly. Store in the freezer until you're ready for the next step.
Open the can of coconut cream. Scoop out the cream into your metal bowl. If there is any liquid that isn't thick and creamy, discard it (or drink it, or use it in a smoothie).
Add your maple syrup to the coconut cream and beat until well blended. If it's very thick, you can move right to the crust. If it's thinned out a lot, wrap the bowl, and put in the freezer for a half hour. Wait until the cream is thick enough that a strawberry could stand up in it, before using it.
Melt your chocolate chips, and add your 1 TBSP of coconut oil to the mixture, stirring every so often until it's smooth. We like using a small slow cooker so we don't worry about burning it.
While your chocolate is melting, wash and dry your strawberries, and slice them. We sliced each strawberry into thirds.
Dip your strawberries, and transfer them to a parchment lined cookie sheet or plate. Put in the fridge or freezer to set.
When your cream is nice and thick and blended, and your strawberries are set, you can assemble everything (no baking required!).
Spread the coconut cream evenly over the brownie crust.
Place your strawberries in the coconut cream. I like to start in the middle and work my way out, in a circular manner, but I'm sure you could make all kinds of patterns. It's helpful to think of how the pie will slice in your arrangement. Maybe arrange them in nice slice formations so you don't have to cut around any strawberries.
When it's all assembled, return to the freezer to set for a half hour, for to the fridge for a few hours.
Like the idea of using our brownies as a crust? Here's another recipe where we do that, but this time it's a cheesecake.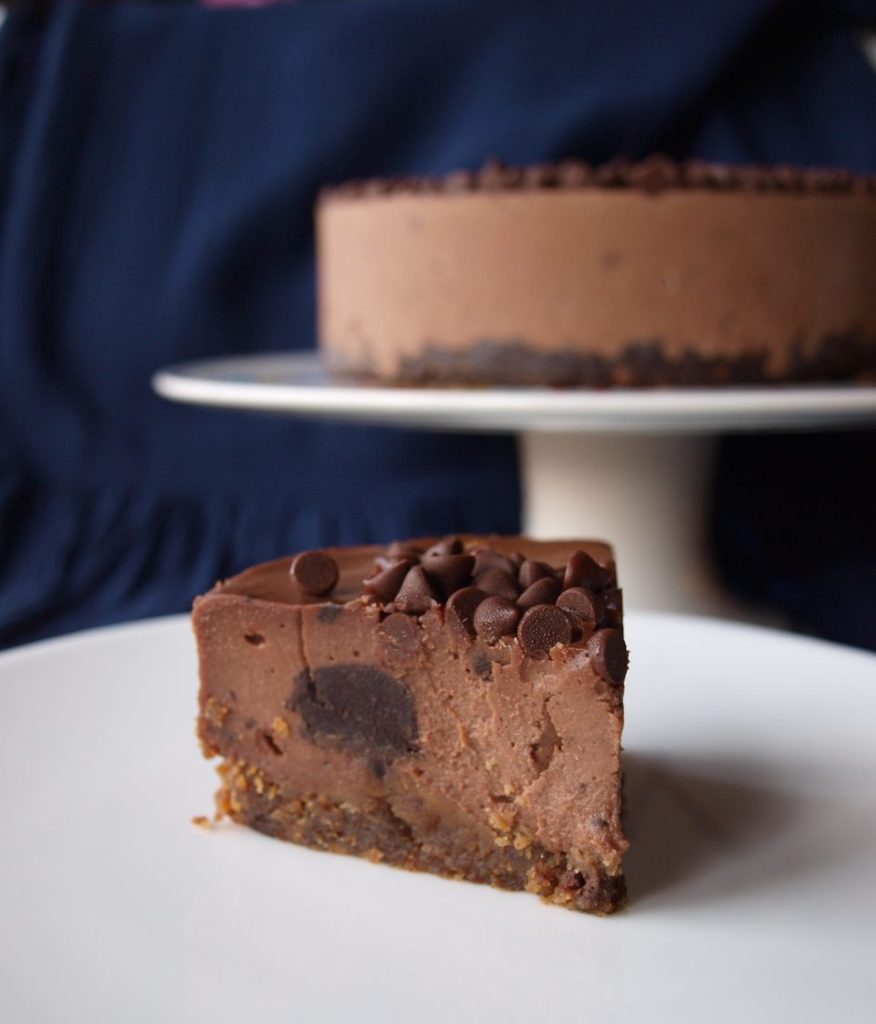 If you don't have time for this full dessert – there are always good old fashioned chocolate covered strawberries, dressed up with a little pistachio.  Who even needs a recipe for those?  And they're so beautiful. 
What are you doing for Valentine's day?