Merry Christmas! I know, this isn't what you were expecting. But I figure, everyone is on sugar overload, and wouldn't it be nice to find a very easy and healthy veggie dish that you'll actually crave?  Well, here it is.
I never thought I'd use the words "cauliflower" and "addictive" in the same sentence, but here it is.  Today is the day. This cauliflower popcorn is ridiculously addictive.  Eat-straight-out-of-the-oven, barely cooled off addictive.  (Don't try that at home).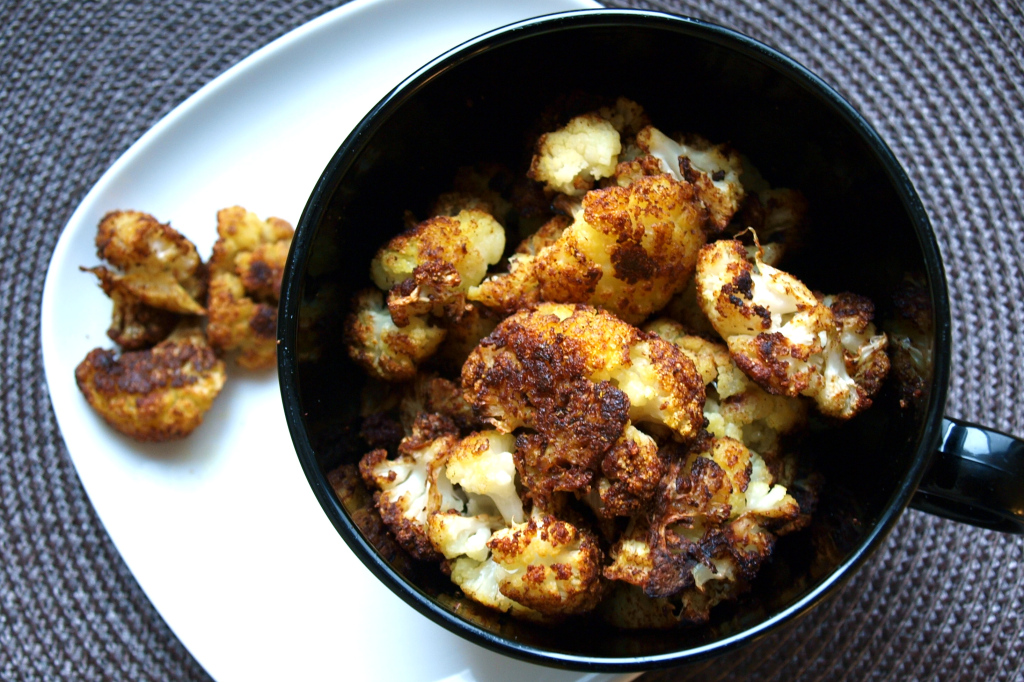 I had seen the phrase cauliflower popcorn here and there online.  I've never been a lover of cauliflower.  I never hated it, but I never announced that we simply had to run out and get some more…and that I could eat it every day, but with this recipe that's what happened.  It's hard to describe these…they get crispy on the outside, but stay moist on the inside. And there's a definite sweetness to them. I adapted this from this Kitchen Scraps Recipe which was absolutely delicious.  That one was eaten straight out of the oven, before we had time to serve it with dinner as intended.  The second time around, I thought I'd try my hand at my own version, so here it is!
Ingredients:
1 head cauliflower, big stems and leaves removed
1 tbsp cinnamon
1 tsp salt
1 tbsp garam masala
1/8 cup olive oil
How to:
Preheat oven to 425
cut cauliflower into big bite-sized pieces
in a small bowl or measuring cup, combine oil and spices
in a big bowl, toss cauliflower pieces with oil mixture
spread evenly on a parchment lined baking sheet
bake for 45 mins to 1 hour, tossing every 15-20 minutes
Enjoy!
If you make these for a holiday party, better make a quadruple batch.  Just saying.  It may become a holiday staple for you…but it's more likely to become a weekly thing.  I'd make it a daily thing myself, but I try to have a little variety.  And if this was a daily thing, I think everyone would get sick of reading about cauliflower 🙂