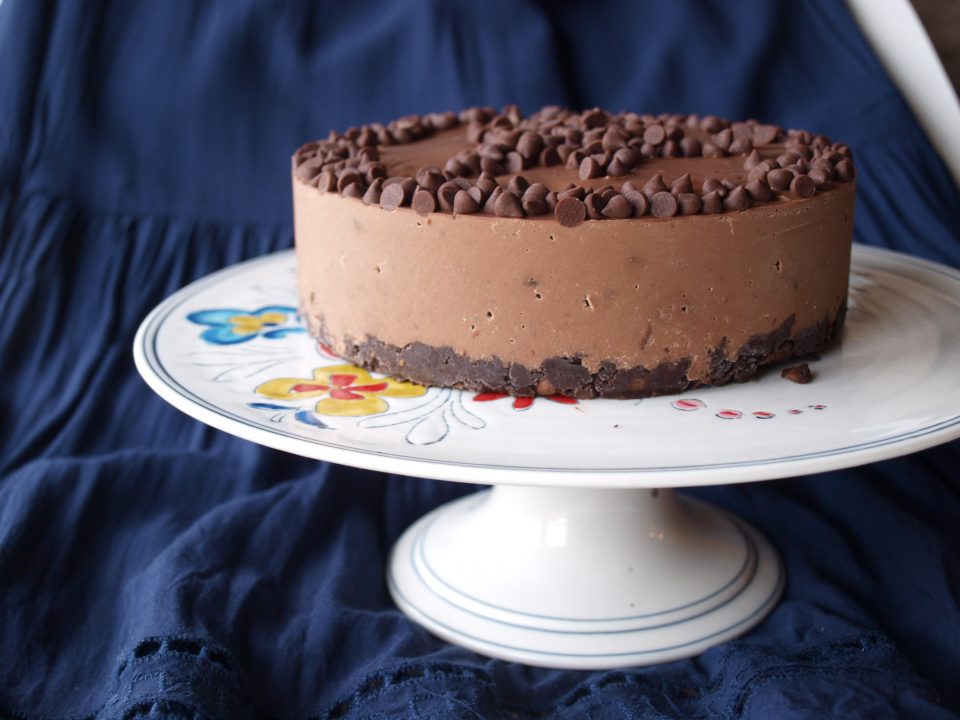 Cheesecake is one of those desserts that people REALLY, REALLY love. Can you blame them? The delicious, tender crust, the sweet, creamy tang of the cheese filling, and the endless possibilities for toppings.  Just give me a slice already!
But did you know that way back in history, cheesecake was actually considered a great source of energy?! There's even evidence that it was served to athletes before they performed in the first ever Olympic Games, back in 776 BC. A workout-fuelling cheesecake is a cheesecake I can get behind, so I decided to create my own healthy, no-bake, dairy-free cheesecake fit for an Olympian!
And because I love spreading the Shockingly Healthy Philosophy, I decided to take this beaut of a cake on Daytime Television to show even more people that dessert can be yummy AND healthy! So, off I headed to the OMNI Television studio to film Shockingly Healthy's very first appearance on Kitty Talk TV, with the lovely hosts Surbhi, Sunny, and Huma. You can watch the episode here:
The taping was great fun, and we can't wait to go back to Kitty Talk to make some more Shockingly Healthy Dishes. But hey, I know why you came here.  You want to know how to make the stunning, delicious cheesecake we made on the show!
Now, this recipe makes a gorgeous cake that will impress all your friends and family – and they won't even know that it's dairy-free and good for them, too! You can keep it plain, or kick things up a notch by adding some raw cacao for an irresistible chocolate cheesecake.
Ah, but how does one make a cheesecake without any cheese, you ask? Well, you probably already know that we at Shockingly Healthy LOVE our chickpeas,(they're the main ingredient in our brownies and bars) so they're in the mix, but we also use cashews to form a creamy, cheese-like filling that's an  amazing source of healthy fats, magnesium, and copper.
No-Bake Dairy Free Shockingly Healthy Chocolate Cheesecake
Ingredients
2 cups raw cashews (soaked in water overnight in the fridge)
½ cup cooked chickpeas
½ cup fresh lemon juice (2-4 lemons depending on size)
½ cup raw sweetener (raw honey is amazing because of it's antimicrobial properties, but maple syrup will work, and coconut nectar, which is lower glycemic will work too)
¼ cup milk of choice (we used cashew)
⅛ teaspoon sea salt
1 tablespoon vanilla
¼ cup coconut oil
1 4pack of Shockingly Healthy Brownies
Optional
3 tablespoons of raw cacao if making chocolate flavored
Instructions
Soak cashews
Drain water from cashews
Put everything except for brownies in high powered blender
Blend 1-2 mins or until totally smooth
You can taste it! see if you like the flavour or need to add a little more sweetness
Press two brownies into a 6" springform pan to make a crust
Chop up 2 brownies and fold into mixture
Pour mixture into brownie lined pan
Freeze minimum of 6 hours
Thaw in fridge to serve
 This may yield enough for an extra 4 inch spring form depending on how deep you want to make it. You can also make this recipe using a muffin tin for adorable individual servings!  To make things extra-fancy, take a cookie-cutter of your choice, and fill with dairy-free chocolate chips or sprinkles to create a gorgeous edible pattern on top of your cake. I chose a star, because this cake is worthy of stardom!
We'd love to see your how your Shockingly Healthy Dairy-Free No Bake Cheesecakes come out! Snap a photo and tag us with #shockinglycheesecake on Instagram @shockinglyhealthy. Happy no-baking!